The Loop
How to launch it like Bubba
On the CBS telecast, Peter Kostis and Gary McCord isloated the magic move that all the really long hitters have in common--they maximize their leverage against the ground by straightening the lead leg just before impact.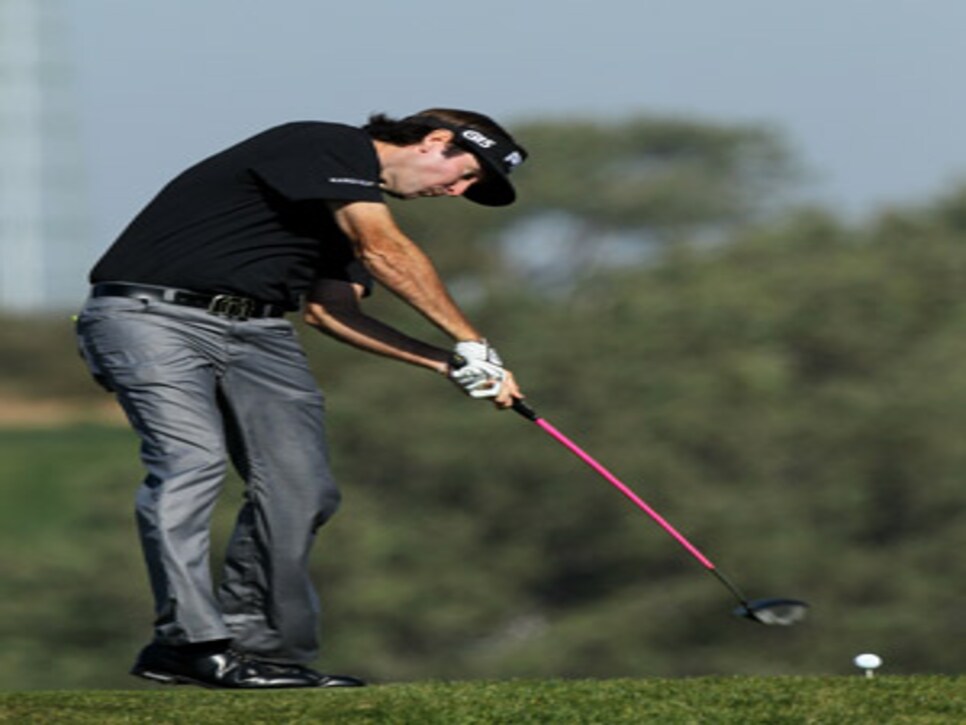 Mere mortals might pull a hamstring by trying this clubhead-speed-producing move, but make no mistake: Phil Mickelson does it. Jhonattan Vegas does it. So does Hunter Mahan, Anthony Kim and Dustin Johnson. But the player who exhibits it more than anyone is Bubba Watson, who won the Farmers Insurance Open this afternoon at Torrey Pines, routinely hitting drives more than 330 yards. On the par-5 18th hole, he hit 7-iron for his second shot, and on the par-5 13th, he hit pitching wedge!
Watson's swing is unique, no doubt. The left-hander lets his right heel come well off the ground at the top of his swing, similar to John Daly and a young Jack Nicklaus. But he plants his heel beautifully to initiate the downswing. Then, as Kostis points out, not only does his right leg straighten through impact, but he comes well up onto his right toe. In other words, his right heel is not on the ground very long throughout his swing.
This snapping of the lead leg promotes greater leverage through the hitting area and causes the clubhead to contact the ball on an ascending angle, creating not only great ball speed but an optimum launch angle with minimal spin. The result: drives that seem to travel forever.