The Loop
How to fake your way through a Masters conversation
By now, we hope you've realized the Masters is upon us. For some of you (us), it's a national holiday. For others… it's not. Maybe you're new to golf, maybe you don't quite know what the whole thing is about. That's OK, but if all your buddies are talking about it, we don't want you to look like a dummy. So, here are a few things to consider while faking your way through a conversation about the Masters.
For starters, it's all about buzzwords. Buzzwords are your best friend when you're trying to act like you know something. The buzzwords that are going to carry you through Masters conversations are the following:
Augusta – n., 1 The golf course where the Masters is played every year 2 Holy Ground. 3 One of the most exclusive and sought-after clubs in the country.
How not to use in a sentence: 'Hey, where's the Masters being played this year?'
Your instincts are good. Every other major moves around to different golf courses, but the Masters does not. Depending on how intense your friends are, you could be excommunicated if you ask this question.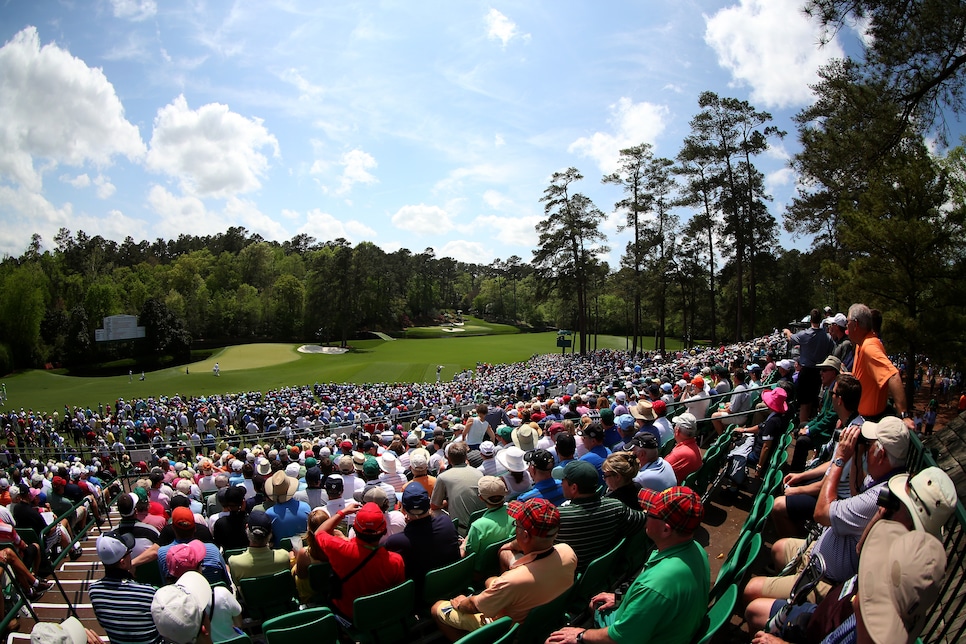 Azaleas – n., 1 Flowering shrub of the Rhododendron genus. 2 The flowers that line Augusta. 3 The apple of every golf announcer's eye.
How to use in a sentence: 'Did you see the azaleas? Looks like they're not fully bloomed yet.'
You know how the bald eagle is America's national bird? The azalea is golf's national flower. These beauties are all over Augusta, and any telecast will mention them twice every minute. In regards to our talking tip, it doesn't matter if the flowers are fully bloomed or not, because someone will bite and likely spin off into a soliloquy about global warming, thus buying you precious extra minutes in the conversation.
Jordan Spieth – n., 1 Heir Jordan 2 Golf's savior 3 The second-ranked golfer in the world. 4 22-year-old nice-guy from Texas. 5 The defending champ.
How to use in a sentence: 'Spieth's had a shaky start to this season, I don't think he's going to defend.' Or 'Spieth had a slow start last season, and it still worked out for him. He's got this in the bag.'
With either option, all of your buddies are going to start spinning their own theories about who the winner is going to be. You're in the clear.
Pimento Cheese Sandwiches – n., 1 Southern sandwich with a middle comprised of cheese, mayo, and pimento peppers, enshrined in white bread. 2 A sandwich with an orange center sold at every concession stand at Augusta for $1.50.
How to use in a sentence: 'Have any of you ever had a pimento cheese sandwich?'
Somebody in your friend group has to have a tale of success or woe involving pimento cheese. Sit back and watch it unfold.
Planter's Punch – n., 1 Tasty, wonderful, warm-weather cocktail. 2 One of three popular mixed drinks served all over Augusta. 3 Combination of rum, orange liqueur, orange juice, pineapple juice, lime juice, simple syrup, bitters, grenadine, and more rum.
How to use in a humorous sentence: 'I heard Planter's Punch taste better when you're at Augusta. (lol.)'
As soon as you say this, everyone will start waxing romantic about being at Augusta. That should buy you at least 20 more minutes in the conversation.
Amen Corner – n., 1 Hole numbers 11, 12, and 13 at Augusta. 2 The magical stretch of holes where a questioned ruling helped lead Arnold Palmer to his first Masters win. 3 A grouping of holes so tough, players thank the heavens when they make it through unscathed. 4 A string of holes containing (arguably) the hardest hole on the course (#11), and one of the trickiest par 3s in the world (#12).
How to use in a sentence: 'Who do you think is going to crumble on Amen Corner?'
When you don't know what you're talking about, it's always good to put the onus on the people around you. Asking a question like this will make them carry the conversation, spin tales about how well Bubba plays Augusta, while you smile, nod, and sip your Planter's Punch.
Green Jacket – n., 1 A green blazer given to the winner of the Masters. 2 The most sought-after jacket in golf the world.
How to use in a sentence: 'If I had a green jacket, I'd wear it everywhere!'
This comment will start one of two discussions: All of your friends hypothesizing where they'd wear their green jackets, or they'll start talking about all the different places past champs have worn their own jackets.
By now, you've proven yourself in Masters conversation. You've ticked off a few good buzzwords, you haven't embarrassed yourself, and you've catalyzed some spirited dialogue. Most importantly, no one around is guessing that you have no idea what you're talking about. Don't worry, your secret is safe with us.