The Loop
How the European team missed a double victory
During the opening and closing ceremonies of the 39th Ryder Cup, organizing dignitaries invoked the name of Samuel Ryder and cited the sportsmanship and goodwill he hoped to inspire by having a competition between golfers from America and, at the time, Britain.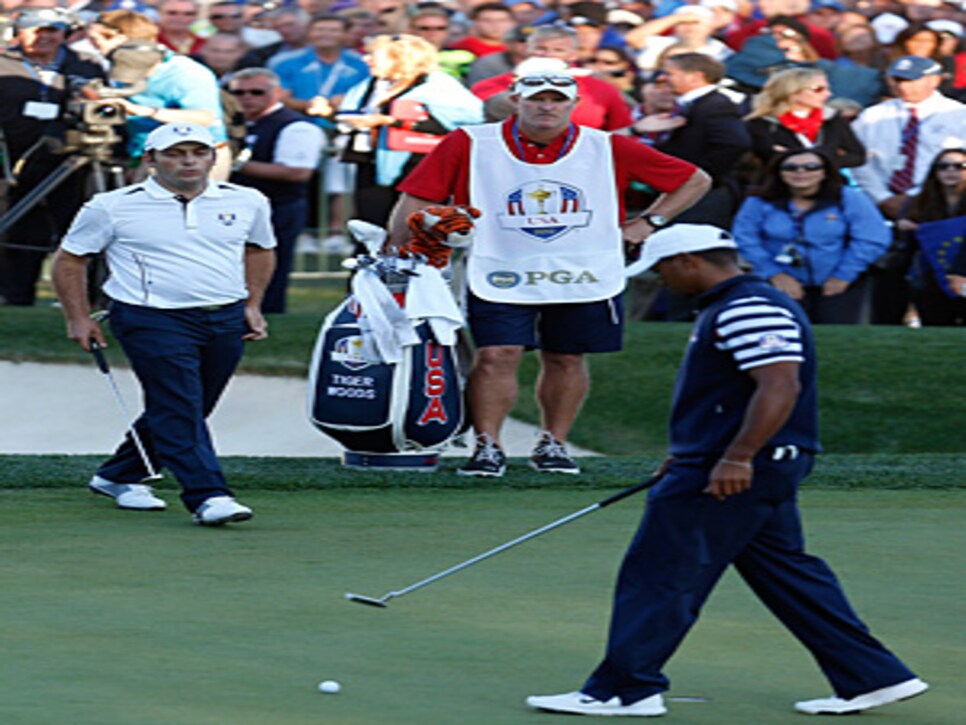 The fact that the English seed-and-garden merchant was also a justice of the peace explains why he liked seeing golfers react judiciously and with fairness in competitive moments.
So how did the conclusion of the Europeans' victory fit in with how Ryder wanted the two sides to compete?
Not too well, and the lack of a gesture of the type seen in the Ryder Cups of 1969 and 1999 did nothing to keep filtering out hostility that festers between the sides over past slights.
After Europe had clinched retaining the cup following Martin Kaymer's par putt on the 18th green in his match with Steve Stricker, the final singles match between Francesco Molinari and Tiger Woods was left in limbo back in the middle of the fairway.
The awkwardness of even finishing the match was now in question. Woods was leading, and certainly began 18 with the hope that his full point, combined with a Stricker half-point if he could win 18, would allow the United States to escape with a victory after a huge European comeback. Woods would have salvaged a major moment in 2012 by taking the winning point.
But after Kaymer's 1-up victory gave Europe its 14th point, and Europe's massive victory celebration in front of the green held up play, was there even a need to finish the match?
There certainly was, out of Samuel Ryder fairness to Woods and Molinari, who had battled hard up to that point, expecting that their result would have meaning. In fairness, it was worth letting them play their second shots to see how the advantage played out. But when they stood nearly next to each other with similar-length par putts, the situation begged for a "good-good" conclusion, each conceding the other's putt.
The result would have been a Woods 1-up victory, an overall 14-14 tie, but Europe still keeping its hands on the cup for another two years. But after Woods missed, he conceded Molinari's putt, giving him the hole and a halve in the match.
So why was no "good-good" deed done? During questioning afterward, Molinari said he was told after Kaymer clinched that he needed to play out the hole because there was significance in getting to a score of 14 1/2 rather than 14. Woods had beaten Molinari, 4 and 3, in 2010, so perhaps it was felt getting a halve would be significant for the Italian.
Woods said he conceded the par putt because it meant nothing by then and Europe had already kept the cup.
Molinari, in just his second Ryder Cup, had the lesser pedigree and was only doing what he was told to do.
But an opportunity was missed for the European team to have a double victory at Medinah. If the final match was allowed to end with a halve on 18 for a Woods victory and 14-14 tie, it would have demonstrated that Ryder's code of fairness has stayed foremost among the minds of players and captains. The Europeans would have demonstrated a respect for the effort and huge advantage the Americans had made to go into Sunday with a 10-6 lead. A tie would have given the home crowd and madly supportive Chicago-area crowd a kiss on the cheek for how much they made the event a success with their financial backing. It would have been a "thank you" to the state trooper who made sure time-zone confused Rory McIlroy didn't miss his tee time.
And the tie would have followed some notable gestures of its kind, such as Jack Nicklaus' famous concession in 1969 with Tony Jacklin, which ensured an overall tie, and, quite interestingly, something that occurred in 1999, the year a team -- the Americans -- first came back from a 10-6 deficit to win.
After the U.S. had clinched that comeback, and Payne Stewart was left on the 18th green to finish with Colin Montgomerie in the last singles match, Stewart conceded a birdie putt to Montgomerie, which gave Monty a 1-up victory. Stewart showed sportsmanship, character and compassion, the latter for verbal abuse Montgomerie had been getting from the gallery.
After a missed chance to follow Nicklaus' thinking that it's not in the spirit of the game to ruin a week's worth of golf with some potential animosity, we leave Medinah with the question: If a concession was good enough in 1969 for a tie, and a good-will gesture made in 1999 after a victory is assured, why was it not possible in 2012?