CHASKA, Minn. — You've got to hand it to Phil Mickelson. He backed himself into the tightest of corners before the 41st Ryder Cup at Hazeltine National, one that he was very worried he wouldn't be able to escape.
Of course, Mickelson's mouth has put him in lot of corners that he has had to fight his way out of. Like a lot of high-risk achievers, maybe he's drawn to brinksmanship as a way to MAKE himself perform.
At this must-win Ryder Cup for the U.S., Mickelson had a lot to lose. Being beaten by Europe for the ninth time in the past 11 matches would have vindicated the aggrieved-by-Lefty Tom Watson, invalidated the owned-by-Lefty task force and basically put know-it-all Lefty flat on his behind.
But Mickelson hasn't piled up 42 PGA Tour wins including five majors by shying away from challenge. Putting an emphatic exclamation point on the year-long play that, at 46, made him the third-leading point-getter in qualifying for this team, Mickelson came up huge at Hazeltine. While shouldering his self-imposed (and Davis Love III-validated) role as on-field leader, he went 2-1-1, concluding with a 10-birdie Sunday singles performance against Sergio Garcia that, considering the stage and the occasion, will rank with the best rounds of his career. Doing it when it had to be done was a validation of greatness.
"Through the first nine holes of his Saturday afternoon four-ball match, Phil was frustrated, pressing and dissatisfied with his play," said vice captain Tom Lehman. "But Phil is a special human being and a special player. What he did in his last 27 holes of this Ryder Cup was absolutely amazing."
Mickelson's most important victories have been marked by the highest level of opportunism. After long dry spells and disappointments, he has seized the biggest moments. He did so in finally winning his first major at the 2004 Masters, where he birdied five of the last seven holes to nip Ernie Els.
To be sure, Mickelson has had his share of tough losses. Many of them are found in his record six runner-up finishes at the U.S. Open, the most painful at Winged Foot in 2006. A par on the final hole would have won him his third straight major and gotten the U.S. Open that is keeping him from the career Grand Slam, plus helped him achieve something else he has never become: No. 1 in the world.
And amid the U.S. team's nightmare finish at the 2012 Ryder Cup, Mickelson suffered one of the most painful Sunday singles loses ever when Justin Rose made long birdie putts on the final two holes at Medinah to beat him, 1 up.
"Afterward I told him, 'Phil, when history judges you, you are going to be regarded among the 10 best players who ever played the game.' Because what he did under the kind of pressure he put himself under was incredible." —Tom Lehman
But just when an aging Mickelson seemed like he had no more serious ammunition, he bounced back to improbably steal the 2013 Open Championship at Muirfield with a brilliant last-round 66.
Indeed, the toughest thing about his runner-up finish at this year's Open at Troon was that his Sunday 65 had all the same kind of opportunistic markings. Indeed, it was 11 strokes better than the third-place finisher. But Mickelson was victimized when Henrik Stenson's near-flawless 63 edged him by two.
Mickelson responded by putting his focus on Hazeltine, and seemed to have a good handle on his leadership and his game on the eve of the Ryder Cup. But that's when the brinksman within kicked in, and Mickelson chose at the Wednesday press conference to use an open-ended general question about the importance of the captain to settle an old score having to do with his feeling that captain Hal Sutton had given him too little time to prepare for his partnership with Tiger Woods at the 2004 Ryder Cup.
Almost immediately, it was clear to his team and most important, to Mickelson, that he had created a distraction that could disrupt chemistry and potentially, his legacy. To his credit, he issued a self-effacing apology to Sutton and admitted to his team that he had been wrong. And then he overcame what he called the most profound nervousness in his first match, in which he and Rickie Fowler came from 2 down with four to play to defeat Rory McIlroy and Andy Sullivan, 1 up.
"Certainly I felt more pressure heading into today's matches," Mickelson admitted. "Given the buildup over the last couple years, the criticism, the comments, what have you, the pressure was certainly as great or greater than I've ever felt.
"I could have copped out and asked to sit, but that would have been a total weak move. I wanted to get out there."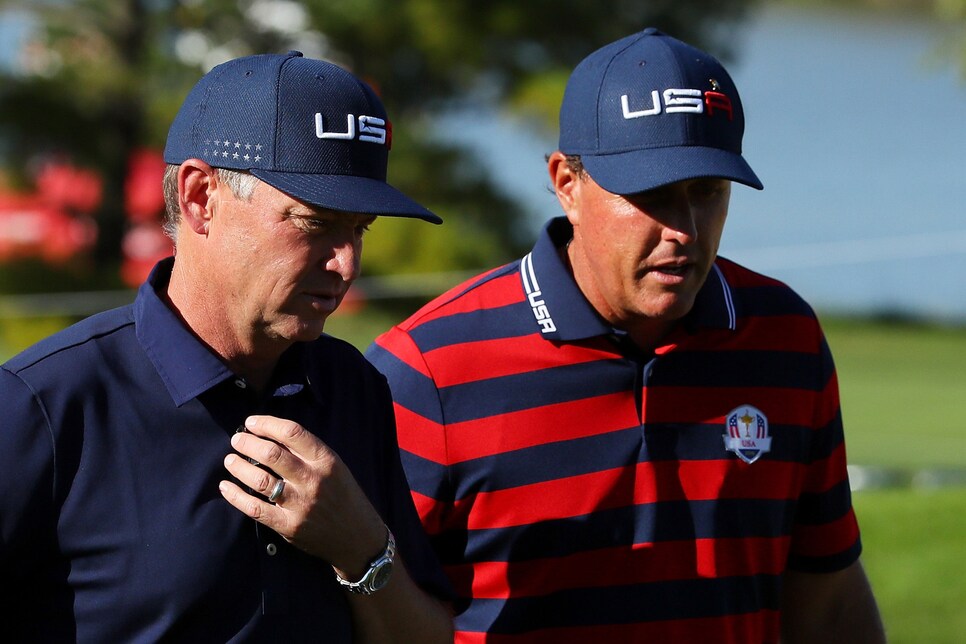 On Saturday morning, Mickelson and Fowler lost, 4 and 2, to McIlroy and Thomas Pieters. In the afternoon, Lefty and Matt Kuchar were locked in a tight battle with Garcia and Martin Kaymer, when Mickelson dug deep for four back-nine birdies to seal a 2-and-1 victory. That play was the breakthrough to his Sunday brilliance with Garcia.
With the Ryder Cup in his team's possession during a final press conference on Sunday evening, Mickelson sat in the back row with the assistant captains, a portrait in relief and satisfaction. At a time when he could have gloated, he actually was reluctant to say much, especially when lobbed a first question "What do you think of Captain Love's leadership style?" that obviously, and humorously, referred to Mickelson's assertive public role.
"We had a great week this week," Mickelson played along with the most pat answer possible. His team, half-holding its breath at what Phil might do next, mock applauded his restraint.
Mickelson also referenced his comments toward Watson in a way that drew laughter and finally eased some enduring awkwardness, saying, "The pressure started when some dumb ass opened his mouth two years ago in the media center."
When Mickelson finally couldn't resist elaborating how the task force ideals had created a foundation for defending the cup in France in two years, calling it "a whole different feat that's going to require a whole different level of play, of solidarity, of fortitude," Love chose the moment to pop a champagne cork. "That's my cue to shut up," Mickelson said with a knowing smile.
Really, Mickelson didn't have to talk about anything. His actions over the week had spoken volumes. In the reductionist "just win baby" world of sports, he had made all the scorched earth that had come before worth it.
Now Mickelson leaves Minnesota with 22 career Ryder Cup points, trailing only Billy Casper (23½) and Arnold Palmer (23). He's emboldened to make the 2018 team in Paris as a 48-year-old, where he might be able to bring his now 18-20-7 overall record to .500 and add to his legend.
Said Lehman: "Afterward I told him, 'Phil, when history judges you, you are going to be regarded among the 10 best players who ever played the game.' Because what he did under the kind of pressure he put himself under was incredible. There are very few people who have ever played this game who could have done that."
You have to hand it to him.