The Loop
How a one-time Tiger Woods instructor not named Butch or Hank might advise his former pupil
Following Tiger Woods' announcement last week that he was parting ways with instructor Sean Foley, several voices weighed in on how the former World No. 1 should proceed to get his game back on track. Naturally, the thoughts of Butch Harmon and Hank Haney claimed headlines, but arguably the most interesting opinion came from a less-heard-from former Woods instructor.
At 93, John Anselmo still teaches at Meadowlark G.C. in Huntington Beach, Calif., where he worked with an adolescent Woods between ages of 10 and 16. Jaime Diaz talked to Anselmo for a feature in the Sept. 2 issue of Golf World that explores where Woods might turn next regarding his swing. Among Diaz' conclusions, after talking to Anselmo, was that coming full circle and returning to the advice of Tiger's youth might be the best approach for the 38-year-old given he doesn't necessarily have time for another extensive overhaul of his swing.
Anselmo said it's been several years since he saw Woods and the idea of speaking again with him would be gratifying. "Lots of things I'd like to tell him," Anselmo told Golf World. "First, quit trying to kill the ball. And I would ask him what he feels during the swing, because he was a feel player. I don't know if it's possible for him to be the player he was. But I know he hasn't forgotten how to create a swing. There's still some greatness in there."
In watching from afar, Anselmo believes the biggest issue for Tiger is a loss of confidence with his driver, a problem that has its roots back to when the two of them worked together.
"It started because ever since he was little, he's been obsessed with hitting it far," Anselmo said. "That was why he put on a lot of muscle weight training in college, which changed his swing. But swinging too hard can destroy a good player. Snead used to go at it about 80 percent, and it looked like less than that. As he got older and still wanted to be the longest hitter, Tiger lost that controlled smoothness with the driver."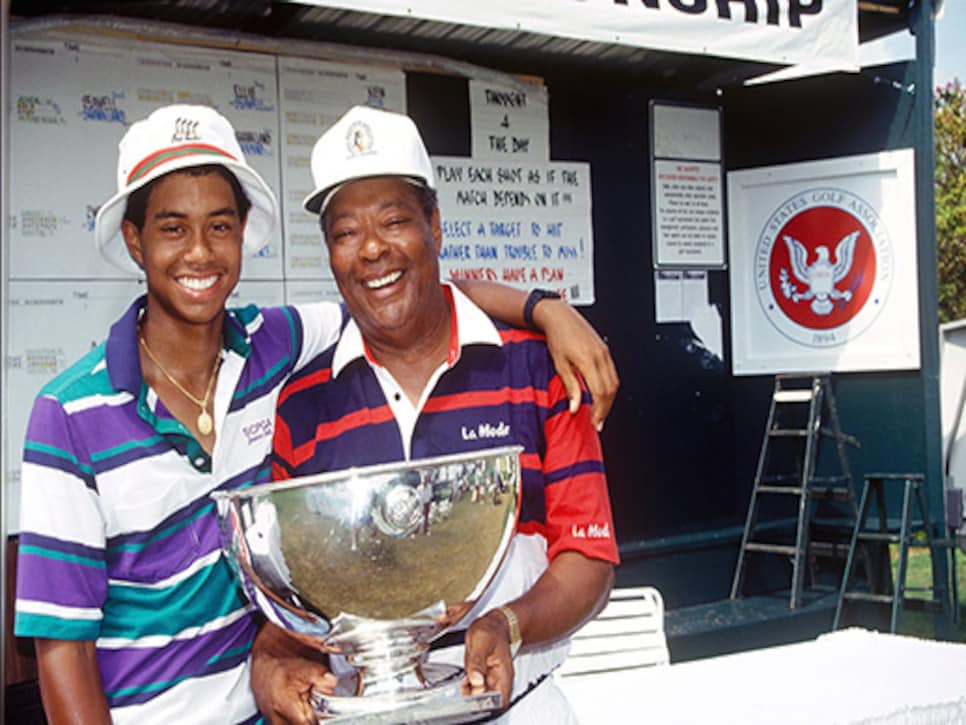 *Tiger Woods and his father, Earl, celebrate the first of his three U.S. Junior titles in 1991, when he turned to John Anselmo to work on his swing (Getty Images). *
As Woods was winning his record three straight U.S. Junior titles in the early 1990s, his partnership with Anselmo was winding down. In 1993, the instructor had to stop teaching for eight months to battle colon cancer, and it was then that Woods began working with Harmon. Anselmo told Diaz he understood why Woods made the change, but laid out an intriguing "what if?" scenario.
"If I hadn't gotten sick, I think he would have stayed with me," Anselmo said, believing that the two might have maintained the same type of long-term relationship that Jack Nicklaus had with Jack Grout and Ben Crenshaw and Tom Kite had with Harvey Penick.