Valspar Championship
Justin Thomas has an interesting story about learning from Phil Mickelson in a 2014 practice round that helped jump start his career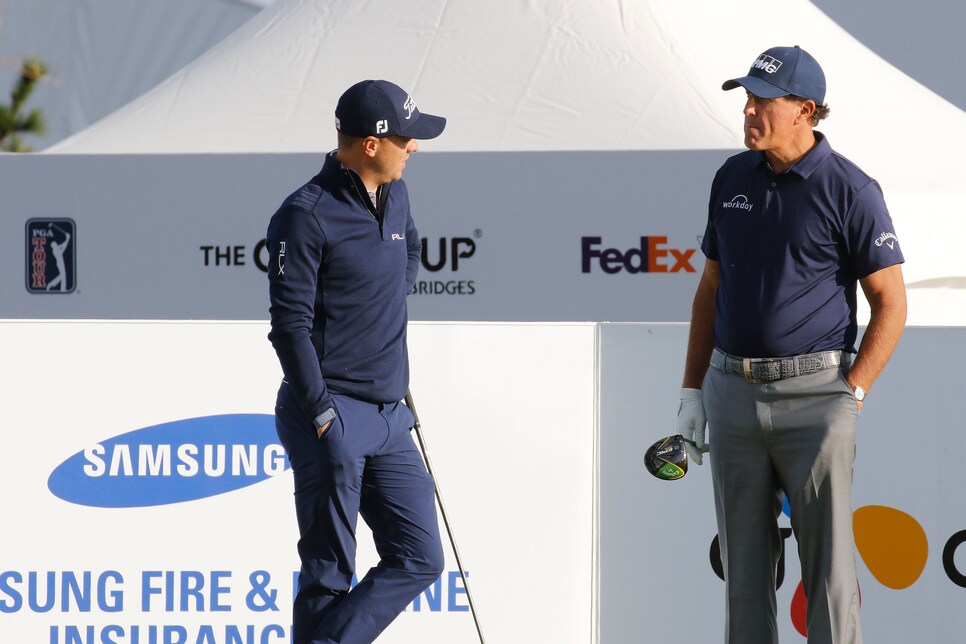 Justin Thomas' career was just getting started in 2014, his first full year as a pro. Still a member of the Web.com Tour, he qualified for the U.S. Open at Pinehurst. A few hours after doing so, Phil Mickelson texted, telling him that he had Rickie Fowler, to get a partner and that the four would play together in a practice round. Thomas of course teamed up with good friend Jordan Spieth. Not a bad way to ring in his first career major.
But there was still a lot to learn.
"Just seeing the shots they were able to hit, especially Phil being as good as he is with his wedges," Thomas said Wednesday from the Valspar Championship, recalling what part of his game needed the most work back then.
Fast forward a month from that match (Thomas and Spieth won, 1-up, by the way) and back to that year's Web.com Tour event in Boise, Idaho. Thomas and a Titleist rep were talking about Mickelson's magical wedge play, the rep noting that it was an area of the rising young star's game that could use improvement. Thomas agreed.
Then, two months later, voila.
Thomas won his first tournament as a professional, beating Richard Sterne with a birdie on the first hole of a playoff at the Nationwide Children's Hospital Championship. And he did it by sticking a wedge from 75 yards to inside three feet to a back pin to set up the winning putt on the par-4 18th at Ohio State's Scarlet Course.
Mickelson was paying attention from afar.
"That next week I remember getting a text from him saying, 'I'm glad to see all that practice paid off,'" Thomas said.
Things have worked out pretty well since, too, with Thomas having since racked up 14 wins on the PGA Tour, including a major at the 2017 PGA Championship.
"It's funny you remember little things like that," said Thomas, making his first start since the Masters three weeks ago. "But it was nice to be able to hit a shot like that after I'd been working on it."