The Loop
How Joe Durant saved Bubba Watson's career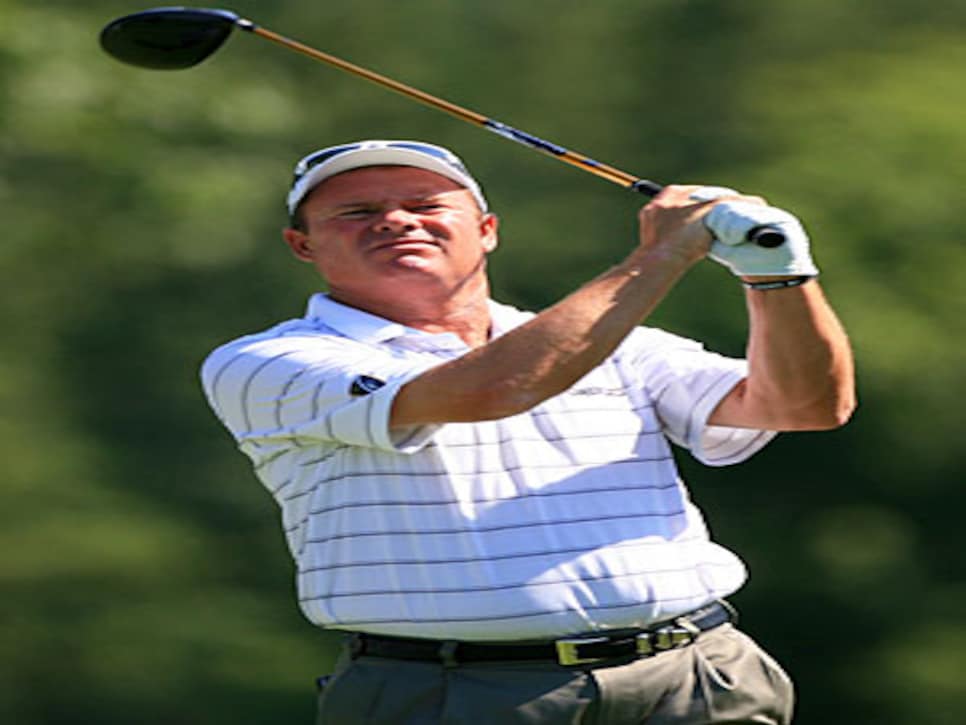 HILTON HEAD ISLAND, S.C. -- Joe Durant remembers well the day he helped launch Bubba Watson's professional golf career. Durant did it by making sure he stayed out of his way.
It was 2003, and Durant, already a three-time winner on the PGA Tour, received a phone call from Watson's father, Gerry.
"Gerry called and asked me if I would be interested in working with Bubba, helping him out. I thought about it for a while, and then said, 'No, absolutely not,'" Durant said Tuesday afternoon at Harbour Town GL in preparation for the RBC Heritage. "My answer simply had to do with thinking that would be the biggest disservice I could do for Bubba. I had seen him play a little and I knew what kind of a player he was.
"We have two totally different kinds of games," Durant continued. "Plus, he just had a creativity that I knew was special. He didn't need a teacher. The guy has unbelievable hands and talent. He's creative. He kills the ball. You don't want to put him in any kind of a program, per se. You can't teach what Bubba can do no more than Seve (Ballesteros) could teach someone to hit the kind of short-game shots he could hit. He just needed to go play, take a little time, and he was going to be fine."
Of course, Durant didn't know that Watson one day could win the Masters Tournament. But Watson, who never did receive any formal coaching, did just that last week at Augusta National GC, defeating former British Open champion Louis Oosthuizen on the second hole of a sudden death playoff. And Watson, 33, accomplished the feat thanks to the imagination and shot-making Durant alluded to, hitting a 155-yard sling-hook from a pine-straw lie, around trees, to within 12 feet of the hole at the par-4 10th.
The resulting two-putt par won him the green jacket.
"You just never know if a guy has what it takes to win a major," Durant said. "But I did know Bubba had a world of talent."
Durant, a native of the Florida Panhandle like Watson, saw that first-hand during charity event in Durant's hometown of Pensacola. Watson, from Bagdad, Fla., also was invited. "This was around the time Bubba turned pro, and he was impressive," Durant, 48, said. "He had the length, but the thing that impressed me was his ability to curve the ball both ways and hit all these different kinds of shots. You don't see that in a young kid very often. That's when I saw how really special he was going to be."
And now for the rest of the story.
Durant and Gerry Watson, who died of throat cancer in 2010, were regular golf partners when Durant was just a kid. Joe's older brother, Phillip, nicknamed "Flip," became friends with Gerry Watson after the two returned from the Vietnam War. They played golf together regularly at a lighted Par-3 course called Hill & Dale GC. Joe often tagged along for evening rounds.
"I'll never forget it," Durant recalled. "I was starting to get decent at golf, and one day Gerry said to me, 'Look you little turd, if you beat me I'm selling my clubs.' We went out and played 18 holes, and I beat him. Next day he went and sold his clubs. Gerry never really played golf again until Bubba was born. He was really Bubba's only coach. Then one day he called me, and I was really touched by him asking me to help. But I knew better. Bubba didn't need someone like me to teach him how to play golf. And I was right."