The Loop
How He Hit That: Zach Johnson's bomber wedge game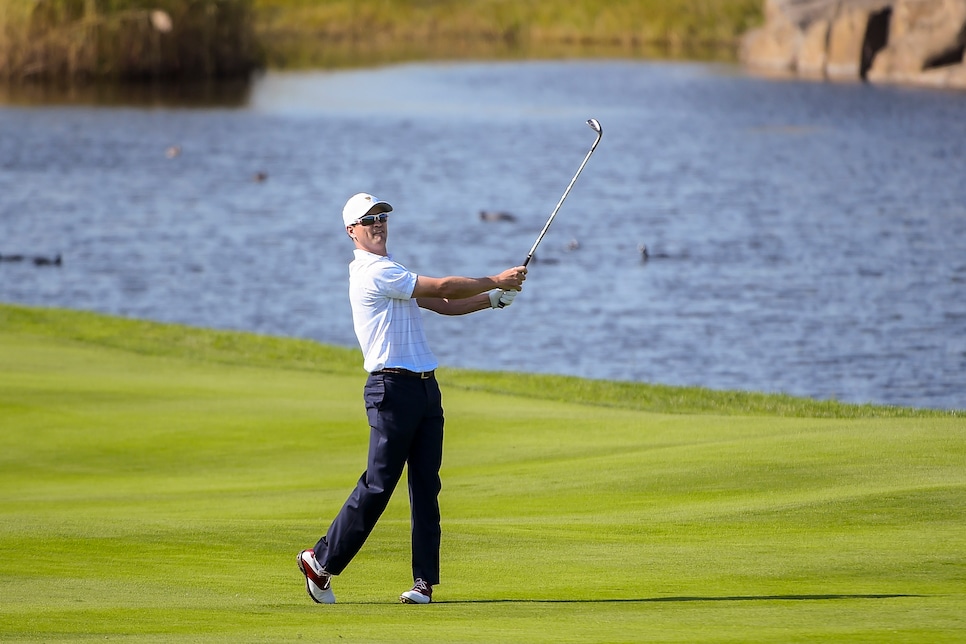 How does one of the shortest hitters on tour win a President's Cup match (and two majors)?
By being better than everybody else with his wedges. Zach Johnson showed again why he's able to stay more than just competitive despite giving up 30 or 40 yards off the tee to the likes of Jason Day and Dustin Johnson. Paired with another wedge wizard in Phil Mickelson in alternate shot on the first day of the Presidents Cup, Johnson nearly holed his 75-yard approach on the 15th hole in a match against Jason Day and Steven Bowditch. The tap in would secure the halve on the hole, and the Americans would go on to win 2-up.
Johnson's skill with his wedges comes out of necessity, says Golf Digest Best Young Teacher Jason Guss, who runs his academy at Hawk Hollow in Bath, Michigan. "A great takeaway from that is that Zach wins by focusing on what he does well and getting even better at," says Guss. "He isn't always out there hunting for something new. He puts in hours and hours and hours of wedge practice, because he knows that's the shot he needs the most."
On the technical side, Johnson's wedges are so sharp because he takes such a shallow, inside path to the ball. "He has a strong grip, and he comes through the ball from the inside with the face sightly open," says Guss. "He has great body rotation, and his hands aren't doing much at all. The face is really stable through impact, and he's using the bounce on the bottom of the club and making perfect, shallow divots."
Johnson's flatter, body-controlled swing is a much better option for average players, who tend to hit short wedge shots with no turn and a hands- or arms-dominated swing. "Zach's technique plus a huge amount of repetition are why he gets over a shot like this and expects to hole it out."