The Loop
How he hit that: Brendon Todd's quiet short game hands
The raw numbers will say Brendon Todd won his first PGA Tour event at the Byron Nelson by shooting a bogey-free 66 on Sunday, earning $1.2 million. But the feel of the Pittsburgh native's win will be pure short game magic, in the form of two nervy shots that carried him to his two-shot win over Mike Weir.
The first came on the par-3 13th, where Todd hit his tee shot next to a tree. He had no conventional stance, so he addressed the shot left-handed, flipping his 4-iron upside down. "Some players try to do too much with the shot and add some wrist hinge, but he hit that one basically like a putt," says Travis Fulton, the Director of Instruction at TPC Sawgrass' Tour Academy. "He took a lot of the risk out, and focused on making clean contact." Todd's backhander ended up seven feet from the hole, and he rolled that in to save his par.
On the par-5 16th, Todd missed the green with his wedge approach, and he faced a 40-foot pitch shot from a tight lie off the green, and he made perfect contact, hitting his high spinner to a foot for an easy tap in. "When he hinges his wrists on the backswing, the shaft of the club lines up with his left forearm," says Fulton. "That basically lets him pivot and drop the clubhead on the ball. He just pivots and lets the weight of the clubhead do the work, and he turns along with it."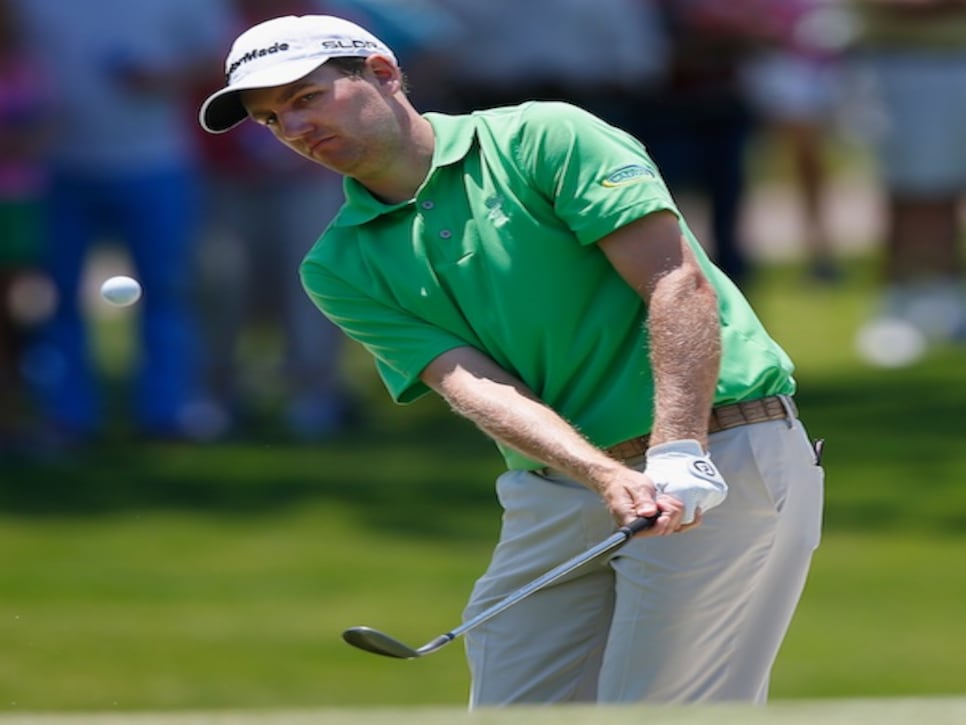 Todd keeps a stable base and doesn't manipulate the club with his hands on the downswing, which also makes his short game shots more pressure proof. There aren't many moving parts to seize up in the moment.  "The bottom of his arc is predictable, and he lets gravity do the work," says Fulton. "Amateurs struggle with this shot when they bow the left wrist and pull the clubhead behind them. If you hinge it out of line with the left forearm like that, you set the stage for hitting behind the ball and digging the club into the ground. Then you have to flip your hands to try to save the shot."