Features
How the 'Great Wall of Dinah' played a controversial role in the outcome of the ANA Inspiration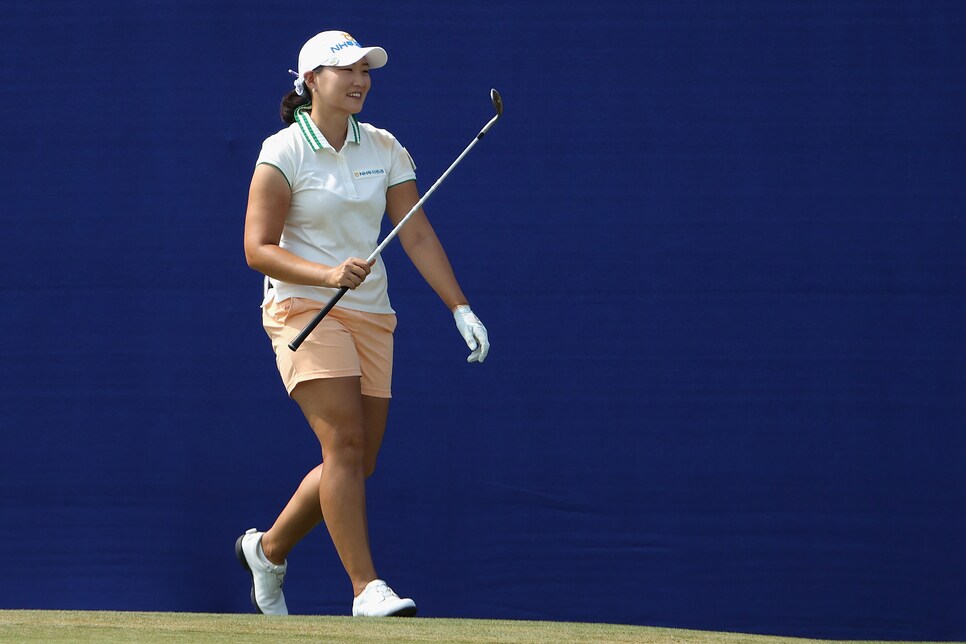 Mirim Lee reacts after chipping in for eagle on the 18th green during the ANA Inspiration on the Dinah Shore course at Mission Hills Country Club. She won in a playoff. (Photo by Christian Petersen/Getty Images)
Christian Petersen
RANCHO MIRAGE, Calif. — There were no fans and so there were no grandstands, notably behind the island 18th green of the Dinah Shore Tournament Course at Mission Hills C.C. Yet a structure there played a role, controversially so, in the outcome of the ANA Inspiration on Sunday.
The temporary fencing, affectionately nicknamed the "Great Wall of Dinah," was placed there to loosely replicate what players would see when the tournament was played with fans.
Eventual winner Mirim Lee came to the par-5 18th hole trailing by two shots, when she deliberately used the structure as a backstop on her second shot. (The wall prevented shots from bounding over the green into a water hazard behind the putting surface.) She then holed an eagle chip, wound up in a playoff with Nelly Korda and Brooke Henderson, and won on the first extra hole.
"I definitely thought to utilize the backboard," Lee said. "When I had practice rounds, I had practiced that shot, so it was a definite for me to use the space there.
"My plan for 18 was just to have a birdie and do what I have to do to keep my head up, and when the shot went in, I think I was really surprised. It must have been a bit of luck that helped me."
Suffice it to say, not everyone was thrilled with the presence of the wall, given the material impact it could have on how players approached the 18th hole.
"Honestly, I wish they didn't have that wall there because I think it would play really cool as like an island green," Korda said earlier in the week, unable to know just what an impact it would have as she attempted to win her first major title. "It's like really close to the green this year."
"There initial plan with this was to replicate what the bleachers were like that had been in that same area all these last years," Golf Channel's Judy Rankin said during Sunday's telecast. "The fact is, it has been I think way too artificial. There was no real reason for it to be there. There were not spectators or clients or anything like that in great sky boxes. And it has effected play way too much."
Had the structure not been there, it likely would have affected decisions on whether to go for the green in two shots. Lee's shot, and another by Henderson en route to making a birdie on the hole to get into a playoff, likely would have rolled into the water behind the green had the wall not been there.
Still, there were some players who didn't mind the structure being in place. "I was actually thinking about what 18 would be like without the bleachers because visually that is just a protector for most of us just knowing there's water behind it," another player, Madelene Sagstrom said. "I don't think that would visually be a very nice shot to go for in two. I don't really know the reasoning for the thing, but I'm kind of happy it's there if I want to go for it in two, to be honest."