Clemente, Zweig prevail in opening match
How teens (barely) sent accomplished veterans home in first round of the U.S. Women's Amateur Four-Ball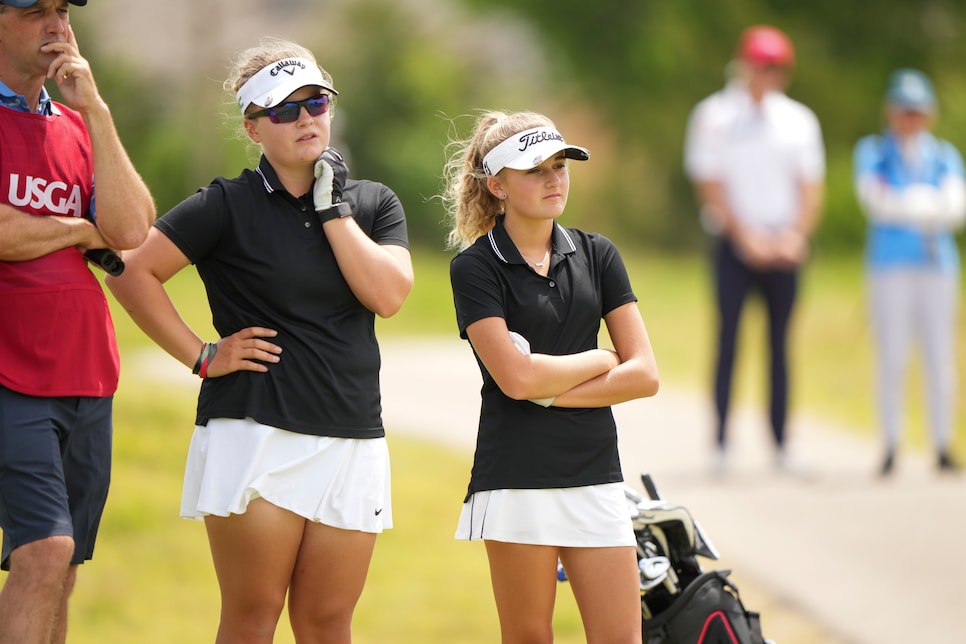 In the course of match play golf, we hold one truth to be self-evident: there is no substitute for experience. And then two young girls come along — "tiny things but with big swings," as one observer described them — and hit delete on that notion as easily as an unwelcome text message on their phones.
Barely teenagers Gianna Clemente and Avery Zweig, the two youngest competitors in the sixth U.S. Women's Amateur Four-Ball, were plotting a Monday night itinerary of ice cream sampling and who's-next strategizing after defeating veterans Dawn Woodward and Megan Stasi, 3 and 2, in the opening round at Maridoe Golf Club in Carrollton, Texas.
Clemente is 13, not even twice as old as the number of years Stasi and Woodward have partnered together in this championship. They are the only pair to play in all six editions. "Technically, it's actually seven years because we qualified last year and then it was a no-go," Woodward pointed out, noting that the event was canceled due to the global health crisis.
Meanwhile, Zweig punches into the clock at 14 years and change. She and Clemente, who tied for medalist honors in 36-hole stroke-play qualifying at six-under 138, struck up a friendship way back in their younger days at a U.S. Kids Golf tournament and decided it might be fun to try this match-play thing, at which they have almost no experience. Like, go figure.
Their opponents had more. A lot more. Stasi, 42, of Fort Lauderdale, Fla., is a four-time U.S. Women's Mid-Amateur champion and played on the 2008 U.S. Curtis Cup team. Woodward, 47, hailing from Greenville, S.C., is a five-time South Carolina Women's Amateur champion and three-time medalist in the Women's Mid-Am.
But on a wind-whipped day, they had no answer for the whippersnappers, who flipped the match with consecutive wins on the eighth and ninth holes and rode that momentum to the finish.
"The wind got us, and we gave a lot of strokes away, but they played solid," Stasi said. "They have nice games, and when one of them was out of the hole, the other stepped in."
The match turned when Zweig, who lives in nearby McKinney, Texas, dropped an unlikely 35-footer for birdie at the par-3 eighth after watching Stasi putt from a similar line. "They got off to a hot start, and we took a few holes to get into it," Zweig said. "We knew the stretch of nine through 13 was going to be difficult and that pars would win, and we just wanted to be close going into that."
Tied going to the ninth fit their strategy perfectly. They actually talked about this. "Strategy is a big part of match play," Clemente said. "The friendship aspect has been beneficial, too."
Sandwiched between wins at Nos. 9 and 11 with pars came a crucial tie at the 10th when Zweig hit the flagstick with a downhill chip from just off the green and saved par. The youngsters delivered another dagger at the par-3 14th when Clemente sank a 5-foot birdie putt to erase a 15-footer from Woodward. Clemente had just won the 13th with a par save of her own for a 3-up lead.
In the second round of qualifying on Sunday, Clemente, of Warren, Ohio, holed out for the second ace of her career on the same hole. She used the same club, a 7-iron, from 146 yards. "I actually thought it would go in again," she said before noting that the duo is four under on that hole in three rounds.
The match ended with pars on the par-5 16th.
The fun is just beginning for the teens, who at times sound like savvy veterans several years older — you know, like almost driving age.
Zweig didn't like the first-round matchup with the more experienced pair, saying, "we knew they were going to be a tough out." And yet, every few holes she admits she likes to talk about her two cats and her dog. Clemente, who carries a plus-4 handicap, plays golf in the winter in Florida and the summer in Ohio. So, she's got a tour player routine down already. In the same breath, however, after volunteering a quick explanation of how handicaps are calculated, she mentioned how happy she was for herself and Zweig to have another day of golf, which means another visit to the player hospitality room, where the featured attraction is a "wall of donuts."
Motivation, they name is glazed confection.
Given the uncertainty of match play, there is no telling how far they will advance. But Zweig said with certainty, "We won't be intimidated. I can say we're both pretty confident in our games. Intimidation is how you look at it. I like our chances."
Plus, hey, now they have experience.