News
Casey Prevails In Playoff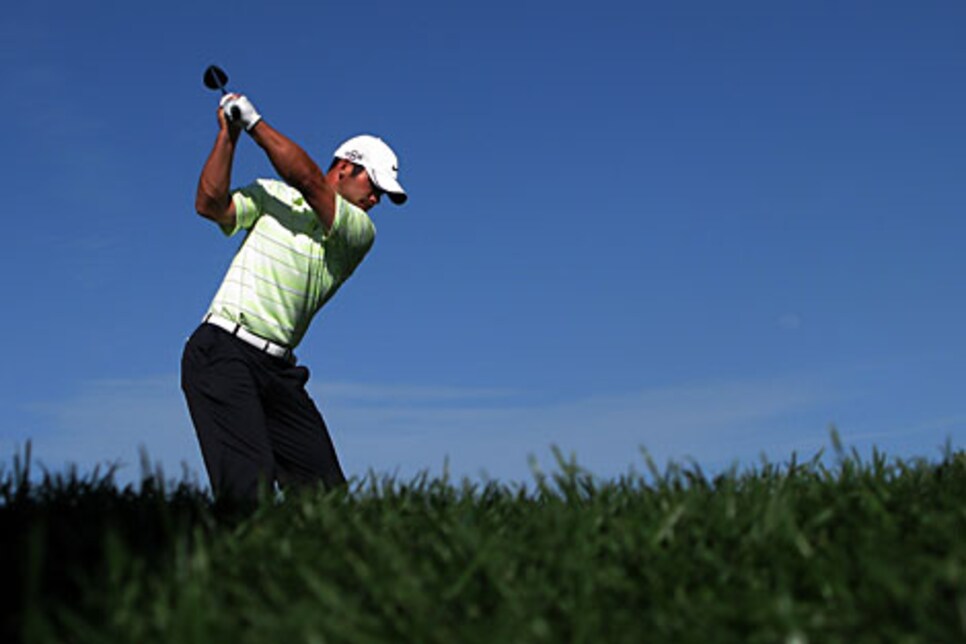 Paul Casey has won nine times on the European Tour, but was winless on the PGA Tour until Sunday.
HUMBLE, Texas (AP) -- Paul Casey finally considers himself one of the world's top golfers, just in time for the Masters.
Casey won the Shell Houston Open on Sunday for his first PGA Tour victory, beating J.B. Holmes with a bogey on the first playoff hole. The 31-year-old Englishman has nine international victories since 2001, but had never won in the United States. The victory boosted Casey from No. 12 to No. 6 in the world rankings, a career high.
"It's time to start believing I can be a top 10 player in the world and maybe I can be in the top five," Casey said. "We'll see when we get there. Clearly, I just took a little while to sort of get used to things and feel comfortable. Now, I feel comfortable out here."
Holmes needed a win to earn a trip to next week's Masters, and is the only player from last year's Ryder Cup who failed to qualify.
Casey bogeyed the 18th hole in regulation to complete a 72 and tie Holmes at 11 under par. Holmes wrapped up a 69 almost three hours before Casey finished.
The players met on the tee of the 488-yard 18th hole, the most difficult of the tournament with an average score of 4.336.
Holmes hooked his tee shot into the pond that lines the hole, admitting that the long wait threw him off.
"It was rough," Holmes said. "I posted that three hours before they were done. That was an advantage I thought I had, but when you get into a playoff after waiting three hours, it turns out to be a bit of a disadvantage. I hit a bad shot and didn't deserve to win."
Casey then drove into the fairway bunker on the right side and hit a safe layup to the front of the green. Holmes reached the green with his fourth shot, then missed a long bogey putt. Casey two-putted from 27 feet to secure the win.
Casey made a last-minute commitment to play in Houston and would now flying to Augusta with a helpful dose of confidence.
"The self-belief, this is a very difficult thing to explain and to work on, because you don't want to be arrogant," he said. "But yet you have to believe in yourself. For me, it's just been a lot of hard work, playing a lot of golf, and a bit of time."
Wind gusts topped 30 mph on Sunday and blew straight into the players' faces on the 18th hole. As Holmes putted on the practice green, Casey hit his 214-yard approach into the greenside bunker.
Casey said he didn't even check a leaderboard until he prepared to hit his sand shot.
"I just thought it was incredibly difficult out there," Casey said, "so why burden myself with knowing too much? Just get on with it."
He blasted to the bottom tier of the green and two-putted from 36 feet to force the first playoff in Houston since 2005. After seeing Holmes hook his drive into the water to start the playoff, Casey pulled a 3-wood from the bag and hit an easy fade to safety.
"I stuck to the game plan," he said. "Hit to the left edge of the bunker, drifted right. No problem."
Fred Couples, seeking his first victory since winning the 2003 Houston Open, led for most of the final round before bogeys on his final three holes left him at 9 under, tied with Henrik Stenson and Nick O'Hern in third place.
Couples and Casey were among six players tied at 11 under when the third round ended Sunday morning. Tour officials said it was the largest logjam at the top after 54 holes since at least 1970, when the statistic was first kept. Bo Van Pelt, Colt Knost and Ryan Moore were also part of the tie, but none of them broke par under the windy conditions Sunday.
Couples birdied the par-5 fourth hole to take the outright lead at 12 under.
Holmes sank birdie putts on the first three holes on the back nine before a bogey on No. 14. He reached the par-5 15th in two and two-putted to move to 11 under.
"I never thought I was out of it," said Holmes. "It just takes a couple of birdies."
Holmes hit his approach to No. 18 into the greenside sand trap, blasted out and sank a bending 14-footer to save par.
Casey sank a 10-footer for birdie on No. 12, then pitched to 2 feet on the par-5 13th to tie Couples for the lead. Couples then pulled a 6-foot par putt on 16 and hit the greenside bunker on 17 to start his slide.
Organizers spent the weekend playing catch-up after high winds suspended the first round on Thursday afternoon.
To save time, third-round threesomes were not reshuffled for the final 18. The leaders teed off again about 90 minutes after finishing their third rounds on Sunday morning.
"It's been a long week," Holmes said. "I feel like this is the sixth or seventh round. It's just been a difficult week, the way everything worked out."
Casey is the first European player to win the Houston Open, but the sixth international winner since 2002.