News
Couples One Back Of Van Pelt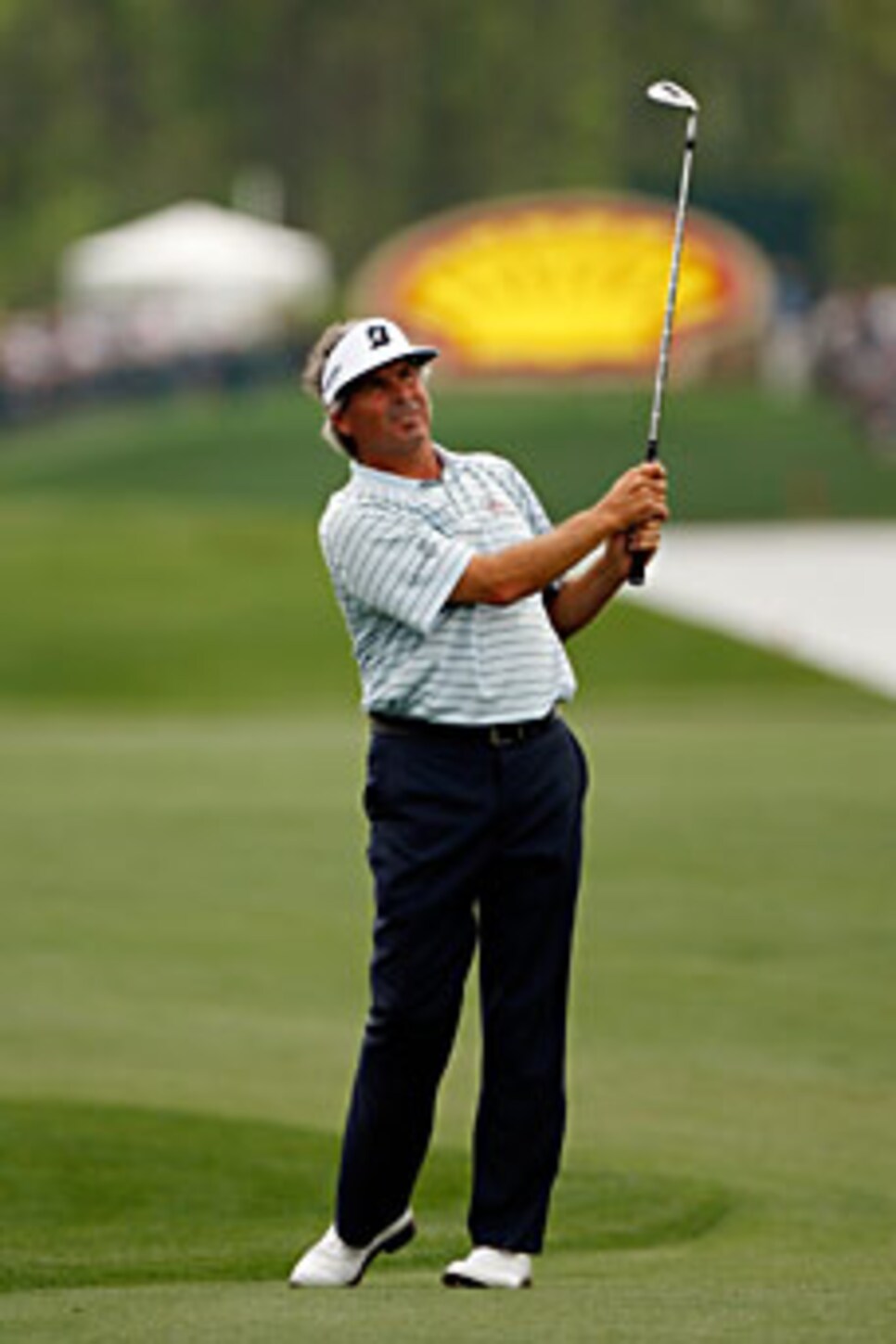 Couples ranks 21st on the all-time money list with more than $20 million in winnings.
HUMBLE, Texas (AP) -- Bo Van Pelt moved to 11-under par to take a one-shot lead through eight holes of his third round at the Shell Houston Open just before play was suspended Saturday because of darkness.
Fred Couples, Paul Casey, Colt Knost and Tommy Armour III were all at 10 under when the horns sounded at 7:34 p.m. The players will resume the round early Sunday, then immediately tee off for the final 18.
Van Pelt, winless in eight-plus years on the PGA Tour, shot a 67 in the second round, then birdied three of the first seven holes in his third round.
Knost, playing with Van Pelt, was leading at 11 under until a three-putt bogey at the par-5 eight. Van Pelt hit a pitch to 3 feet and sank the birdie putt to switch places with Knost and take the outright lead.
Couples, fourth at Redstone last year, had birdies on both par 5s on the front nine, then sank a 6-foot birdie putt on the 10th to join the group at 10 under. Casey, who shared the second-round lead at 8 under, birdied the par-5 fourth and holed a 37-footer on No. 7.
Robert Karlsson, Lee Westwood and Geoff Ogilvy were among the group at 9 under. Padraig Harrington and Justin Leonard were among six players at 8 under.
Greg Norman, making a rare appearance on the regular tour to prepare for next week's Masters, played 36 holes Saturday and was 6 under par after three completed rounds.
The tournament will resume on Sunday without Phil Mickelson, who missed the cut at 9-over par.
Mickelson followed a first-round 77 with a 76 on Saturday that included two triple bogeys. But Mickelson didn't seem worried about his game heading into next week's Masters. He hadn't played since winning the CA Championship on March 15 and said he needed to play some tournament rounds, regardless of the scores.
"It was really good that I played here, cause I made some mistakes during these first two rounds that you just can't do competitively," Mickelson said. "Stuff like that, I needed to get out of my system after a couple of weeks off.
"It doesn't feel like my game is far off. I'm not overly concerned with what the number showed. I'm looking forward to next week."
Casey, Ogilvy, Armour, Knost and John Senden were tied for the second-round lead at 8 under.
The breeze picked up by mid-morning, after Ogilvy, Senden and Knost finished their second rounds. The wind didn't seem to faze Couples or Leonard -- Couples was one shot off the lead and Leonard two back when the third round began.
"When the wind is blowing, it's hard out there, but I got it around," said Couples, who shot a 69 in the second round. "I came into today, after being 4-under, I knew there would be a lot of guys ahead of me. But I just thought, 'If I hit it solid, I can keep ground.' It's a good spot to be in."
Like Couples, Leonard bogeyed the difficult 18th to wrap up a second-round 70. He only needed 15 putts on Saturday, but felt like he should've had even fewer.
"Hopefully, the next couple rounds, I'll get those putts to start going in," he said. "I'm playing solid, not doing anything really special. Would like to have a few more putts go in."
Divots@ Vijay Singh, Steve Stricker, K.J. Choi and David Toms were among the other big names who missed the cut. Toms needed a win here to qualify for Augusta, but will miss the Masters for the first time since 2004. ... Jeff Overton and Michael Campbell withdrew Saturday morning. ... Former President George H.W. Bush and wife Barbara got a standing ovation when they showed up in the pavilion behind the 18th green about noon. The Bushes live in Houston. ... The 488-yard 18th was the hardest hole on the course midway through the tournament, with an average score of 4.229.