Hot List
Hot List Summit Day 3: Newsmaker, news breaker
LITCHFIELD PARK, Ariz. -- Golf retailers don't usually make news or break news, but when the retail panel took center stage at the annual Golf Digest Hot List Summit on Tuesday, there was evidence of both.
First the news. Bobby Jones Golf is being merged with the HMX Group, which heretofore had licensed the Jones name to the equipment company. HMX is the owner of the Bobby Jones line of apparel.
The newsmaker on hand is Leigh Bader, co-owner of Joe & Leigh's Discount Golf Pro Shop in South Easton, Mass., the store that sold a used Yes! putter for $39 to Jim Furyk, who used the putter to win the Tour Championship and the FedEx Cup, an $11.5 million payday.
"We got a lot of attention for it for at least a week," Bader said Tuesday, during a break the day's proceedings at the Wigwam Golf Resort & Spa here. "The first two or three days, the phone was ringing nonstop. It was our Andy Warhol [15 minutes of fame] moment."
Joe & Leigh's is a one-store business, but Bader is a heavyweight on the retail side of the industry, among the more knowledgeable retailers in the business, as are the others who comprise the panel: Ken Morton Jr., from the Haggin Oaks Super Shop in Sacramento; Carl Rose of Carl's Golfland in Michigan; Casey Baker, from Miles of Golf in Ypsilanti, Mich.; Susan Roll, owner of the Carlsbad (Calif.) Golf Center; Sven Kessler of Edwin Watts Golf; and John Lyberger, head pro at Congressional Country Club in Bethesda, Md.
The retailers are here for two days of meetings to help the Hot List judges better understand how the products will fit into the marketplace in 2011. The retailers were also given the opportunity to examine and hit the products under consideration and were seeing many of them for the first time.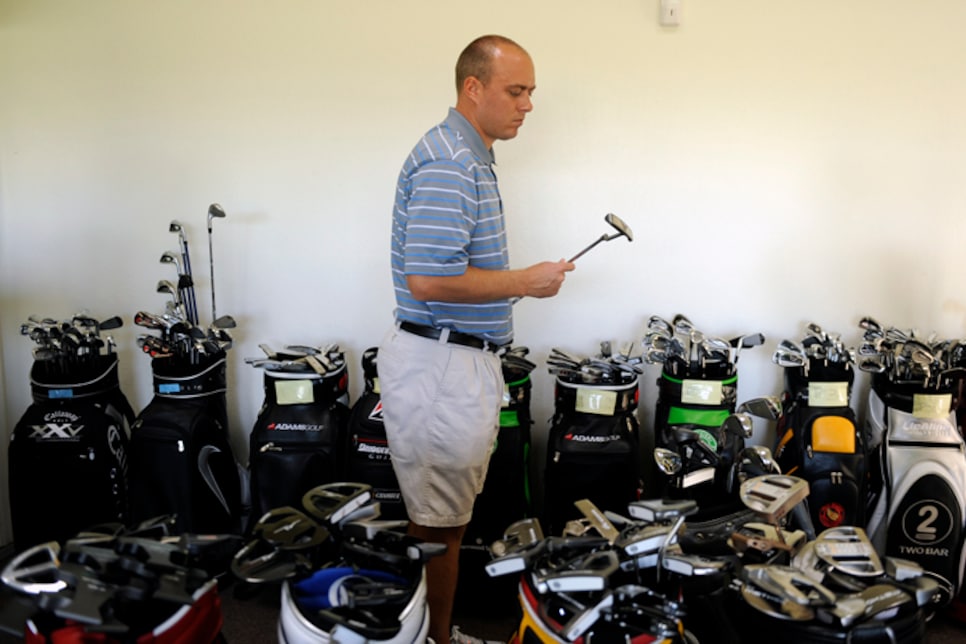 *Retailer Casey Baker examines some of the new equipment (Photo by J.D. Cuban)
Among the discussions that followed was whether a product category would stand out in 2011 the way wedges have done in 2010, ahead of the new USGA grooves rule. Manufacturers have been asked to cease producing wedges with the old grooves after 2010.
The consensus was that the driver category would be more interesting in 2011, though remains a concern that in a difficult economy value might still be the overriding issue. Manufacturers hope to counter with technology, including aerodynamic, material and adjustability stories.
Inevitably, someone will mention chippers to the panel. Against all reason, they sell, the retailers collectively say, shrugging their shoulders. "It's free money, like stealing," one said.