The Loop
In addition to previous posts and responses here, the letters keep coming on the Hot List. Justin Blair sent two. He had a bunch of questions.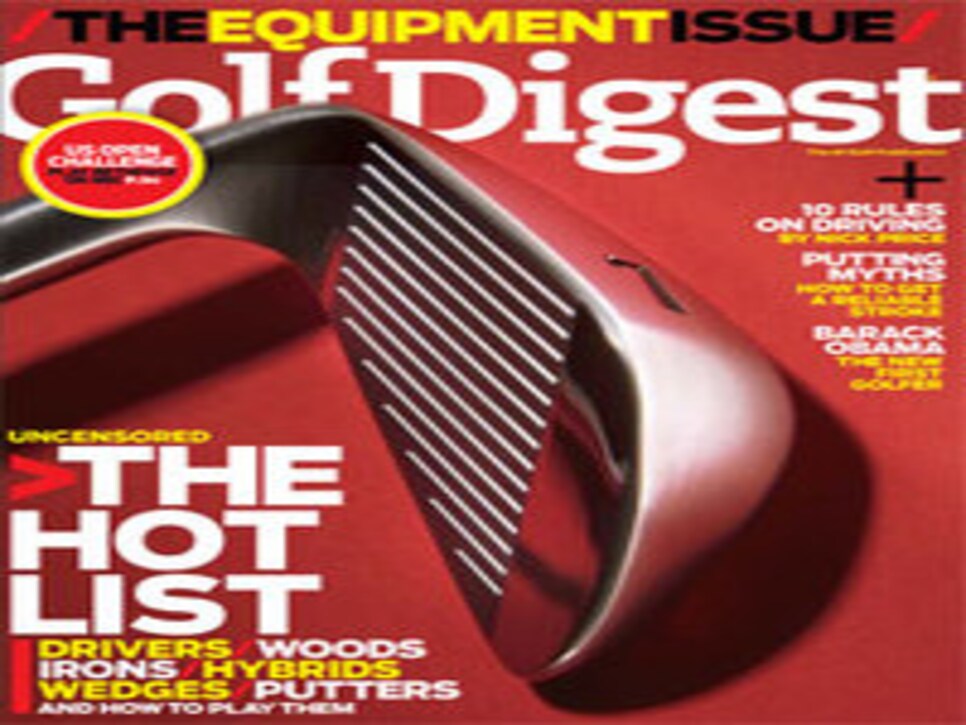 Unfortunately for me, the new Hot List has raised more questions than it's answered. Since I've kept every Golf Digest I've ever bought, I was able to sate my curiosity by comparing last years Hot List to this year's. So my questions. Is it me, or is golf manufacturers out of ideas, and just looking to make as much money as possible before people start looking for alternatives?
Look at Cobra's L5V. Last year's L4V was supposed to stretch the four main areas of a driver. What's the fifth? Is it the lie angle, the "next big thing" in adjustability? Why was Ping's G10 line and TaylorMade's Burner FW and Hybrid included in this years Hot List? What's new about them, and why are they still full price?
Why does the "All Shapes And Sizes" sidebar article say that the Wilson Smooth is 440cc, when the picture says 460cc? Who's telling the truth? How much bigger can the Cleveland Hibore/Monster get? Wasn't it 460cc and had "extreme" MOI (Moment of Inertia) last year?
Why is the Nike STR8-FIT treated with reverence when most instructors and professional clubfitters swear against it, like they do with interchangeable shafts? The general rule of thumb is that most high-handicappers, the ones that this "technology" is supposed to help, are told to get fit for just the basics and learn to swing that. It seems contradictory. Come to think of it, just like most golf instruction!
I can't be entirely negative. You did try, albeit a little, to show golfers that a good set can be had for around $1,000. Next year, maybe take out the repeats and add a few more of the companies like GigaGolf, Pinemeadow and Wishon Golf, and you can show people how to build a set for around $500! Just for kicks, since I'm being positive, I have to commend Callaway. They accomplished two things with the Diablo: They took the heat off of Nike for having the "ugliest" club, but had the cajones to actually try something totally different that justifies their price point.
Mike Johnson, Golf World Equipment Editor and one of the Hot List judges, responds.
Yes, the fifth on Cobra's L5V is adjustability. It, also like its predecessor, earned a silver medal so we did not feel the improvement was significant enough to up its status on the Hot List.
Ping's G10 line and TaylorMade's Burner FW and Hybrid were included in this year's Hot List because, well, it's the Hot List. We feel both products not only still possess significant technology that is of benefit to golfers, but they also are among the most popular clubs in the market today. Why would we eliminate clubs that are still in the market that are of benefit to golfers? Although newer clubs are generally better, it is not the New List.
We provide the "All Shapes And Sizes" sidebar as a service to our readers. The fact is that sometimes what is stamped on the club is not the actual size. Case in point, by our measurements, the Wilson Smooth is 440cc despite it saying 460cc on the soleplate.
The Cleveland Hibore XLS from last year was not 460cc, the HiBore Monster is. And while both are deemed Extreme MOI, remember that is a range. The MOI did get a boost from last year.
The Nike STR8-FIT is a paradigm shift in innovation. As you yourself are indicating, advances in equipment technology are becoming incremental. So why wouldn't we fete a true technology advancement? Yes, fitting is crucial to everyday players, but this technology allows for rapid-fitting options, so even if you never touch it again, it has advanced the possibility of getting you into the right club. And should you actually change your swing, you can change the club to match that without having to buy a new one.
Finally, we always welcome entries from any company. But remember, big companies are big companies for a reason—they tend to make excellent products. That said, the Hot List this year featured a putter from Couture. No one knew of Bobby Jones clubs until we put them on the Hot List five years ago. Last year we had a putter from ProFound. Irons from Miura. And Wishon clubs have adorned the Hot List three times in the past. I could name more, but you get the point.
Hopefully this at least helps explain what you see in the pages of the Hot List. As always, we are open to suggestions on how to make it better and more helpful to the reader. Indeed, we did consider eliminating product that had been in the marketplace longer than one year but decided against it. Perhaps we should revisit.