The Loop
Hooray for Hollywood: Mickelson, Haas give 'em a show
That's entertainment, as they say in these parts, the Northern Trust Open delivering a performance worthy of its proximity to the show business capital of the world.
The star was the Riviera CC, a few steps from Sunset Boulevard, a few miles from Hollywood, and its diabolical par-4 10th hole, only 310 yards, all of it menace -- Lee Marvin's Liberty Valance, but a smaller target. With bunkers.
This was the dramatic stage on which Bill Haas prevailed on Sunday, the second hole of a playoff with the marquee player in the field, Phil Mickelson, and a reigning major champion, Keegan Bradley.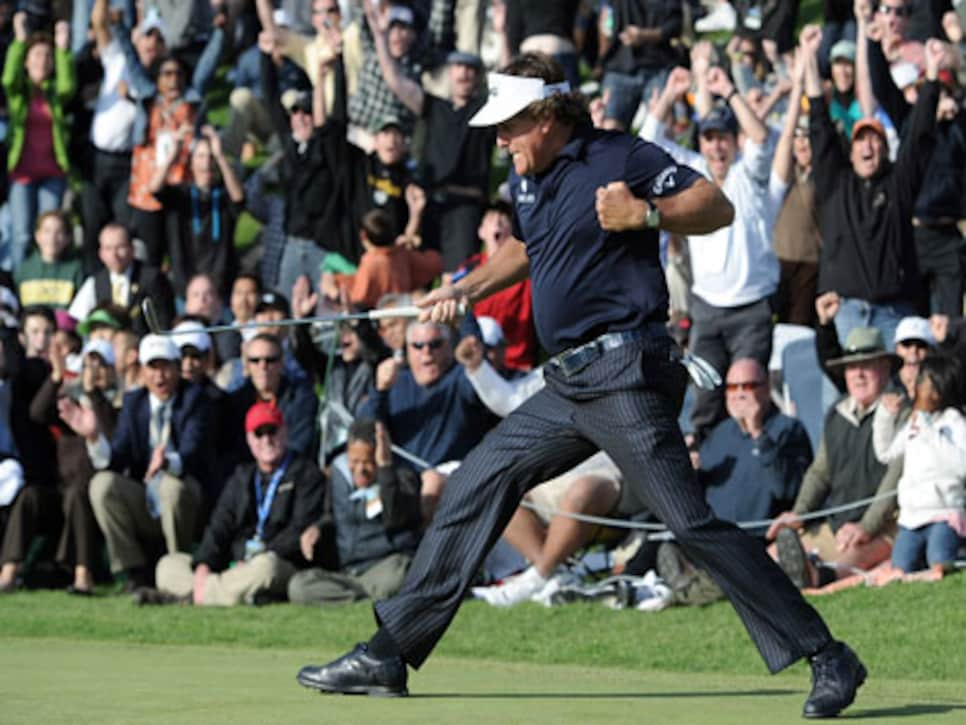 Photo: Harry How/Getty Images
It was among golf's better defenses against the perpetual charge that the game is plodding and boring. It was at times both on a long Sunday, but only to those who don't appreciate the entertainment value of thrill Mickelson.
A high-wire act working without a net, Mickelson is as likely to go splat as he is to reach the winner's circle at the other end of the wire.
This was Mickelson's tournament to lose and fittingly he lost it in a manner that represented his career in microcosm. Seeking a second straight victory, Mickelson opened a three-stroke lead early, bogeyed the last two holes on the front, three-putted 14 and 15 for bogeys, left a tying 21-foot birdie putt on 17 a turn short, then holed an improbable 24-foot birdie putt on the difficult par-4 18th to take Haas to a playoff.
It isn't easy being a Mickelson fan. He will alternately bedazzle and befuddle, taking down Tiger Woods with a 64 at Pebble Beach one week, then resembling an incorrigible youth unable to avoid trouble the next.
On the second playoff hole, Mickelson hooked a 3-wood into an impossible place from which to make birdie, even with the magic he often conjures with his wedges. Haas, meanwhile, played the 10th the way Mickelson might have on another day, or another hour, driving it into trouble, playing his second away from the hole, then draining a curling 43-foot putt for birdie.
"It was playing difficult," Haas said at the end of regulation. "I was scrambling. My swing is close. It's not far off. I was hitting some loose shots. But I was scrambling the best I could."
Loose shots and scrambling, that is straight from the Mickelson playbook. Consider this: Mickelson has never been the player of the year, never won the money title or the Vardon Trophy for lowest scoring average, never been No. 1 in the World Ranking. Yet he is wildly entertaining, often exasperating, and, when all is said and done, will be remembered as one of the best players in the history of the game.
Incidentally, Mickelson has finished first and tied for second in consecutive starts in a year in which he said his game has felt right from the outset. What does it portend for Augusta National and the Masters in April?
The answer is obvious to those who have paid attention over the years. It means nothing. Mickelson works without a script, even here, in a town full of script writers.
The only thing we know for certain about him is that he is consistently inconsistent, as erratic and enigmatic player as the game has ever seen, but more to the point, it's most exciting, as Sunday again showed.