The Loop
History is made at 2012 U.S. Junior Amateurs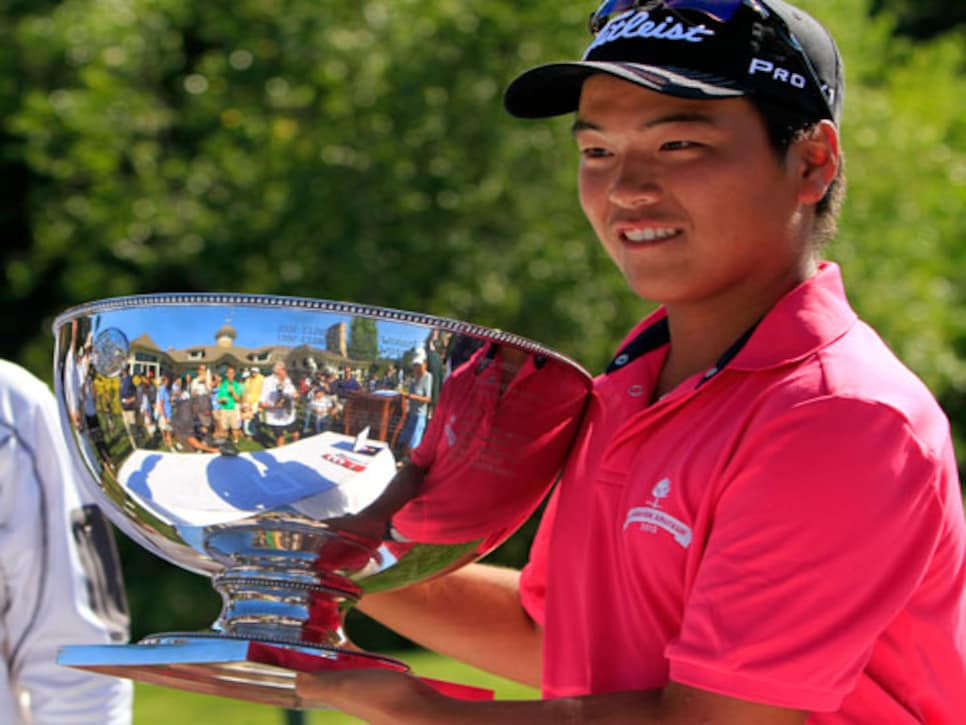 Andy Hyeon Bo Shim holds the trophy after winning the U.S. Junior Amateur Championship. Photo: Jim Cole/AP Photo
Like the British Open, both the boys' and girls' U.S. Junior Amateur tournaments ended in dramatic comeback fashion as Andy Hyeon Bo Shim and Minjee Lee took home their respective titles over the weekend.
Shim, 17, of Duluth, Ga., rebounded from a 5-hole deficit -- the largest comeback in championship-match history -- to defeat Jim Liu, 16, of Smithtown, N.Y., 4 and 3, and claim the 2012 U.S. Junior Amateur title at the 7,125-yard, par-72 Golf Club of New England.
"This is a dream come true," said Shim. "I couldn't believe myself. He [Liu] is in the top 5 (juniors) in the country... I was 5 down, but if I just keep making my birdies on the front nine, it happens... I just kept thinking about one shot ahead."
Liu, who became the youngest-ever champion of the Junior Amateur when he won at the age of 14 in 2010, was 5 up after the morning 18 of the 36-hole match, but Shim won eight of the first 10 holes in the afternoon on the strength of three birdies, one eagle and six pars to turn the match around.
Shim becomes the third Korean player to win the Junior Amateur. Terry Noe of Korea won in 1994 and Sihwan Kim won in 2004.
On the girl's side, held at the 6,291-yard, par-72 Lake Merced Golf Club, Australia's Minjee Lee, 16, became the country's first ever U.S. Girls' Junior Amateur champion, winning four of the final six holes for a 1-up victory over Alison Lee, 17, of Valencia, Calif., in Saturday's 36-hole finale. If you recall, Alison Lee was one three amateurs to make the cut at the U.S. Women's Open two weeks ago.
"I'm so relieved that it's over," said Minjee Lee, currently ranked No. 8 in the Women's World Amateur Golf Ranking. "I was so tense coming into the last couple of holes."
Minjee Lee became the eighth USGA champion to hail from Australia, and the first since Geoff Ogilvy won the 2006 U.S. Open at Winged Foot Golf Club. She is only the third Aussie female to capture a USGA championship, joining Jan Stephenson (1983 Women's Open) and Hall of Famer Karrie Webb (2000-01 Women's Open).