The Loop
His golf swing a work in progress, Woods' golf mind is as sharp as ever
LYTHAM ST. ANNES, England -- It's always been one of the most noticeable -- and underrated -- aspects of most Tiger Woods press conferences. The man just loves to talk golf; personal stuff not so much. But ask a golf-related question he deems worthy and Woods, contrary to the public persona he offers up when the topic at hand veers away from the game he plays so well, is invariably interesting and engaging.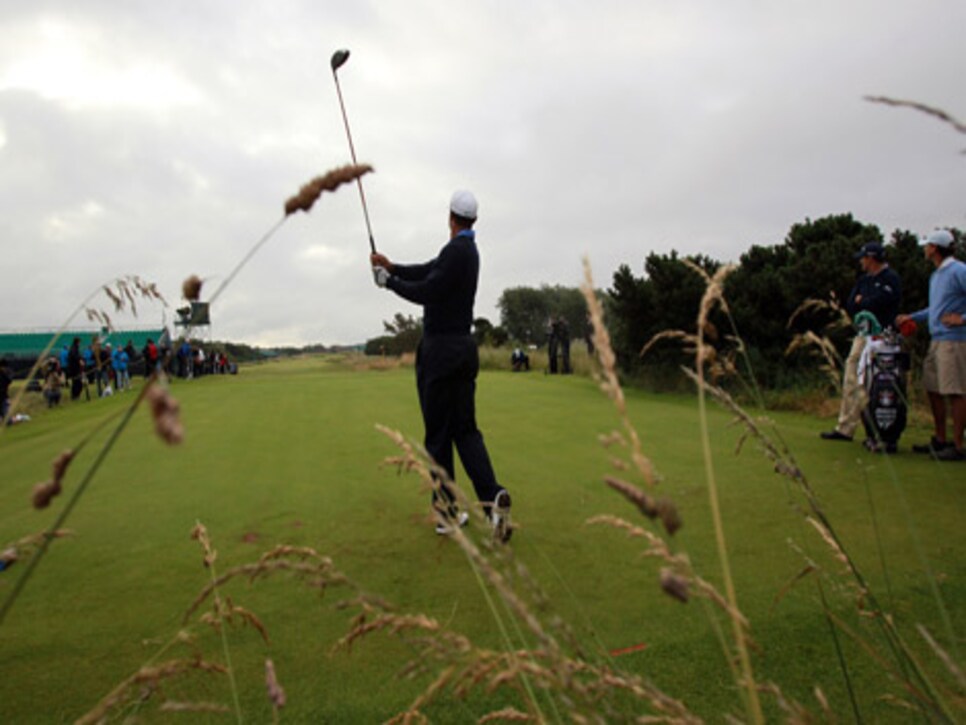 Woods says the severity of Lytham's fairway bunkers means he'll have to shape the ball effectively off the tee. Photo by Getty Images
And he was on pretty good form two days before Englishman Barry Lane will hit the opening tee-shot of this 141st Open Championship at 6:29 a.m. on Thursday. Obviously intrigued by at least some of the questioning, Woods produced some nice insights into the week ahead at Royal Lytham. In particular, the potential plusses and minuses of the 205 bunkers littering the famous Lancashire links got his attention.
"At any links you've got to stay out of the bunkers, because you can't get to the green," he began. "That's just a fact. If you hit the ball in there, it's going to go up against the face, because it goes in there with some steam, and you're pitching it out sideways or sometimes even backwards. But the neat thing about the bunkers here is how they're raised up so that you can see them and then shape the ball off of them. That's different from, say, St. Andrews, where you can't see a lot of bunkers. But here they're raised up high enough where you can hit a fade or draw and use them as starting points for shots."
The more-than-wet summer that is currently drenching most of the United Kingdom has had a predictable effect on the course. The rough is up, the fairways are soft and ball marks are appearing on the greens. And again, Woods was forthcoming on just how much influence all of that will have on scoring and the types of shots required. Happily, however, he feels that the unusually soft conditions will not completely detract from the inherent unpredictability of links golf.
"The ball is not chasing as much," he sighed. "So, yes, this is different. It's a slower golf course. Which is something we players are going to have adapt to. We'll have to plot our way around. What will be interesting to see is which way the wind blows because it changes the whole golf course. I've played in two different winds in the three days I've been here. One day I hit driver, 7-iron to the 7th green, and the next day I hit driver, 3-wood and a wedge. So it can play lots of different ways.
"This is one of the more difficult courses in the Open rotation. As far as shot-making goes, it tests us a lot because we have to shape the ball both ways. It's not like playing Troon where you have right-to-left wind all the way out, then left-to-right all the way home. Here you have a lot of different angles. Lytham really examines your ability to hit shots the proper distances, more so than most links courses."
Perhaps the only time Woods displayed comparable animation in his response to a non-golf question was when asked about former South African president Nelson Mandela, who will celebrate his ninety-fourth birthday Wednesday. It would be an exaggeration to say that the 14-time major champion became excited, but he did go so far as to offer up a nice Mandela-related anecdote.
"It was incredible meeting him in 1998," he said. "I got invited to his home. And when my Dad and I walked into his living room you could feel his presence. 'Hey, Pops,' I said, 'do you feel that?  It feels different in here.' He said, 'Yeah, I feel the same way.'
"We were just standing there looking at some of the things on the wall. And over in the corner was President Mandela. He was just meditating in the corner, and it was just a different feeling in the room. He has such an aura about him unlike anyone else I've ever met. He's meant so much to so many people around the world, not just in South Africa."
Contrast all of the above with the curtness of Woods' answer when asked where he currently stands in the "process" that is the most over-analyzed move in all of sports, his own golf swing: "Somewhere in it. I'm just trying to get better each and every day."
Uh-huh. OK, Tiger, we get it. Message understood: Stick to the big picture.