Good work, if you can get it
Why the Hero World Challenge might be the most player-friendly tournament ever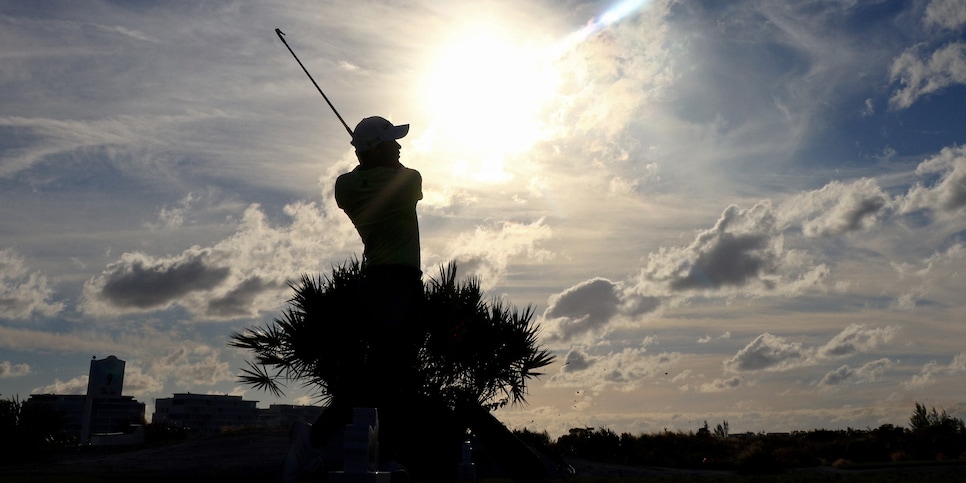 Collin Morikawa plays his tee shot on the 17th hole during the first round of the Hero World Challenge.
Mike Ehrmann
NEW PROVIDENCE, Bahamas — A week in paradise. A beachside villa. Significant World Ranking points up for grabs. Currying favor with Tiger Woods. Sub-four hour rounds. Serious paydays for everyone.
There are more difficult sells than the Hero World Challenge. If one end of the professional golf spectrum finds players sleeping in their cars, eating Ramen and grinding on the mini tours, this … this is the other end of that spectrum. Weeks like these are why the dream-chasers keep chasing the dream.
Twenty of the world's best players have congregated at Albany this week, a hyper-elite enclave (and tax haven) on the south shore of the Bahama's New Providence Island, to play in what has to be the most player-friendly tournament in world golf today. It's not just the money, which is immense—there's a $3.5 million purse, with the winner taking home $1 million and the last-place finisher banking $100,000 for his efforts—though it certainly sweetens the pot.
Every player in the 20-man field is staying within the Albany gates this year. Those willing to really splurge get a villa by the beach. Or, if you're Collin Morikawa and Viktor Hovland, you halve the cost of a villa and hang out all week. There are also six ultra-sleek condo buildings that encircle a 71-slot marina, where a $20 million yacht looks like a dinghy. (It's all relative, of course). The biggest watercraft parked there this week is Saint Nicolas, a 70-meter beauty that, according to SuperYachtFan.com, runs a cool $70 million. Rumor has it that Joe Louis—whose Tavistock Group co-founded Albany with Woods, Ernie Els and Justin Timberlake—has to park his yacht outside the marina and take a small boat to shore. His simply won't fit.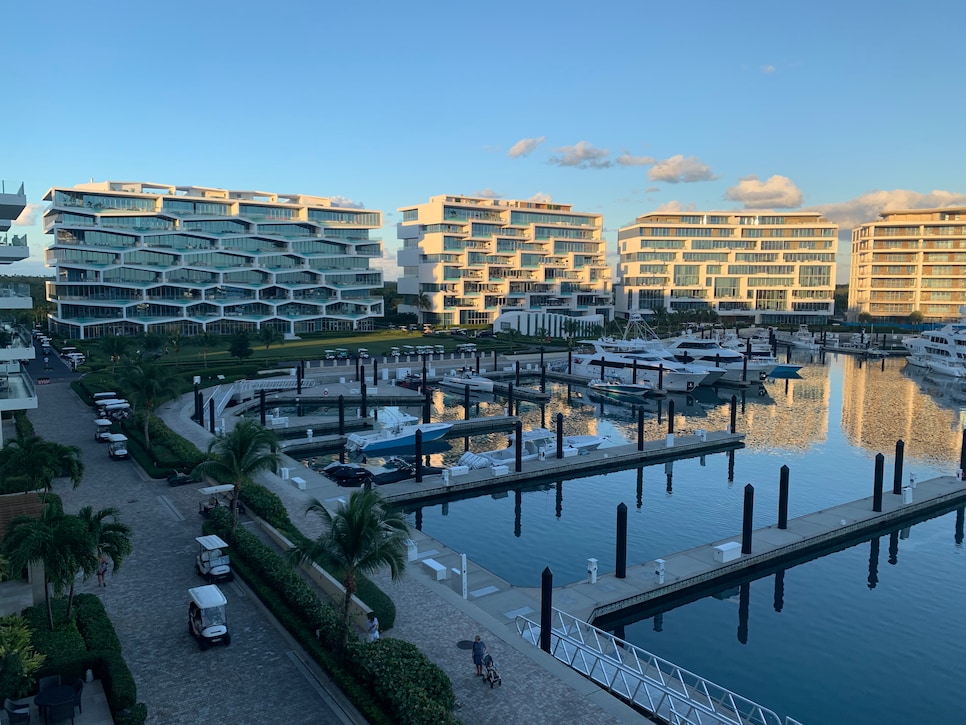 Four of Albany's condo buildings, with the 'Honeycomb' on the left.
Each guest buzzes around the 600-acre grounds in golf carts. In addition to the Albany Golf Club, which plays host this week, there are tennis courts, nine restaurants, paddle tennis courts, three pools, a beach—where Morikawa proposed to his longtime girlfriend, Katherine Zhu, on Tuesday evening—a comically nice fitness center, a 24-hour concierge service, an equestrian program and "The Sanctuary," a world-class recording studio that has played host to Drake and Justin Bieber. This may sound like an advertisement for Albany; it's not. And even if it was, could you afford it?
"Timing-wise, as you can see, it's almost sunset and we don't have too much time [to enjoy]," Morikawa said, "but we're going to stay a day or two after and just enjoy it, relax and really try and take a break."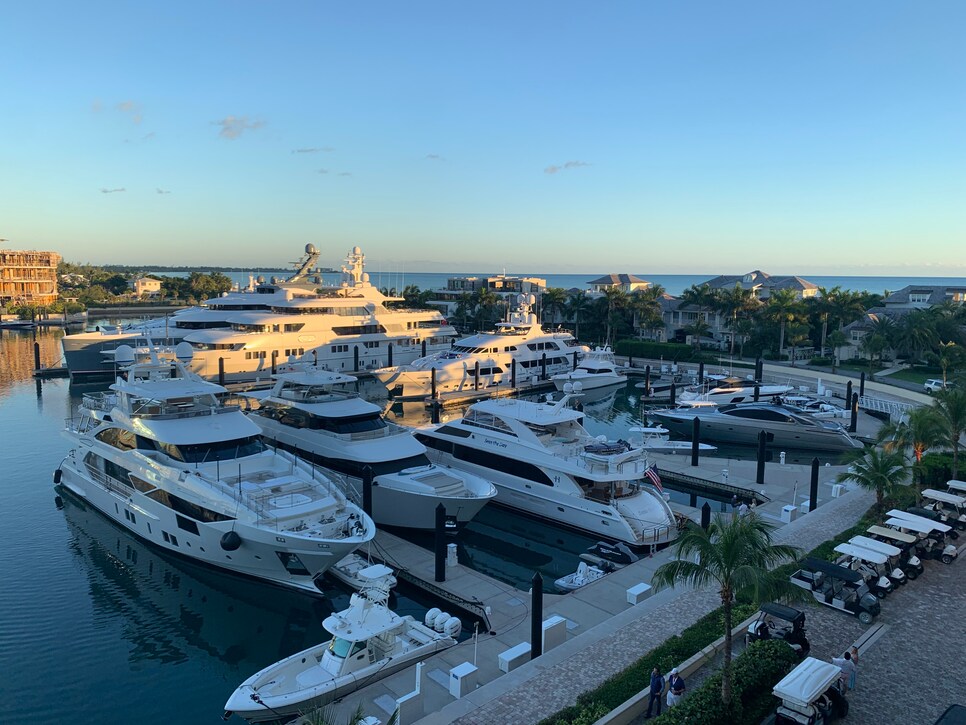 Some of the yachts docked at Albany's 71-slot marina.
The tournament itself feels like an exhibition because, well, it is. There are no FedEx Cup points at stake, and a victory doesn't count an official PGA Tour victory. The lack of crowds and sparse applause produce a sleepy atmosphere. But the game faces will surface come Sunday evening, for there is $1 millon to be won and 48 World Ranking points set aside for the champ—more than the 44 points Talor Gooch received for winning the full-field RSM Classic two weeks ago. A textbook case of the rich getting richer—with the added bonus of feeling good when your head hits the pillow, as this event benefits Woods' TGR Foundation, whose mission is to provide access to STEM (science, technology, enginerring and mathematics) education to disadvantaged children.
In golf, this is the top one percent of the top one percent. It's why, when Patrick Cantlay's withdrawal opened up a spot for Matt Fitzpatrick, the Englishmen didn't hesitate to accept his invitation. In his own words: "The fastest yes of all time."