The Loop
Here's how six PGA Tour pros practice putting before they go play
HILTON HEAD ISLAND, S.C. -- An hour spent on the practice putting green watching PGA Tour pros before they go play can teach you a lot.
First, think what many amateurs do: most usually throw down a few balls, quickly eye-up that hole 30 feet away and pull the trigger. They do that a couple more times, and toss in maybe a few sneaky short putts before heading to the first tee.
"Ask any of the guys out here, they all have specific routines they do before they go play," Graeme McDowell said earlier in the week, a thought echoed by Zach Johnson: "I've got certain things that I plan to do every time I go play, like most of these guys."
I spent an hour before the third round of the RBC Heritage watching what a selection of PGA Tour pros do before they go play. Almost everything varied from one pro to another, but all seemed to share one common trait: None of the pros I saw spent any significant time hitting long putts. Practically all their time was spent drilling short putts from inside 10 feet.
Here are some of the drills preferred by the pros:
With three golf balls, Spieth spent about 10 minutes hitting putts with just his right hand. After that, he hit three golf balls from eight feet, gradually working his way around the hole and moving farther away until he got to 12 feet.
Reed spend most of his time drilling seven foot putts -- also in sets of three -- lining up over a mirror and string to make sure everything moved on line.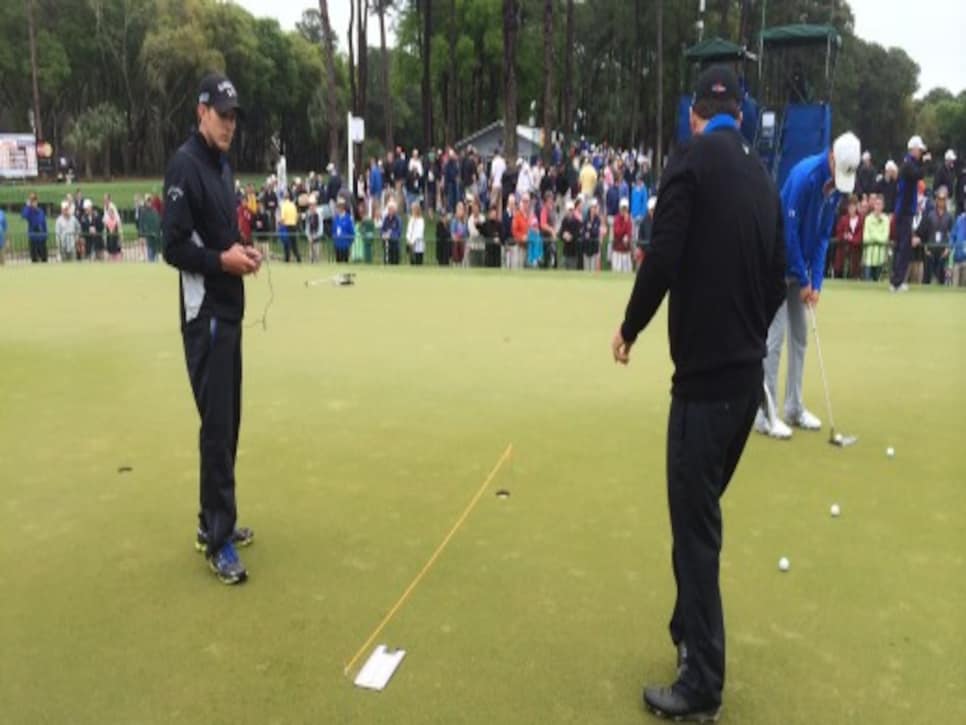 Perez had his caddie video his putting stroke from ground-level by the hole as he hit three sets of nine foot putts from different angles (all the same distance).__
Horschel spent 20 minutes hitting nine foot putts with two tees resting a few feet away from the ball's starting position. The tees were spread about a golf ball's width apart. The goal was to start the putt on line so it would travel through the tees and into the hole.
Byrd was one of the more technical players on the green. Set up about 12 feet away from the hole, Byrd hit putts using a system that forced his putter to travel on the same line -- straight back and through -- throughout the stroke.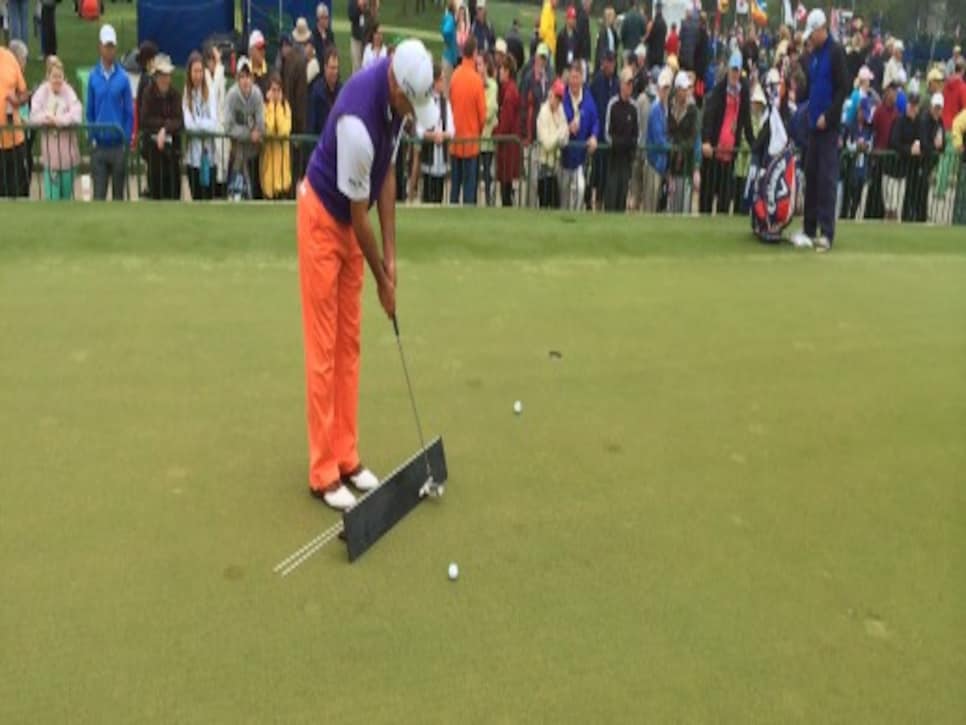 __Snedeker's favorite drill seemed to be when he set four balls at different spots around the hole, three, six and nine feet away. His goal was to make all 12 putts in a row, working his way from shortest to longest. If he missed one, he would start again from three feet.