The Loop
Here's how I'm wasting 80 pounds betting on the British Open
PRESTWICK, Scotland -- Eighty pounds isn't what it used to be. To be exact, it only comes out to $106.13. Thank you, Brexit.
These are the types of things you tell yourself when you've visited two different gambling books by Wednesday morning of British Open week. But hey, it's legal. And it's only once a year! There I go again with the positive inner monologue. And here I go withdrawing more cash from an ATM conveniently located right next to a Ladbrokes: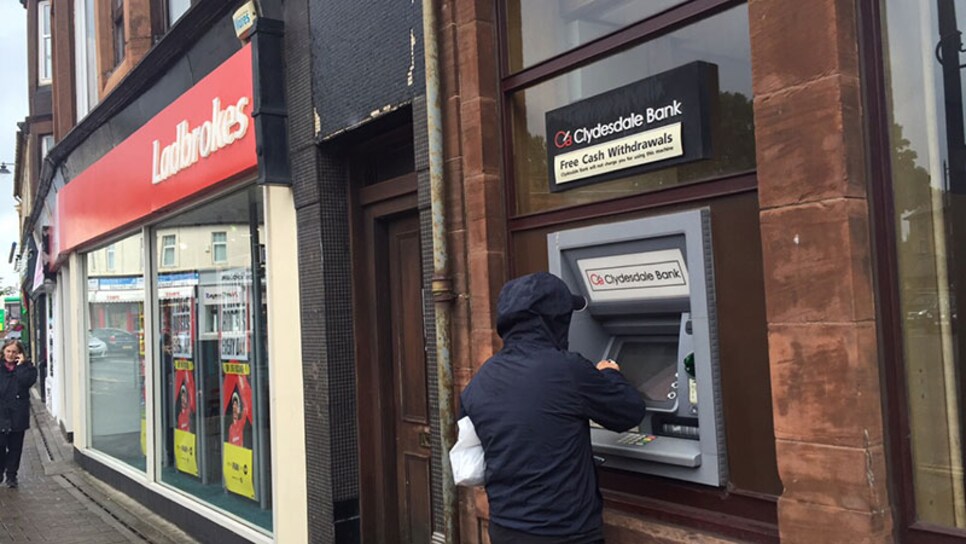 In any event, here's who I'm betting on at Royal Troon. At least, for now. There's still some time before the first round starts. . .
(Note: An "either way" bet is that a golfer places in the top six. If he does, you win at 1/4 the odds of that player to win.)
Sergio Garcia (10 pounds on 25-to-1 odds): I'll admit it, I'm a total sucker for this guy, especially in this event where he has nine top 10s in his career, including a runner-up in 2007. He comes in off a recent win at the Byron Nelson and a T-5 at the U.S. Open. At 36, I really think the time has come for his major breakthrough*. (*I say this EVERY year.)
Adam Scott ( 10 pounds on 25/1): No one has played better in this event over the past four years. It seems like just a matter of time before he claims a claret jug. Then I saw him hit one shot in a practice round. One AWFUL shot. Can I take this bet back?
Jim Furyk (80/1): In Vegas, Furyk has received enough action to drop all the way down to 40/1. So how could I not bet him at twice that in Scotland? That's what I call VALUE.
Matthew Fitzpatrick (5 pounds either way at 80/1): Another guy who is a good value, Vegas has Fitzpatrick listed at 50/1. Sure, he's only 21, but Jordan Spieth nearly won a third straight major at that age last year in this event.
Russell Knox (5 pounds either way at 80/1): The Scot was nice enough to attend the golf writers dinner on Tuesday. Bonus points for that. Of course, he told everyone he has been terrible in practice rounds.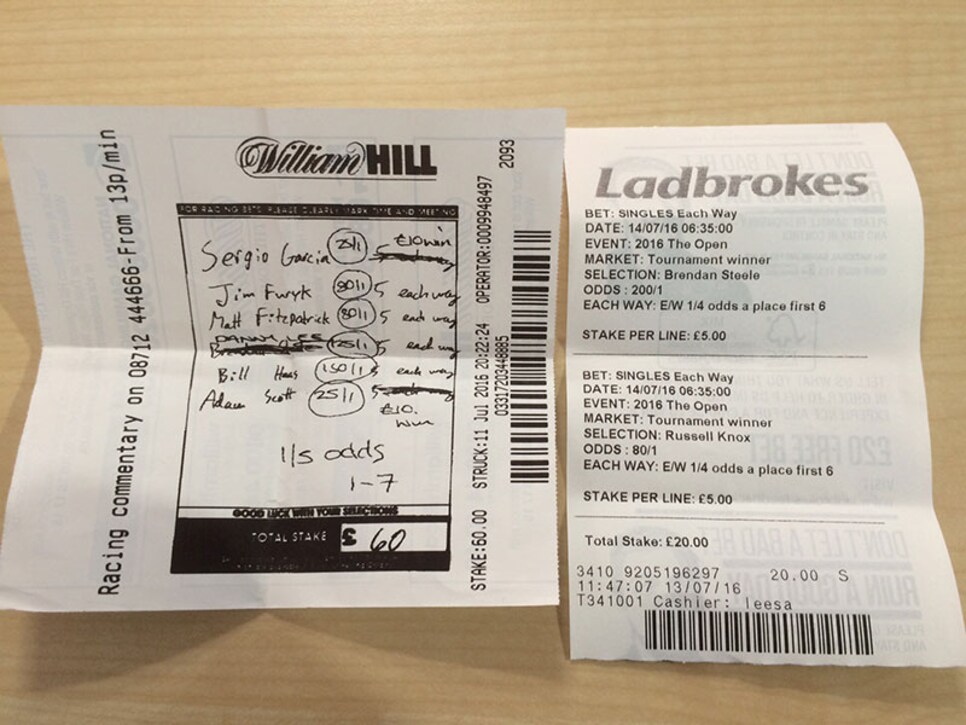 Danny Lee (5 pounds either way at 125/1): Not being able to defend his title at the Greenbrier Classic might be the best thing to ever happen to Lee. Instead, he played in the Scottish Open last week and finished T-3. Also, all my other co-workers here bet him, so it would be Dagger City if he played well and I couldn't share in the fun.
Bill Haas (5 pounds either way at 150/1): I saw a stat that had Haas in the top in strokes gained in high winds over the past three years. I have no idea how accurate this stat is, but that and the fact I was in the same graduating class with him at Wake Forest was enough to convince me.
Brendan Steele (5 pounds either way at 200/1): For some reason, I wanted to bet Steele on my first trip to William Hill, but the lady behind the counter told me he wasn't in the field. Fortunately, he was in the computer at Ladbrokes so I was able to plunk down a few pounds on him. And why not? He's played in one Open -- and he missed the cut. Let's call it a hunch. . .