Payday at Sea Island
Here's the prize money payout for each golfer at the 2022 RSM Classic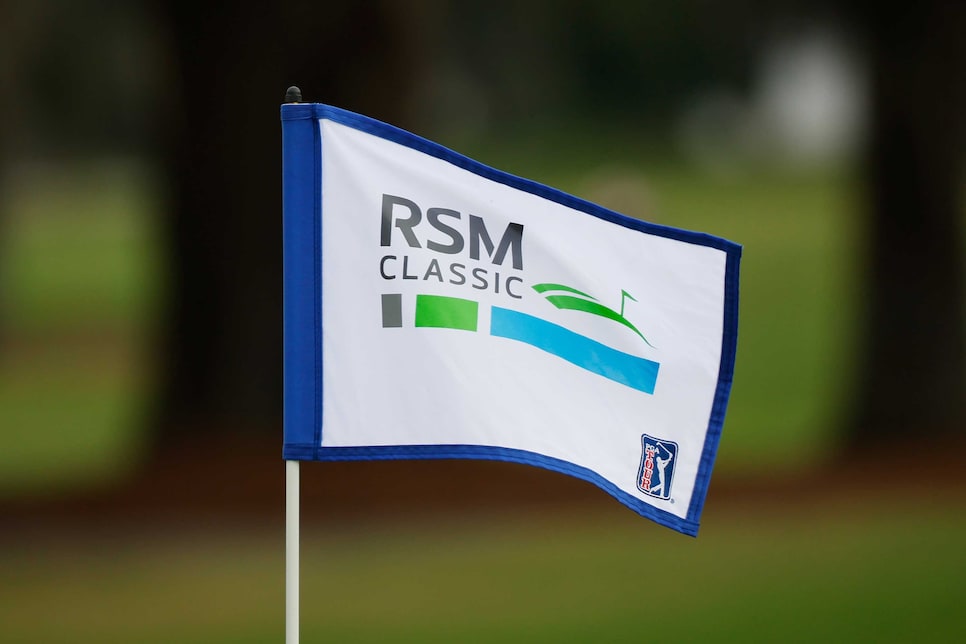 There are crowded leaderboards, and then there's what you found entering the last day of the RSM Classic. Patrick Rodgers and Ben Martin shared the 54-hole lead at 14 under par, which was welcome news considering six of the last seven winners at Sea Island Resort led entering the final round. However, there were 14 other players within three shots of the pair and 23 others teeing it up four shots or closer. So when Rodgers and Martin struggled to continue to set the pace on Sunday, shooting 70 and 72, respectively, anybody and everybody had a chance to win.
Enter Adam Svensson. With a closing six-under 64—including two birdies on the final three holes on the Seaside Course—the 28-year-old from Canada, seized the moment and claimed his first career PGA Tour title in the final official tour event of 2022.
The winner at Sea Island will earn a first-place prize money payout of $1.458 million from an overall purse of $8.1 million. Here's the prize money payout for each golfer who made the cut this week. Come back shortly after the finish of the tournament and we'll update the list with individual names and paydays.
Win: Adam Svensson, 263/-19, $1,458,000
T-2: Brian Harman, 265/-17, $612,900
T-2: Callum Tarren, 265/-17, $612,900
T-2: Sahith Theegala, 265/-17, $612,900
T-5: Joel Dahmen, 267/-15, $277,830
T-5: Cole Hammer, 267/-15, $277,830
T-5: Seamus Power, 267/-15, $277,830
T-5: Alex Smalley, 267/-15, $277,830
T-5: Chris Stroud, 267/-15, $277,830
T-10: Erik Barnes, 268/-14, $188,325
T-10: Wyndham Clark, 268/-14, $188,325
T-10: David Lingmerth, 268/-14, $188,325
T-10: Patrick Rodgers, 268/-14, $188,325
T-10: Robby Shelton, 268/-14, $188,325
T-15: J.J. Spaun, -13, $147,825
T-15: Greyson Sigg, -13, $147,825
T-15: Seung-Yul Noh, -13, $147,825
T-15: Will Gordon, -13, $147,825
T-15: Taylor Pendrith, -13, $147,825
T-15: Taylor Montgomery, -13, $147,825
T-21: J.T. Poston, -12, $76,646.25
T-21: Russell Knox, -12, $76,646.25
T-21: Danny Lee, -12, $76,646.25
T-21: Ben Taylor, -12, $76,646.25
T-21: Beau Hossler, -12, $76,646.25
T-21: Harry Higgs, -12, $76,646.25
T-21: Andrew Putnam, -12, $76,646.25
T-21: Ben Martin, -12, $76,646.25
T-29: Kevin Kisner, -11, $51,907.50
T-29: Zac Blair, -11, $51,907.50
T-29: Ben Griffin, -11, $51,907.50
T-29: Harris English, -11, $51,907.50
T-29: Justin Rose, -11, $51,907.50
T-29: Paul Haley II, -11, $51,907.50
T-15: Will Gordon, 269/-13, $127,575
T-15: Taylor Montgomery, 269/-13, $127,575
T-15: Seung-Yul Noh, 269/-13, $127,575
T-15: Taylor Pendrith, 269/-13, $127,575
T-15: Greyson Sigg, 269/-13, $127,575
T-15: J.J. Spaun, 269/-13, $127,575
T-21: Harry Higgs, 270/-12, $76,646.25
T-21: Beau Hossler, 270/-12, $76,646.25
T-21: Russell Knox, 270/-12, $76,646.25
T-21: Danny Lee, 270/-12, $76,646.25
T-21: Ben Martin, 270/-12, $76,646.25
T-21: J.T. Poston, 270/-12, $76,646.25
T-21: Andrew Putnam, 270/-12, $76,646.25
T-21: Ben Taylor, 270/-12, $76,646.25
T-29: Zac Blair, 271/-11, $51,907.50
T-29: Harris English, 271/-11, $51,907.50
T-29: Ben Griffin, 271/-11, $51,907.50
T-29: Paul Haley II, 271/-11, $51,907.50
T-29: Kevin Kisner, 271/-11, $51,907.50
T-29: Justin Rose, 271/-11, $51,907.50
T-35: Chris Gotterup, 272/-10, $41,208.75
T-35: Michael Kim, 272/-10, $41,208.75
T-35: Patton Kizzire, 272/-10, $41,208.75
T-35: Kevin Streelman, 272/-10, $41,208.75
T-39: Aaron Baddeley, 273/-9, $32,805
T-39: Hayden Buckley, 273/-9, $32,805
T-39: Eric Cole, 273/-9, $32,805
T-39: Keith Mitchell, 273/-9, $32,805
T-39: Henrik Norlander, 273/-9, $32,805
T-39: Carl Yuan, 273/-9, $32,805
45: Akshay Bhatia, 274/-8, $27,135
T-46: Ryan Armour, 275/-7, $21,748.50
T-46: Brice Garnett, 275/-7, $21,748.50
T-46: Jim Herman, 275/-7, $21,748.50
T-46: Stephan Jaeger, 275/-7, $21,748.50
T-46: Denny McCarthy, 275/-7, $21,748.50
T-46: Davis Riley, 275/-7, $21,748.50
T-46: Kevin Roy, 275/-7, $21,748.50
T-46: Dylan Wu, 275/-7, $21,748.50
T-54: Jacob Bridgeman, 276/-6, $18,630
T-54: Dean Burmester, 276/-6, $18,630
T-54: Trevor Cone, 276/-6, $18,630
T-54: Brent Grant, 276/-6, $18,630
T-54: Scott Stallings, 276/-6, $18,630
T-54: Martin Trainer, 276/-6, $18,630
T-54: Brandon Wu, 276/-6, $18,630
T-54: Kevin Yu, 276/-6, $18,630
T-62: Tyson Alexander, 277/-5, $17,820
T-62: Matthias Schwab, 277/-5, $17,820
T-64: Joseph Bramlett, 278/-4, $17,496
T-64: Doc Redman, 278/-4, $17,496
66: Justin Suh, 279/-3, $17,253
T-67: Zecheng Dou, 281/-1, $17,010
T-67: Andrew Landry, 281/-1, $17,010
69: MJ Daffue, 283/+1, $16,767