Here are all the golf tournaments that have been canceled or postponed due to the coronavirus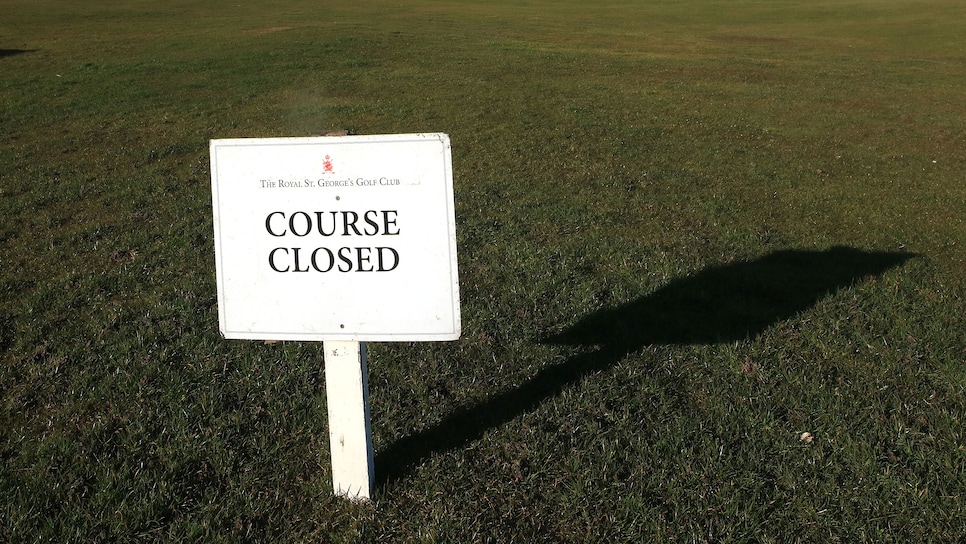 Concerns over the spread of the COVID-19 virus have caused the cancellation or postponement of sporting events throughout the world. Domestic sports leagues such as the NBA, NHL, MLB, MLS and ATP Tour, along with the NCAA, have all shut down competition for the foreseeable future in an effort to help slow down the spread of the virus and protect the health of the athletes, officials, spectators and volunteers.
The same is occurring in the world of golf. Below is a listing of all the major professional and amateur events that have been either canceled or postponed over the coronavirus. We'll update this list as more events are impacted.
PGA TOUR
Canceled
Players Championship (March 12-15)
Valspar Championship (March 19-22)
WGC-Dell Match Play (March 25-29)
Valero Texas Open (April 2-5)
Zurich Classic of New Orleans (April 23-26)
Wells Fargo Championship (April 30-May 3)
AT&T Byron Nelson (May 7-10)
RBC Canadian Open (June 11-14)
John Deere Classic (July 9-12; replaced with Workday event at Muirfield Village)
Open Championship (July 16-19)
Barbasol Championship (July 16-19)
Postponed
Masters (April 9-12; rescheduled for Nov. 12-15)
RBC Heritage (April 16-19; rescheduled for June 18-21)
PGA Championship (May14-17; rescheduled for Aug. 6-9)
Charles Schwab Challenge (May 21-24; rescheduled for June 11-14)
Rocket Mortgage Classic (May 28-31; rescheduled for July 3-6)
Memorial Tournament (June 4-7; rescheduled for July 16-19)
U.S. Open (June 18-21; rescheduled for Sept. 17-20)
WGC-FedEx St. Jude Invitational (July 2-5; rescheduled for July 30-Aug. 2)
Barracuda Championship (July 2-5; rescheduled for July 30-Aug. 2)

RELATED: PGA Tour announces plans to resume play in June, unveils modified 2020 schedule
EUROPEAN TOUR
Canceled
WGC-Dell Match Play (March 25-29)
GolfSixes Cascais (May 9-10)
Scandinavian Mixed hosted by Henrik and Annika (June 11-14)
BMW International Open (June 25-28)
Open de France (July 2-5)
Open Championship (July 16-19)
D+D Real Czech Masters (Aug. 20-23)
Alfred Dunhill Links Championship (Oct. 1-4)
Postponed
Magical Kenya Open (March 12-15)
Hero Indian Open (March 19-22)
Maybank Championship (April 16-19)
Volvo China Open (April 23-26)
Andalucia Masters (April 30-May 3)
Made in Denmark (May 21-24)
Dubai Duty Free Irish Open (May 28-31)
Trophée Hassan II (June 4-7)
Aberdeen Standard Investments Scottish Open (July 9-14)
Olympic Tournament (July 30-Aug. 2; pushed back to 2021)
LPGA TOUR
Canceled
Honda LPGA Thailand (Feb. 20-23)
HSBC Women's World Championship (Feb. 27-March 1)
Blue Bay LPGA (March 5-8)
Volvik Founders Cup (March 19-22)
Lotte Championship (April 15-18)
Hugel-Air Premia LA Open (April 23-26)
LPGA Mediheal Championship (April 30-May 3)
Pure Silk Championship (May 21-24)
Meijer LPGA Classic (June 11-14)
Dow Great Lakes Bay Invitational (July 15-18)
Evian Championship (July 23-26)
Senior LPGA Championship (July 30-Aug. 1)
UL International Crown (Aug. 27-30)
CP Women's Open (Sept. 3-6)
LPGA Q Series Final (December)
Postponed
Kia Classic (March 26-29; rescheduled for Sept. 24-27)
ANA Inspiration (April 2-5; rescheduled for Sept. 10-13)
Volunteers of America Classic (rescheduled for Dec. 3-6)
Pelican Women's Championship (May 14-17; rescheduled for Nov. 19-22)
ShopRite LPGA Classic (May 29-31; rescheduled for Oct. 2-4)
U.S. Women's Open (June 4-7; rescheduled to Dec. 7-13)
Walmart NW Arkansas Championship (June 19-21; rescheduled for Aug. 28-30)
KPMG Women's PGA Championship (June 25-28; rescheduled for Oct. 8-11)
Marathon Classic (July 9-12; rescheduled for Aug. 6-9)
Olympic Tournament (Aug. 5-8; pushed back to 2021)
Cambia Portland Classic (Sept. 10-13; rescheduled to Sept. 17-20)
CME Group Tour Championship (Nov. 19-22; rescheduled to Dec. 17-20)
PGA TOUR CHAMPIONS
Canceled
Rapiscan Systems Classic (March 27-29)
Mitsubishi Electric Classic (April 17-19)
Insperity Invitational (May 1-3)
Senior PGA Championship (May 21-24)
American Family Insurance Championship (June 5-7)
Mastercard Japan Championship (June 12-14)
U.S. Senior Open (June 25-28)
Dick's Sporting Goods Open (Aug. 14-16)
Postponed
Regions Tradition (May 7-10; rescheduled for Sept. 24-27)
Principal Charity Classic (May 29-31; rescheduled for Sept. 4-6)
Senior Open Championship (July 23-26)
Senior Players Championship (July 9-12; rescheduled to Aug. 13-16)
Canceled
Chitimacha Louisiana Open (March 19-22)
Lake Charles Championship (March 26-29)
Veritex Bank Championship (April 16-19)
Huntsville Championship (April 23-26)
Simmons Bank Open for the Snedeker Foundation (April 30-May 3)
KC Golf Classic (May 7-10)
Visit Knoxville Open (May 14-17)
REX Hospital Open (May 28-31)
BMW Charity Pro-Am (June 4-7)
Live and Work in Maine Open (June 11-14)
Postponed
Savannah Golf Championship (April 2-5; rescheduled for Oct. 1-4)
Evans Scholars Invitational (May 21-24; rescheduled for Sept. 10-13)
Lincoln Land Championship (July 16-19; rescheduled for Sept. 3-6)
SYMETRA TOUR
Postponed
IOA Championship Presented by Morongo Casino Resort & Spa (March 27-29; rescheduled for Aug. 21-23)
Windsor Golf Classic (April 2-4; pushed back to 2021)
IOA Invitational (May 7-9)
Symetra Classic (May 13-15)
Zimmer Biomet Championship (May 20-23)
The CDPHP Open (May 29-31)
Four Winds Invitational (June 12-14; rescheduled for July 31-Aug. 2)
COLLEGES/AMATEURS
Canceled
Azalea Invitational (March 26-29)
Augusta National Women's Amateur (April 1-4)
U.S. Women's Amateur Four-Ball (April 25-29)
U.S. Amateur Four-Ball (May 23-27)
NCAA Women's Championship (May 22-27)
NCAA Men's Championship (May 29-June 3)
Northeast Amateur (June 24-27)
Postponed
Women's Asia-Pacific Amateur (Feb. 12-15; rescheduled for Oct. 7-10)
Drive, Chip and Putt National Finals (April 5; rescheduled to April 4, 2021)
41st Curtis Cup (June 12-14; rescheduled for Sept. 3-5, 2021)
British Amateur (June 15-20; rescheduled to Aug. 25-30)
Sunnehanna Amateur (June 17-20; rescheduled to July 21-24)
British Women's Amateur (June 23-27; rescheduled to Aug. 25-29 and moved to West Lancashire)
Arnold Palmer Cup (July 3-5; rescheduled for Dec. 21-23 and moved to Bay Hill Club)
British Senior Amateur (July 29-31; rescheduled to Sept. 23-25)
Canceled
U.S. Women's Amateur Four-Ball (April 25-29)
U.S. Amateur Four-Ball (May 23-27)
U.S. Senior Open (June 25-28)
U.S. Senior Women's Open (July 8-11)
U.S. Girls' Junior (July 13-18)
U.S. Junior (July 20-25)
U.S. Women's Mid-Amateur (Aug. 29-Sept. 3)
U.S. Senior Amateur (Aug. 29-Sept. 3)
U.S. Mid-Amateur (Sept. 12-17)
U.S. Senior Women's Amateur (Sept. 12-17)
Postponed
U.S. Women's Open (June 4-7; rescheduled to Dec. 7-13)
41st Curtis Cup (June 12-14; Sept. 3-5, 2021)
U.S. Open (June 18-21; rescheduled to Sept. 17-20)
Canceled
PGA Professional Championship (April)
JUNIORS
AJGA — Canceled all events until Memorial Day
Junior Worlds — Canceled