The Loop
Healthy Henderson leads nationals after Day 1
DAYTONA BEACH, FLA.—So what's the best way to prepare to play in the NCAA Women's Championship? Apparently it involves fighting a 103-degree fever and taking a pair of mid-term exams.
OK, so maybe if UC-Irvine's Selanee' Henderson had her druthers, she wouldn't have had to suffered through sickness or school this past week. Still, the 20-year-old junior's three-under 69 on LPGA International's Legends course, a round that included six birdies, was the best from any of the 125 players competing in the first round Tuesday.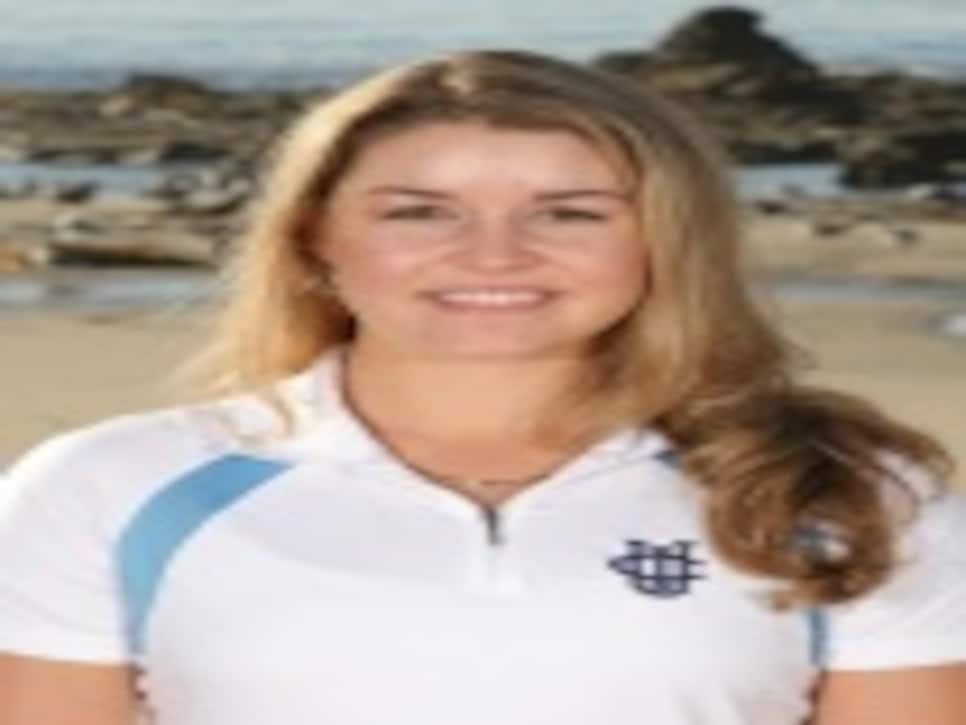 Truth be told, Henderson's performance wouldn't have been all that surprising—she did win back-to-back tournaments this spring—had it not been for the fact that she was recovering from a bout of strep throat that came on during the West Regional (explaining her 73-80-75 performance). Returning to campus May 12, she got the antibiotics needed to recover, and then tackled two make-up exams she had missed during the golf tournament. Except for playing in local qualifying for the U.S. Women's Open (advancing with a 76), she took it easy golfwise before heading with the team to Florida.
By day's end, Henderson held a one-shot lead over Duke sophomore All-American Amanda Blumenherst and Stanford senior Lauren Todd, the high-school teammates each posting 70s in the afternoon wave. Arkansas junior Stacy Lewis and Southern California senior Veronica Felibert were the only other players to break par in sunny but windy conditions, each shooting 71 to share a tie for fourth. (For individual results, click here to link to Golfstat.)
Key to Henderson's solid play was her putting, also not a surprise if you listen to UC-Irvine's first-year coach, Julie Brooks. "It's something she's been really working on and has improved tremendously all season," said Brooks. "She's got the game, she's got the length. When Selanee [pronounced Cell-AN-knee] gets the putter she can go low."
While Henderson's focus leading up to nationals wasn't entirely on her game, the same could not be said for the leading team after Day 1, Southern California. The Central Regional champions practiced their putting and chipping the previous Tuesday at Palos Verdes GC outside Los Angeles to get used to Bermuda greens they would face at LPGA International, then went to Los Angeles CC on Wednesday to play an inter-team match. The Trojans came out to Florida late Friday and worked on their short games again Saturday before their two formal practice rounds.
The work appeared to pay off as USC posted a seven-over 295, led by Felibert's 71, a 73 from Paola Moreno, 75 from Belen Mozo and 76 from defending NCAA individual champion Dewi Schreefel. "You want to be in this position," said USC coach Andrea Gaston. "We have our own little quiet confidence that we can get the job done."
A pair of teams that played in the morning wave—North Carolina and Louisville—saw their nine-over 297 scores hold up through the afternoon as the two finished the day in a tie for second. Stanford (11-over 299) and two-time defending champion Duke (12-over 300) rounded out the top five, while top-ranked Arizona State finished T-16 with a 19-over 307 as four players took penalty strokes for lost balls during the round. (For team results, click here to link to Golfstat.)
Gaston returned four of five starters from the squad that finished runner-up to Duke a year ago at Ohio State's Scarlet Course. Her veteran team seemed to only add talent when Mozo, the British Ladies Amateur champion, arrived on campus in January, yet USC didn't see the predicted victories come fast and furious in the spring. Around the Pac-10 Conference Championship last month, however, Gaston noticed a new intensity among her players, who wanted to make sure they didn't leave anything on the table come the postseason. The results? A victory at the Central Regional two weeks ago and a spot atop the leader board through 18 holes at nationals.
"It made the players evaluate what is going on and made them practice a little bit harder, and maybe not take things for granted," Gaston said. "It has a lot to do with attitude and keeping things in a positive frame of mind."
Of course, the challenge is to keep it going for three more days.