News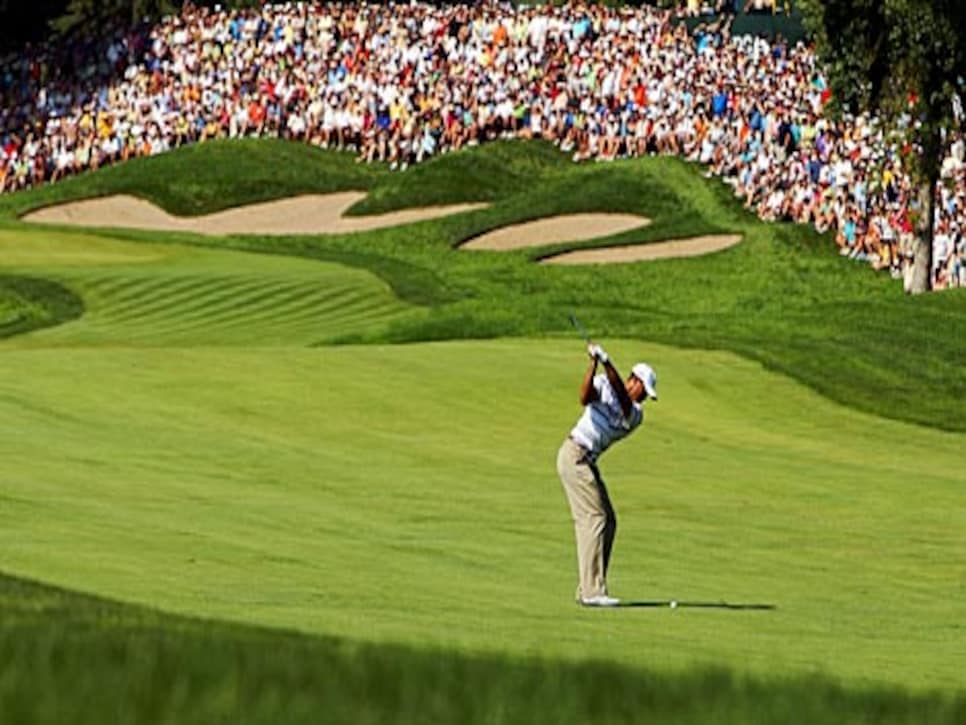 As usual, Tiger Woods is attracting huge crowds this week at Hazeltine.
CHASKA, Minn. -- Afterwards, Tiger Woods was asked if the day had been exhausting. "I'm just really hungry," he told the gathered literati. If the great one would not admit to a weariness induced by a five-mile trek across the hills along Lake Hazeltine, I will. He, of course, had the advantage of walking regally down fairways of velvet. I was mostly lost among the Porta-Potties.
The idea was to spend the day with Tiger's people. Good idea, except there are so damned many of 'em. If I took two steps directly forward all day, the second step was up a guy's shin. The reportorial question I asked most often on my seven-hour pilgrimage was, "Where'd he hit it?" Second most often, I said, "Sorry about your shin."
I was there for Arnie's Army. I saw Nicklaus win five Masters (though not the last, drat). I never saw as many people then as I saw with Tiger yesterday. Or at least it seems so. They were 10 rows deep practically everywhere that you had might catch a glimpse of him. An hour before he teed off, maybe two thousand people sat in the driving range bleachers and assembled on a hillside to watch him warm up.
Not that he noticed or, if he did, he never let on. He might have been alone out there. He hit short irons, worked his way up through the bag and back down before moving to a practice green for some chips and sand shots, then back for a couple drivers and a short iron or two before a handful of putts -- all this without so much as a nod to the thousands who had come to see him.
This is not say he is without emotion, for he certainly brings fire to his work, and we have seen him burn with an intensity that is -- yes, it is as ferocious as it is joyous. He has sustained that passion by not wasting it on showboating, saving it for what truly matters to him, which has been, is, and likely always will be, The Next Shot. Watching Tiger Woods at work is one of the great privileges this time gives us, even if it means being caught in a crush of folks going one way when you want to go another.
This happened at the second hole. I thought to go left, the thousands want to go left. I had no idea where we were going. It reminded me of the ancient Russian babushkas, the grandmothers in Moscow who, when they saw a line at a store, got in the line because, while they could not know what was being sold, they waited in case it was something they wanted. I had no idea where we were going, but I went along just in case it turned out to be someplace interesting -- which, in this case, it was.
I met a man in a wheelchair who 41 days ago told his surgeon he wanted to be at Hazeltine to see Tiger. James Cannon, 58, a judge in Minnesota workmen's compensation cases, fell on the Fourth of July and tore a quadricep. "I told the surgeon that nothing was going to keep me from being here," Cannon said. His son, James, Jr., pushed the wheelchair to a gallery rope in time to see Tiger pass. "Tiger's a symbol of what's good in this country," the judge said. "To see a man of color achieve as he has is inspiring."
Young and old, boys and girls, men and women, black and white, Asian, Caribbean, American -- from Fargo and Iowa, from South Dakota and Wisconsin, hockey fans in helmets, a boy in an Orioles cap asleep in his daddy's arms -- a delicious stew of humanity including, along the sixth fairway, an entrepreneur selling cigars, or, as he said, "Stogies here, get your stogies!"
Wouldn't give me his name.
"They'd ruin me," he said. "I go to Augusta, the Open, here. But they don't like me selling smokes."
"I'm a Somali pirate. I can be seen, but I can't be caught."
We stood along the 10th fairway. I could see Tiger. I could see him from the eyes up. I could see him under one man's ear, over another's collar, and framed by the straps of a woman's sunglasses and a photographer's 400 millimeter lens. This was, I believe, the typical view of Tiger as seen by the typical fan on this day. May God bless the golf fans who believe these infinitesimal sightings, captured in a blink, are worth a dime, let alone the $325 for four days of such fleeting pleasures.
At the 11th tee, Frank Essien, an African-American businessman from the Minneapolis suburb, Bloomington, lifted high his daughter, Jordyn, 10 years old, that she might see, however fleetingly, a model of what she might become.
"I want to get her away from sucking on these icicles," he said, laughing about his daughter's current preference for frozen lemonade, the strawberry kind. "And I want her to see what a legend looks like."
Three hours earlier, Tiger had been a player warming up.
Then, for Jordyn Essien, he was a legend.
An hour later, at his work, Tiger was a remorseless competitor who made three straight birdies -- one by sending his 3-wood tee shot onto the green at the 342-yard 13th -- and was on his way to a four-shot lead halfway through the tournament.
I, of course, saw none of it from my vantage point 36 spots back in a Porta-Potty line. But I did emerge from the plastic in time to meet Barry Matthis, of Harftford, S.D. I noticed that he was well informed. He had a radio plug in his ear. He held a small computer with instant PGA reports. He also had one of those tall periscope things that could give the man the viewpoint of someone 8 feet 11 inches tall. "Cost $86," he said, "because it's got magnifications and ranges. Try it yourself."
Wow. Suddenly, I saw Tiger from the waist up.
On the 16th fairway, I also saw Tiger acknowledge the crowd. Now, maybe he had danced with Padraig Harrington in one of those Irish clogging deals and I had missed seeing it. But I think not. I think as Tiger walked down the 16th, extending his hand in a limited-modified wave of sorts, it was the first time he almost moved out of assassin/watchmaker/bomb-defuser focus all day long.
And, y'know what, there's what makes him worth the price of admission, whatever that price may be, however much of him we might, or might not, see.