News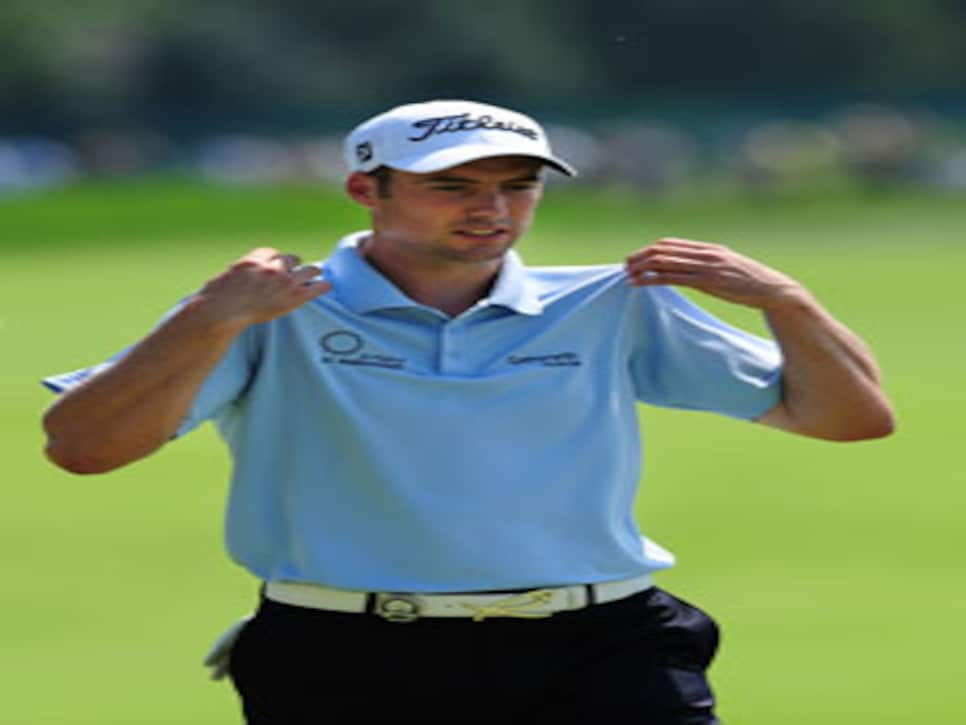 Even in the scorching heat, Ross Fisher has played cool under pressure at Hazeltine
CHASKA, Minn. -- Some players seem particularly suited to majors, doing their best work under the most demanding conditions. In the first year in which he has competed in all four majors, Ross Fisher appears to be the type.
In 2009, the 28-year-old Englishman has made himself a fixture on Grand Slam leader boards. He was fourth after one round at his first Masters, in the thick of it on the final nine at the U.S. Open at Bethpage before finishing fifth, and led by three with only 14 holes left at the British Open until he was undone by a quadruple bogey and a fade to 13th.
At the PGA Championship, Fisher's second round 69 has him tied for second, four strokes behind Tiger Woods.
"It's not a bad debut," Fisher said of his first full season of majors. "It would be sweet if I could play two more solid rounds out there on the weekend. All I want to do is give myself a chance on Sunday."
However, that points to Fisher's problem -- closing. At the Masters, he was alone on the lead for much of the opening round but marred his 69 with bogeys on the last two holes. At Bethpage, brilliant ball-striking got him close to the lead, but several missed short putts, the last on the 71st, dropped him to fifth. Then there was Turnberry, where with his wife, Jo, on the verge of going into labor with their first child, Fisher appeared to take control of the championship with early birdies on Sunday. But he hooked his 2-iron off the 5th tee into severe rough, leading to a series of dispiriting hacks and a killing snowman.
"Fortunately, Jo managed to hold on," said Fisher, who is now the father of a healthy baby girl, Eve. "Unfortunately, I didn't manage to do the same."
The specter of late failure lingered on Friday at Hazeltine, when after making birdies on six of the first 16 holes to tie Woods for the lead at five under, Fisher promptly bogeyed the last two.
It's not a problem that's been limited to majors. At the 2007 BMW PGA on the European Tour, Fisher was tied for the lead after 54 holes but shot an 84 on the final day. At the 2008 HSBC Champions in Shanghai, Fisher needed only to get down in three from off the green on the final hole, but chipped into the water to make a double bogey and lost in sudden death to Phil Mickelson.
To his credit, Fisher has never despaired, at least publicly. Rather he has emphasized each as a valuable learning experience, and his ascension over the last four years from the minor league Challenge Tour to a two-time European Tour winner currently ranked 23rd in the world proves that he's taken it all in a constructive way.
"I'm a hugely confident person," says Fisher, who comes from the London suburb of Ascot, developed his game in the junior golf program at storied Wentworth, and presents himself with a poise and affability that keeps him from ever appearing cocky. "I come into every major championship now feeling and believing I can win and feeling that my game is good enough to win."
"The impressive thing about Ross is his attitude," says Mark Roe, his short game coach since last year. "He looks for positives in everything he is doing and I think that is probably one of the greatest lessons you can learn in golf…He has a mentality that will keep him carrying him through the game."
Fisher also has the physical game to take him far. With a lean 6-3, 168 pound frame, he is a powerfully straight driver and an exceptional iron player.
"I feel like my game could be suited to anywhere," he says. "I feel like I'm pretty good at adapting to golf courses. You know for me, the longer the better. And even if it's long and tight, that kind of helps me because I feel like I'm hitting it pretty long, and I feel like I'm pretty straight with the driver."
He's been solid at Hazeltine, ranking third in the field in greens hit in regulation with 27 out of 36. He was particularly pleased with his ball-striking after his second round, saying, "I didn't think I could hit it better than I did yesterday, but I think I did that today."
Fisher has said that he believes he is capable of winning several majors. To get his first, he will have to putt better than he has in the closing stages of other majors, and of course, he will have to go through Woods.
"It would be great to be paired with Tiger on Sunday, whether it be in one of the final groups or not, that would be fantastic," said Fisher, who has good memories of being paired with Woods on the final day at Dubai in 2007, where neither player could catch Henrik Stenson. "Personally I'd love the challenge. What better way to test yourself than playing against the best player in the world, by a country mile. That will show where your game is at. Right now, my game is in really, really good shape, and hopefully, that challenge could come Sunday."