News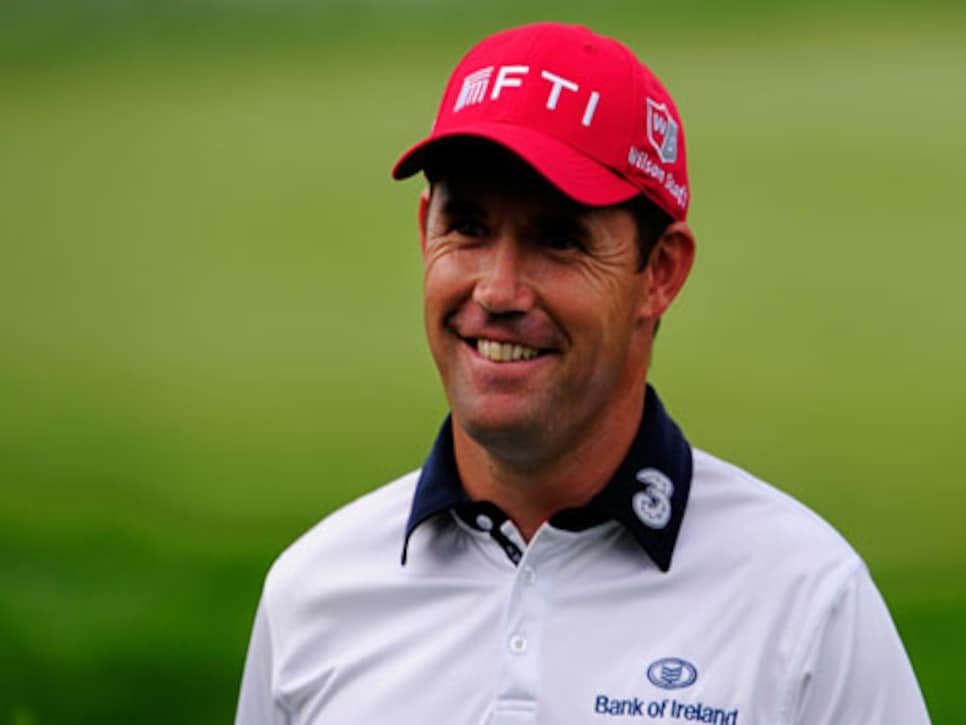 Paddy seems comfortable on the big stage, even when Woods is involved.
CHASKA, Minn. -- They played the final round together last week at the Bridgestone. They played the first two rounds together at Hazeltine National in the PGA Championship. Depending on the weather, they could play the last round Sunday in the same group, so it's safe to say that Tiger Woods and Padraig Harrington are becoming an item.
Is this the start of something big?
It's probably way too convenient to simply draw a big circle around Harrington's name and say we've just identified a new rival for Woods -- you just can't do that based on two weeks of data. But because of the direction it's trending, it's safe to say that Harrington is acting like someone who is completely comfortable standing up to Woods.
And there just aren't too many like that.
On Saturday, under dreary, gray skies, Woods and Harrington almost seemed to trade roles. Harrington was the dashing one, hitting it close and making birdies. Woods was plodding, struggling to find fairways, hitting the middle of greens. And so they continued on their star-crossed course to see which one, if either, has what it takes to win the fourth and final major of the year.
Woods shot a one-under 71 to lead Harrington and Y.E. Yang by two shots. Henrik Stenson and Lucas Glover are four shots back. Once rain started to pelt Hazeltine Saturday night, the PGA of America announced it's holding the option to re-pair the groups into threesomes off two tees, so Harrington might wind up joining Woods and Yang in the final group.
Harrington finished off his three-under 69 and said he's comfortable with how he is cast in this drama, however it is defined. He was surprised by the warm welcome he received from the gallery Saturday.
"You know, they would like the idea of, 'Let's support the underdog until he catches up and then we'll support Tiger again' sort of thing," Harrington said.
"I think everybody wants to see a battle. Everybody hopes the underdog catches up ... but they want the hero to win as usual. That's the way all the storybooks are written.
"They want him to be pushed and tested and to show his skills, and I'm happy to fill that role. And you never know what happens over the last nine holes."
Maybe what we will see will be the something new, something different, something compelling -- Woods and Harrington, down to the wire.
Of course, finding somebody who is capable of standing up to Woods has been a popular parlor game for years. You can pick almost any top player's name out of a hat and chances are he's auditioned for the role. Maybe multiple times. The choice heard most often so far?
Nobody, really. The truth is that no one has really lasted for very long. Harrington may be different. At least he's starting to look that way. To begin with, more than any other player, Harrington took the greatest advantage of Woods' absence from knee surgery by winning the two majors Woods missed last year -- at the British Open and then the PGA Championship.
That success didn't only catch Tiger's attention, it also earned his admiration. Woods has long considered Harrington to be a class act because of his professionalism and work ethic. And Harrington, like Woods, plays through pain, including this week while battling back spasm. You can be sure that Woods also respects Harrington for undertaking something as difficult as making a swing change while at the peak of his game -- because Woods has done the same thing.
"I've always felt he's a great guy," Woods said of Harrington. "Paddy is an extremely hard worker, very patient and really believes in himself and his game. It's nice to see someone who works that hard ... accomplish his goals, and that's certainly one of the things I've always admired about him."
It's not surprising that Harrington is a frequent guest at Woods' off-season event at Sherwood Country Club, a significant commitment by Harrington, who would otherwise have scheduled time off.
Normally, Woods doesn't care too much for the players he is supposed to beat, but Harrington is different in this case as well. Harrington has a reputation for never mailing it in, and Woods respects that, because he rolls the same way. That's one of the reasons Woods felt he needed to speak out last week at Bridgestone, when Harrington triple-bogeyed the 70th hole after he and Woods had just been put on the clock.
So they've already got history, and it goes back a lot longer than that. They played against each other in the 1995 Walker Cup. They couldn't be much more different, really. Harrington is open and talkative and even as a three-time major champion, can walk around without notice. Woods is private and guarded and can't leave his house without getting mobbed. Harrington has a manner of playing that's understated while Woods' screams for attention. None of that actually matters, though, not on the course.
Let's just say their names are linked, just not in a major championship. Woods and Harrington have a chance to change that on Sunday. Nothing is guaranteed, not even if the first episode of a Woods-Harrington matchup certainly has the looks of an extremely appealing show. Just as Hogan needed his Nelson and Palmer needed his Nicklaus, Woods needs, well, somebody. Maybe Harrington is stepping up. It could be that today is the day to circle his name after all.