From The Magazine
Golf Digest Interview: Simply Fred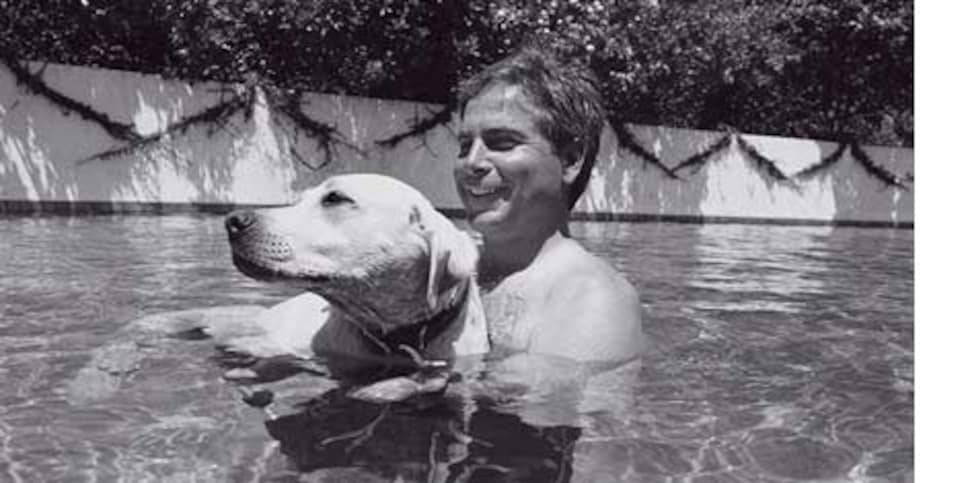 Everybody in the pool: Couples and George at home in Santa Barbara, Calif.
The scene occurred at a Buick Classic a few years back, although it could have been any PGA Tour event involving Fred Couples and a herd of excitable golf fans. As the Prince of Cool strode across the large grass oval outside Westchester Country Club, an animated conversation among a half-dozen or so middle-aged males ended with a bulletin, uttered, like the rest of the group's dialogue, loud enough for others in the vicinity to take notice.
"There's Freddie!" shrieked one of the men, touching off 30 yards of Beatlemaniacal pursuit — beers flying, bellies spilling from faded golf shirts. Upon their arrival, Couples scribbled his name a few times and lobbed the autographed paraphernalia back over his head, unable to truly grasp the commotion that follows him like a stray Labrador.
Why is Fred Couples forever fashionable? If you only knew. When the Westchester tale is re-enacted in the kitchen of Couples' Southern California home, Fred and Thais (pronounced "Tie-ees"), his wife of five years, break into hysterics. Away from the golf course, Couples is far more relaxed than he is lazy, an overgrown kid who still plays lots of recreational golf but is just as likely to be found pruning trees or shooting hoops in the driveway.
At age 43, the stepfather of two kids from Thais' previous marriage, these are the best of times for Couples. The family's Santa Barbara property is a horticultural amusement park, snuggled atop a hill at the north end of town and heavily garnished with tributes to Fred's green thumb.
Amid this life, golf's matinee idol has endured his share of trauma. His mother, Violet, died of pancreatic cancer on Mother's Day in 1994, and his father, Tom, died of leukemia in 1997. Just as Fred and Thais were becoming partners that year, she was diagnosed with breast cancer. And in 2001, eight years after a painfully public divorce, Couples' first wife, Deborah, committed suicide near Los Angeles.
Couples was No. 1 in the world in 1992 after winning three tournaments, including the Masters, but by 2003 his career was a candidate for the endangered-species list. He hadn't won since May 1998 and seemed less interested in professional golf than ever, finishing 131st and 103rd on the PGA Tour money list. His chronic back problems provided him with a built-in excuse, but his competitive soul had become just as fragile.
A commitment to swing instructor Butch Harmon at the start of this year changed everything. Couples began contending, then ended his winless stretch in April at Houston. Golf Digest's timing couldn't have been better — we arrived in Santa Barbara right after the victory and spent two days with Couples, joining him for 18 holes at The Valley Club of Montecito and enjoying unparalleled access to a man whose peaks and valleys have always made for a breathtaking landscape.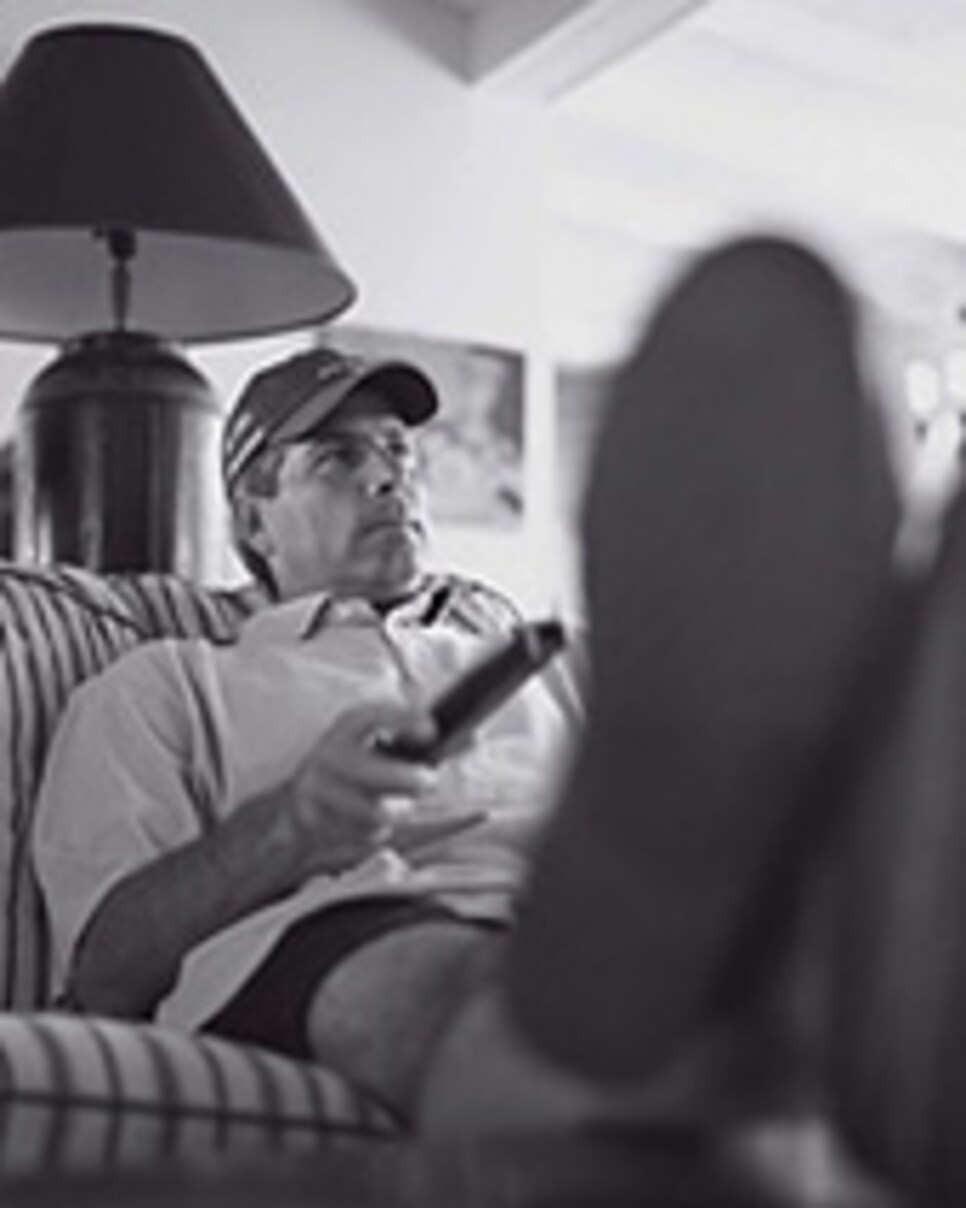 GOLF DIGEST: Here we are, three days after your first victory in five years. What does winning again mean at this stage of your life and career?
FRED COUPLES: Honestly? It felt just like being a tour rookie and winning for the first time. I started working with Butch, and it wasn't a huge swing change, but enough to make me feel a little uncomfortable. As I got better, I had some chances to do well, but I struggled on Sunday under the pressure. So at Houston, it was like winning for the first time.
How instrumental has Thais been in pushing you to play?
When I met Thais, she didn't know anything about golf. A year and a half ago, she said, "Why don't you play like you used to?" Simple question. I said, "Well, I don't practice. My swing isn't nearly as good. My back doesn't feel good," all that. She said, "Why don't you practice?" I told her Paul [Marchand] is in Houston; he's my teacher. She said, "Have you ever thought about changing teachers?" I said no. She said, "Well, Butch is always around. That would be a great thing for you."
So at the ATT I said, "Butch, I just got done with the Bob Hope, and I feel so bad hitting the ball." He said, "I just saw your scores — it can't be that bad." I said, "You'll see." So we go to the range and I start hitting 9-irons. He stopped me after three or four balls and said, "Wow, it is bad." Rarely has anyone told me that. So six hours later, my hands were bleeding, and I actually had a great time. It was like what I used to do.
Are you really as naive about the swing as everybody has been led to believe?
I don't know if I've ever given a player a tip in a practice round. I have no idea. You play with all these amateurs — I'd rather talk to them about something else. I feel like if I tell them something, it does it more harm than good.
You got emotional after winning again. What got you going after putting out on 18 at Houston?
I usually get emotional for people when they do well, whether it's Davis [Love] or some guy winning a gold medal in the Olympics or a charity event. I turned around, and Peter Kostis asked me, "What does this mean?" I never even thought about it. It meant that all the hard work with Butch paid off. And I've got a great wife who asked me a simple question: "Why don't you play like you used to?" It all just hit me so quick, and then I was done. I turned and got the hell out of there.
Your win was hugely popular. Why do you think so many fans pull for you?
I have no idea. I can only guess. I think people like players they can relate to. It seems as if people think they know me. I just think I'm an ordinary Joe who plays golf very, very well.
There are other guys who produce crowds all the time. And when they do well, they don't always get the throngs of people screaming for them like I get. Maybe that's going to come out wrong, but if I get near a lead, it seems as if 70 percent of the people are yelling for me.
What was the reaction after winning at Houston?
Joey [LaCava, Couples' caddie] got in the car and had 32 messages on his cell phone. We're on our way to the airport, and he's saying, "Look at this! They think this is your phone." I got home and our voice mail was full. Same thing the next day. People are still calling.
You had 50 people extend congratulations to you today at the Valley Club. By the 30th person, it was as though you were almost embarrassed by it all.
I usually change the subject to, "How are you doing? How ya hittin' 'em? How's your wife?" I never feel as if I need to be the center of attention. I can go to a restaurant and three people might come up. I go to a golf club and it's everybody. Everyone knows me, and it's a small town. It's fun.
Is it true that you've regularly played the local muny?
Ever get any funny looks when you show up, dragging a pullcart?
I get a chuckle out of it. Usually I don't say anything, like, "Yeah, that's right — it's me." Normally I play with a couple of guys, and we'll get the local pro or someone else.
Your public-course pedigree as a kid may be another reason you're so popular, especially among hard-core golfers.
I used to play with nobody my age, nobody even close. As I got better, like an 11-, 12-, 13-year-old, I was playing with guys 60, 65 years old, and having a blast. It was a good atmosphere — if I screwed around, some of the older guys would let me know.
We weren't very wealthy, but in the summer my parents used to give me five bucks every day for 90 days, which was a lot of money. It was $3.50 to play, and the people would let me play all the golf I wanted. I'd have $1.50 left for a hamburger and a Coke, and I'd be up there every single day.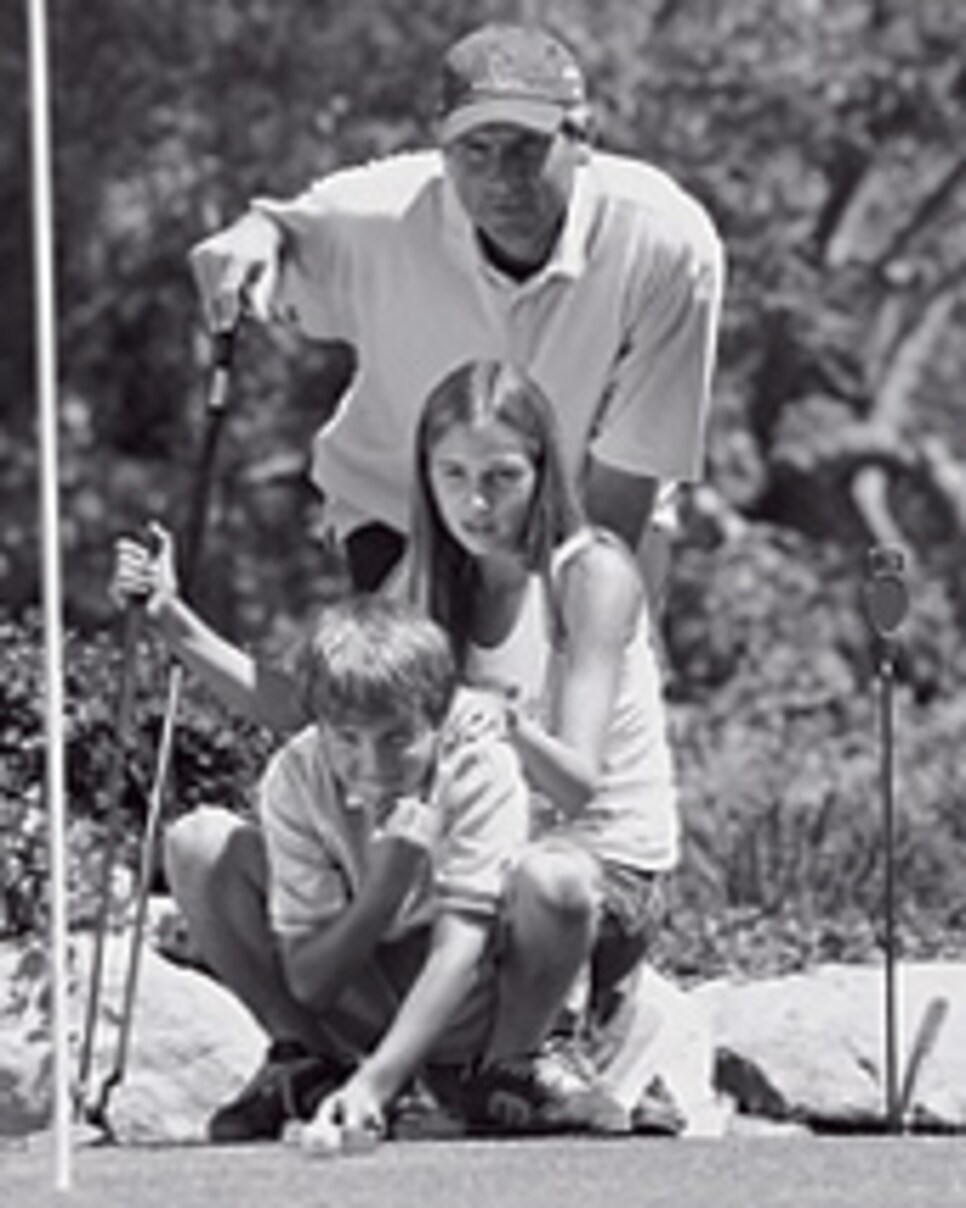 I remember we used to play dime skins on a par-3 course. You know, when you're walking around as a 12-year-old and you're making a putt to beat 25-year-olds and 50-year-olds, it's a wild feeling, I've got to tell you. By the end of the day there would be 12 to 15 guys, and you'd win a skin. You'd lose a few other skins, but you'd win a dollar. And you'd get paid in dimes. I remember it like it was yesterday.
Was golf a sport for geeks at that time?
There were pen-and-pencil sets in the pockets. I was probably oblivious to it until college. Then I got to Houston. We didn't stay in the athletic building, but we stayed in a dorm where a lot of track and swim guys were. I used to play in tennis shoes and jeans, sweatshirts. I was pretty old when I got my first pair of golf shoes, probably 13 or 14.
I caddied for a guy who was a very good player, and he gave me a set of clubs, just a starter set: 5-iron, 7-iron, 9-iron, putter and driver. I just loved it. How I developed my swing was to just grab a club and start banging balls. This guy I caddied for kept telling me, "Just keep playing. You look like you're having fun. You're hitting it well." That's what I try to tell [son] Oliver: Just keep hitting the ball.
While we're on equipment, set the record straight — did you actually use a 3-wood previously owned by Tom Watson's ex-wife?
It was a ladies' driver. All I know is, I went to his house to practice, to see how he prepared. I think I spent four or five days there. First day we went out to his ranch and shot rifles, which is something I'd never done. Second day I think we went fishing. And the third day, I didn't know what to say — I hadn't played any golf. I'd gone there thinking we were gonna beat balls all day long, so I said, "Are we going to hit balls?" Anyway, we went out. We put the clubs in his trunk, and I just grabbed a driver in there that said 1 on it. He said, "Oh, yeah, that's my wife's." I said, "Wow, it looks good to me." It was a strong 3-wood or ladies' driver with a little extra length in the shaft.
This was way back when. When I got to the next tournament, I put my own shaft in it, and I killed it. When I was playing really well, if there was a hole I didn't like, I took this club out and hit it 260 easily, and it became my favorite club.
To this day I don't know where it is. It's somewhere.
And now you and LaCava are in your 14th year together, which is forever for a player and a caddie. How have you managed to stay together so long?
He's a great guy, fun to be around. I like to have Joey pick me up and take me to the course — it used to mean better parking for him. I used to joke that I don't even know how to get to the course.
I certainly don't boss him around. I get mad and frustrated, just like everyone else. Joey takes that with the territory. I'd never look for another caddie.
The last few years, the times I've played well, I'm glad he hasn't gone to caddie for anyone else, at least full-time. The money we play for is getting up there, but it's irrelevant if you're not getting any of it. We could play for $5 million a week, but Joey's not getting any if I'm not getting any, so this has been good.
LaCava tells a story about you guys giving each other a hard time at Augusta. You say to him, "I could fire you right now," and he responds, "No, you couldn't — you couldn't get your bag up the hill." True story?
Yeah, I play that one on him a lot. And it's true — I don't know how the hell they carry those bags.
There will be several times when he'll be talking to another caddie and I'll say, "What are you talking about?" He goes, "None of your business." I say, "You know what? I'll hit this out-of-bounds right now — trust me."
Believe me, he comes right back. He's not bashful to say anything to Davis or Justin Leonard or Phil Mickelson. He likes to have fun.
Is there a huge difference between the round we play this afternoon at the local club and your job?
Today will be fun. Golf is supposed to be fun, but I don't think anything is fun if you're not doing it reasonably well.
I love it more right now.
Did you ever feel like the best player in the world?
I was for a short period of time, so, yeah, I think so. At that one stretch, it seemed really, really easy.
But you seemed to have such an aversion to all the attention that goes with being No. 1. You never quite understood that whole thing, did you?
I enjoy being around Michael Jordan. He has a camp here and stays for two weeks. He plays golf all day, almost every day, and I'll play with him two or three times. I'd rather go have dinner with him or sit for 20 minutes. But it's golf, golf, golf, and we have a blast. We don't talk much, because he's trying to shoot a score, but it's a thrill to be around him. So I can see it. But I don't see it for myself. I mean, Michael Jordan? Come on.
People ask, "You could have played with him every day he was here?" I'll say, "Yeah, but I want to leave him alone." Would he want to come over to my house and play basketball with me for an hour every day? No.
What's the craziest place you've ever signed an autograph?
I've signed some baseballs. I mean, I don't get it when they give me a baseball to sign.
Put it this way: I've never signed any flesh.
What's the craziest thing ever left in your locker?
I'd rather not answer that. I mean, there have been some crazy things.
I was with David Duval in L.A. He pulls out this picture and a letter some woman sent him. It was kind of sad. You get all kinds of stuff. I've had some great security on the tour. People have been escorted off the course. They've been told not to come back; they've been told to leave me and other players alone. Knock on wood.
Most of this stuff happened earlier in your career? Pretty much.
You're in a more settled situation now. How did you and Thais meet?
She came to the Tour Championship in San Francisco the year Mark McCumber won [1994]. That was the first time I saw her. They ran pictures of the 30 tournament qualifiers in the paper, and everybody thought I looked like Nathan, her brother. She came out with a friend. I was divorced and waved to her, but I didn't see her again until three years later, at the L.A. Open. She said, "I'm going to go out and see what this guy's doing. It's my birthday, and I'm having a bad day."
A friend of mine was talking to her and said, "Who are you here to see?" She said, "That guy over there." So he came over and said, "You know, there's a girl over there ... "
I went over and said, "Are you the girl I saw a long time ago?" And her girlfriend made a wisecrack. I said, "Well, it was nice to see you." I went to hit balls and then said, "Joe, I'm really embarrassed. Can you go ask for her name?" And he came back with a name and a phone number. I called her up, didn't start dating her until after the West Coast swing.
Your first marriage ended in divorce in the early '90s, then you lost your parents in a relatively brief period. You meet this great woman, and she was battling cancer. Are you thinking, "Lord, could I please catch a break?"
She'd gone in for a test and everything was fine, but she was a little nervous.
I told her my mom had had it and that she needed to have it checked. I didn't know her that well, and she didn't know me. For six months, her doctor said, "It's nothing; don't worry about it." Then everything started happening very quickly. She went up to Stanford, went to Chicago, ended up going to a clinic in Switzerland. I went there with her for three weeks.
She lost her hair, had a wig, but it had nothing to do with what happened to my parents or my aunt, who had passed away around the same time. I never took the time to wonder why this was going on, how this could happen.
My dad could have lived a long time, but once my mom passed away, he struggled. I kind of looked at it as, "You know, they lived a great life. They weren't 80, but they were in their late 60s. If that's how far I go, that would be great.
And Thais is in remission?
Yeah, she got through it. What is it, six years? She's doing great, and she helps out a lot of people now.
What's the best part about being a dad?
Seeing them grow older. GiGi [13] is growing like a weed. So is Oliver [10]. We do everything together. GiGi's riding horses and getting very good quickly. I like it that Oliver loves the guys I hang out with. His favorites are Davis, Ernie Els, Phil and Justin, and they have a blast. He doesn't come to many tournaments, but he wants to know how I played, how Davis played.
Has anything about fatherhood thrown you for a loop?
When I first met Thais, Oliver would get pouty and want his mom. It didn't last long. Thais says, "When I look back and remember those days, it was amazing you'd want to stay with me, the way Oliver and GiGi could act sometimes."
You moved around a lot prior to meeting Thais. What was that like?
I went from Palm Springs to West Palm Beach, back to Palm Springs, where I still had a house after I got divorced [from Deborah, his first wife]. Then I met someone [Tawnya Dodd] and lived with her in Dallas. I'm not going to knock anybody — I wouldn't want to read that someone I lived with nine, 10 years ago was talking about me.
How did Deborah's suicide in the spring of 2001 affect you?
Probably not that much. What happened was, our divorce became a comedy — everyone pretty much knows the scenario. If they don't remember, I'll let you remind them. [Deborah, a polo player, sued for "lifestyle" support and was awarded about $50,000 per month; a court-imposed restraining order at the time of the settlement forced her to keep a distance from Couples.]
I felt like we took pretty good care of each other. But as we got older, I was the provider, and when it didn't work out, I turned into a bad guy. You lose a lot of respect for someone when that happens. I think back now and I laugh. When I heard she'd killed herself, I didn't laugh then. It was shocking, but it didn't bother me for three seconds, because I hadn't seen her.
Years after we got divorced, she came to a tournament with someone's wife, and I never saw her. She was at Payne Stewart's funeral [in 1999] and sat right in front of me. I ended up talking to her for about a minute, which was fine. She told me she was teaching young kids and living in L.A.
Suffice it to say the bridge had been burned?
I'd had enough. If that's the way you want to be, fine. Once I was out of the marriage, I had no reason to knock on her door at Christmas, or say hello, or anything.
Is it fair to say you grew apart as much as two people could grow apart?
The easy answer on that is yes.
A classic case of being married too young?
I left home at 17, traveled. I got married when I was 21. That's a young age. As it turned out, things were fine, then not so fine, and then it was a blunder. That happens all the time. For her to pass away, or for her to do what she did, I think, is very sad. But in the context of my life, it wasn't something to try to understand.
There was another tragedy last year — you were playing a Shell's match with Mark Calcavecchia when a forklift being used as a camera tower toppled and killed a cameraman, Brian Blodgett. What happened?
Calc and I were playing, just two good buddies on a beautiful day. I made a putt on the second hole, took the ball out of the hole, and just as Joey put back the pin, you could hear, "Oh! Oh!" or "No!" We all looked. I mean the whole gallery — five or six hundred people — could see this. And you could see the forklift tipping over. I looked the other way. A few doctors ran down while Calc and I stood by the green. Then we heard everything was OK. But by noon, it didn't look very good. They were saying his vital signs were OK, but he's unconscious. And the guy who was driving the forklift looked as if he had some broken bones. They brought in a helicopter, so we finally went up to the clubhouse. It was very odd, because people were acting like everything was fine. Then about a quarter to one, Mark and I got into the carts to drive down to the third hole, and the guy in my cart had a radio on. Somebody said, "Get the players up to the head pro's office." Right then I knew something was wrong.
We walked in and Frank Chirkinian [TV producer] was in there with a couple of other people. As soon as we walked in, Frank goes, "We lost him — we lost him." It was a horrific five minutes.
Let's move on. You're allergic to the phone — your famous line is that you're worried someone might be on the other end. How about e-mail? Are you a computer guy?
Funny story. About a year and a half after I met Thais, we're sitting around at home, and she told me about these things called chat rooms. She said they've got them for every subject. So she punched in some golf thing and, sure enough, there were guys talking about this and that. I said, "What about baseball?" This was when Mark McGwire and Sammy Sosa were going crazy in the home-run stuff. I said, "See how many home runs he thinks McGwire's going to hit."
So they're talking, and all of a sudden someone comes up with my name in the baseball thing. Thais screamed, "There you are!" So I said, "See what he knows about me." The guy says, "I know everything about Fred Couples." This is a baseball chat room, not golf.
To make a long story short, the guy says he went to the University of Houston, and he left his name. I didn't know him. Turns out he was a friend of Blaine McCallister's. We asked him Blaine's nickname in college, and he knew it.
That was the first time I looked at a computer. The tour gives us one. It sits on my desk or in the kitchen. The kids play games on it.
You mentioned baseball, and you're a sports nut. Would you rather play center field for the Yankees or keep the job you have?
Center field for the Yankees, no doubt. I don't think I could be Bernie Williams, but I wouldn't mind trying.
Then there's another potential career: You did some moonlighting as a television analyst earlier this year and got good reviews. What was the hardest thing about doing it?
Looking in the camera and talking. Everything else is pretty easy. They want you to look right in the camera. I went really quick and started stuttering and mumbling. It sounds easy to do, but once you look in that black hole ... But it was fun.
Did you learn anything up in the booth?
When you see everyone, you realize not everyone is hitting perfect shots. There are guys making mistakes.
If somebody came to you and offered you a regular TV job, what would you tell them?
I have a tough enough time playing golf, let alone thinking I could work in TV and play. It would be fun to do every now and then, but I'm not ready for a full-time job besides golf.
Is Jim Nantz a better golfer than you are a golf analyst?
Was he a legitimate golfer at Houston?
He played on the team. Coach [Dave] Williams loved him. He roomed with Blaine and me and John Horne. I don't think he played very long before he got into some other things with radio. He's tremendous at what he does. Every now and then I tease him, but he makes very few mistakes.
He does a terrific job, although when he does get criticized, it's for being a little melodramatic.
Yeah, he can overcook it sometimes. He's got some guys he likes — he's left me notes several times throughout my career, maybe six to eight times. At the Houston Open, it was, "Be young again. Go get 'em. Play like a 20-year-old. You know how to play."
The victory in Houston was your 15th. Are you satisfied with your career? Would you vote for yourself in the Hall of Fame balloting?
First of all, I don't know what our Hall of Fame is. I don't know who's in it. I know Nick Faldo went in. I know Ballesteros made it. Is Tom Watson in?
Yes. I don't even know when they go in. People would laugh, but I don't know if a lot of tour players know anything about our Hall of Fame. Do I belong? I guess by saying I don't know, maybe I think I do. But I don't even know what the criteria is. I do know Nick Price just made it with 18 wins and three majors; I've got 15 wins, one major and two TPCs [Players Championships]. So I don't know. I would think at this time, no. I think I need to keep winning. Maybe when I'm 46 or 47, I'm in there.
You were on five Ryder Cup teams. That can't hurt.
And you were the No. 1 player in the world for a period of time.
All those things are great.
Do I think I'm great? No. I think I'm a very, very good player.
One of the best of your generation?
I went up against some pretty good guys — Mark O'Meara. Hal Sutton, Paul Azinger, John Cook. All those guys won between 11 and 16 times. That's a lot.
I will say this: What Tiger has done is the greatest thing that's ever happened in the game of golf. I now know how good one man can play. I know how often one man can win.
And that's what Tiger taught you?
He's not teaching me anything, he's showing me. There is a huge difference. A few weeks before my 15th win I said, "I'll be honest, if I'd been going against Tiger Woods, I don't see how I'd have 14 wins now."
Phil Mickelson is about as good a player as there is going to be. He's won a ton of events — and he's a long way behind Tiger Woods. I don't think I was ever a long way behind anybody when I played.
My whole time playing, when I went to a tournament, I never looked to see what some guy shot the first day. I do now, because he's that good. And if he's in someone's mind ... he ought to be.
OK, 18 holes at Pebble Beach, each at the peak of his career. Who wins, Nicklaus or Woods?
I say Tiger. Everywhere they play. Johnny Miller might say Tiger or he might say Jack, but for me, Tiger played Pebble Beach in a U.S. Open and won by 15. Think about that — that's giving the second-place guy two shots a nine. If Tiger Woods called me tomorrow and said, "Hey, I'm right down the street, I'll give you two shots a side," I'd go to the bank and get all the money I could get — and hope to beat him. I played pretty well that week, and he beat me by 21 shots or something.
What's your take on Mickelson?
I like Phil, and I love his talent. He gets away with murder a lot, and then you think he's going to get away with it again, and he doesn't. I'm not critiquing Phil. I'm just saying in these huge tournaments, things happen.
I'm not worried about Phil Mickelson winning a major. He's way too talented. He's going to win five majors. Until he does, it's not going to be easy. It's only going to get harder.
Let's talk a little bit about the Major Champions Tour.
The thing you tried to get off the ground with [TV producer] Terry Jastrow. [The proposal was for eight tournaments for players 37 to 55 who had won a major.]
It all started in the locker room at the 2001 Memorial. Greg Norman shot like 82-73 to miss the cut. I was right on the line and was pretty sure I was going to make it, but I knew he hadn't. I said, "You know, this is crazy. It sure would be fun to play better, but also to play with guys we can compete with." He said, "Yeah, that would be fun."
Somewhere else I bumped into Faldo. I like to stir him up a little bit, so I told him the same thing, and he loved it. At the PGA that year, Faldo was with a guy and they were trying to get it done, but they were going to do it in Europe.
The whole time I was still going to play the PGA Tour. Then, of course, the tour got wind of it and tried to stop it. I thought it was a great idea, but at the same time, maybe I was blind and I didn't see the effect it would have.
How did the tour respond?
I talked to [commissioner] Tim Finchem for about three hours on the phone. He thought it was going to affect the regular tour and the senior tour, but in the back of my mind, I was looking out for myself. There was a ton of interest among sponsors, but I didn't want to lose my tour card and have the same thing happen to everybody else. Obviously it didn't work for a lot of reasons.
So it wasn't a renegade organization?
No. A couple of things bothered me. I heard, "He just needs to play better. He's a good player — he needs to practice more." That's not what I wanted to hear. People want to see Greg Norman and Nick Price, they want me, they want Paul Azinger. Well, we can't play in all the tournaments. Don't bite the hand that fed you. The PGA Tour isn't coming here and paying my electric bill. They're creating purses, but they're being paid, too.
Are you satisfied with the way the tour operates?
You've learned the good and the bad over the years.
You know what, I can't answer that. I honestly can't. I know zero about the PGA Tour and how it's run. When I say zero, I mean zero. I don't get a lot of things. I don't understand why tournament sponsors — guys who run a tournament — get to pick the exemptions. Maybe that's just me. Others might say, "Well, there are local players, there's this, there's that." Then you've got Steve Pate, who won the San Diego tournament twice in his career, and he can't get a sponsor's exemption. I find that one of the most annoying things I've heard in my life.
I get a chuckle when a Phil Mickelson loses in the first round of the [World Golf Championships] match play and somebody who couldn't get into the match play finishes second at Tucson and ends up making more money for the week. I can see Phil's point. We don't need to have tournaments against "top" tournaments. What I don't understand is how other guys think Phil's a bad guy for making that comment. I've been a good player for a long time — I have never felt like this tour should be run on mediocrity.
Can you elaborate on that?
Let's say you have the top 125. You've got the big boys, you've got the guys down there and you've got the guys doing their best. I wasn't in the top 125 a couple of years ago — I barely made it last year. I don't think guys like that should make decisions for the PGA Tour. I would never go and say, "Hey, you're doing this for Tiger and Mickelson and Ernie, I think you should do more for me." I don't see how anyone can make that comment. If we're going to call it the upper class, that's what it is. These guys are the upper class. Every time you go to an event, those are the guys who make that tournament better.
Your schedule was limited a bit by your bad back. It's been nine years since you first felt a sharp twinge on the practice range at Doral. What happened?
I was playing well all the time at that point — I played with John Huston that week, and I still tell him he won because I pulled out. It felt like a bullet, like someone shot me. I'd never felt anything like that, and I haven't felt anything like that since, thank God.
I went through all this work, had a guy look at me who did some MRIs, and I went through a 90-day exercise period to strengthen my back. One week I was paired with Don Pooley, and on Saturday my back started bothering me. On Sunday, Pooley found me and says, "You need to go see this guy, Tom Boers." Then Jim Mackay, who was caddieing for Larry Mize at the time, found me and said, "Look, I don't know you that well, but you need to go see this guy." So I flew down to Georgia and saw him. Boers said, "If you'd come to see me 90 days ago instead of this exercising, you'd be way ahead of the game." Anyway, he's been my guy ever since.
If I could take six months off, I'd be the better for it, but to me, that's been almost impossible to do. So I fight my back, and there are times I do really well. I've also put on a pair of pants and kind of lost my balance, and my back will go out.
I get away with stuff for a long time, then I could be picking up a carpet or unloading my golf bag — even packing Tuesday morning for Houston [this year], I was putting some stuff on top of my suitcase and I buckled and fell over. I was in bed for about 20 minutes to let it calm down. I didn't feel very good, but I got to Houston, went to the range and felt fine. That doesn't happen very often. Usually it's both. If I don't feel right, I can't hit the ball. It's not like surgery or anything like that will fix it. It's an old-looking, beat-up back.
What's the worst your back has been on the course?
I've never walked off the course because of it. I haven't played in tournaments, obviously, but when I've gotten to a tournament, I've gotten through it. The worst? I can remember a Bob Hope a few years ago, and I was playing well. I went through a three- or four-hole stretch where I semi-topped a drive and shanked it around.
You've overcome a lot. Are you glad that Thais pushed you to improve?
Her way of looking at it was, "Hey, let's practice, let's get better." She's very, very smart — not many people have said that to me. The kids are a little older now. They respect what I do, and they love that I play golf. They were very excited that I won, and they're excited I'm playing better. I hadn't done much for them before this year. Thais has been very instrumental in this. She's the greatest mom I know, and that makes it easier on me.
I have to play. This game is never played in your backyard, at least very rarely, and there are 200 guys going for the same thing. A great home life is a huge part of what's going on here.