News
Has Tiger Woods fatigue set in? Public indifference seems to be growing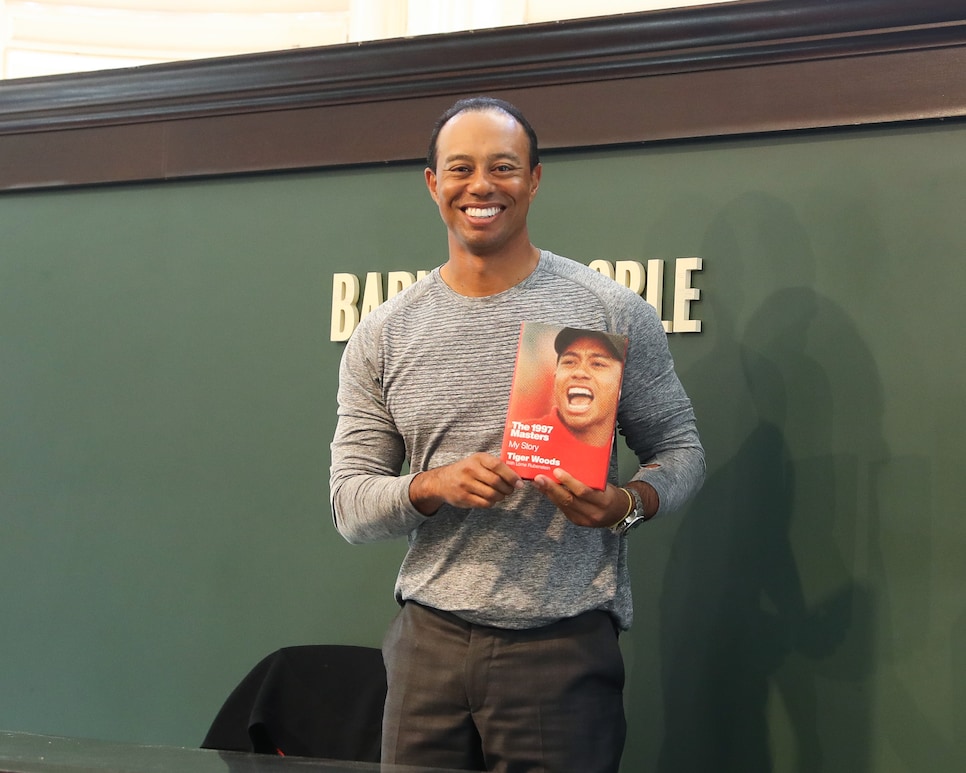 Tiger Woods is miscast these days, a perpetual headliner now yesterday's news. Or yesteryears' news. The anniversaries have entered the precious metals stage, platinum this time, 20 years since his 12-stroke victory in the Masters.
Anniversaries evoke reminiscence, more so in Woods' case given his historical significance, and the retrospectives came in a flurry, including one of his own, a book entitled, The 1997 Masters: My Story.
His story, his words, with an assist from the estimable Canadian golf writer Lorne Rubenstein, with generally favorable reviews ("a rare perspective of golf played at the highest level," Kirkus Reviews wrote) and a splashy New York City book launch that included a book signing and appearances on ABC's Good Morning America and ESPN's Sports Center with Scott Van Pelt. And then…
The Masters came and went without Tiger—notwithstanding his quietly attending the Champions Dinner at Augusta National on Tuesday night—and few seemed to have noticed or, worse, cared.
Has Tiger fatigue set in?
His book might be instructive. Celebrity autobiographies tend to be huge bestsellers and in the sports spectrum Tiger's celebrity was of a magnitude that his endorsement income once ran to more than $100 million annually. Baker & Taylor, a prominent book distributor, reported that the first printing was to have been 100,000 copies, a notable number.
Yet The 1997 Masters: My Story narrowly snuck onto the New York Times hardcover nonfiction bestseller list, debuting at No. 15 in the April 9 edition of the Times' Book Review. And this Sunday, it will have vanished from the list altogether (though it is No. 5 on the Times' Sports and Fitness monthly list for April, behind Tim Tebow's Shaken, which debuted last October).
Contrast that with Hank Haney's book (written with Golf World editor Jaime Diaz), The Big Miss: My Years Coaching Tiger Woods, which was published in 2012. It debuted No. 1 on the Times' print and e-book nonfiction bestseller list and No. 2 on its hardcover nonfiction list. Moreover, it remained on its lists for several weeks, and Doug Ferguson of the Associated Press reported in May 2012 that 228,000 copies were in print.
Tiger was still competitively relevant in 2012, when he won three times, and he followed up with five victories in 2013, when he was the PGA Tour Player of the Year.
Now it's largely a tease with Woods—will he or won't he play?—and apparent growing indifference brought about by too many false starts in a comeback bid that began six months ago with his anticipated return at, and subsequent withdrawal from, the Safeway Open, and three poorly played rounds in two meaningful events since.
The toll it apparently has taken with a segment of the public has become a marketing liability for Woods, according to Bob Williams, CEO of Burns Entertainment and Sports Marketing. He noted in an email, "potential comeback fatigue without seeing him play consecutive events healthy. The specter of a legitimate comeback drove the recent endorsements [with Bridgestone and TaylorMade]. If he were to retire officially, he would be more viable given his unprecedented record and no more tarnishing of it."
When Woods does play, he remains the most potent draw in golf, as we saw at Torrey Pines in January, the fairways framed by crowds three deep, as though it were 1997 again. It isn't. He shot 76-72 and missed the cut.
"Until he becomes a factor on the golf course again, I think his popularity will wane," sports-marketing analyst Bob Dorfman of Baker Street Advertising said. "I don't think he's going to get any more major endorsement deals. I don't think this book is going to be terribly successful.
"It's kind of the out-of-sight-out-of-mind cliche. If he's not on the course, not playing, his commercial success is going to wane. Personality wise, he doesn't seem to be one of the more lovable guys. He still certainly has incredible drawing power, but everything hinges on his being on the course."
The game inarguably is better off with him in the fore, as the ratings decline of another Masters without him have revealed. But unless he can author a happier ending, well, in the words of another renowned author, Bob Dylan, "Yesterday's just a memory, tomorrow is never what it's supposed to be."