The Loop
Has the PGA Championship worn out its welcome?
JOHNS CREEK, Ga. -- OK, time's up. It's over. Over for the PGA as a major championship, that is. We just can't go on like this. Every year it's the same thing. And it has to stop. I'm sorry, but holding three majors in one country just doesn't stack up in this modern international world. Such an out-of-date, anachronistic bias has no place in a game where the very best practitioners today hail from all corners of the globe.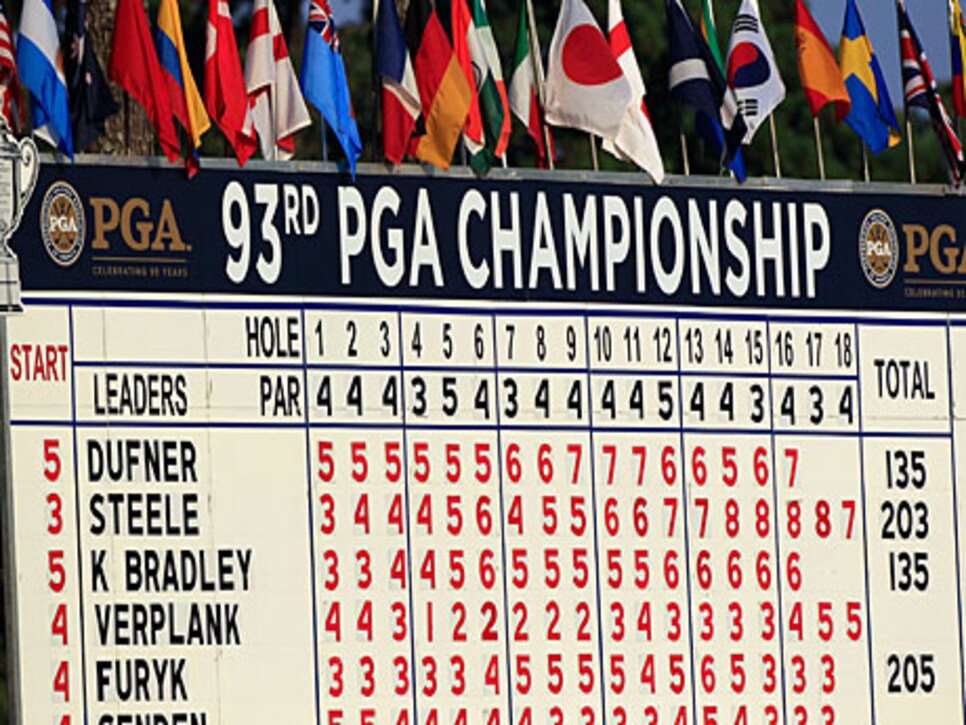 Now, before we go on, I can already hear the cries of "heresy" and claims that the four majors are untouchable and inviolate. But why should that be the case? It isn't as if we haven't moved things around before. Back in the days of Atlanta's most famous golfing son, Bobby Jones, the four majors were the two Opens and the two Amateurs, U.S and British. The PGA wasn't rated and the Masters hadn't been invented. The Western Open believe it or not, was the next biggest thing.
So don't tell me that we can't change. We can and we have already. So we can do it again. And now is the time.
(Related: Geoff Ogilvy: Players Want To Win The PGA, But Not Necessarily Most Of All)
This week hasn't helped the PGA's case - such as it is. Played on a one-dimensional golf course armed only with the power to cure insomniacs everywhere, "Glory's Last Shot" should live up to its name and relinquish its once-deserved but now unmerited status as the fourth of the four major championships. With the PGA tagging along far behind, the Grand Slam has become, at least in the minds of the golfing public, a Triple Crown plus "that other one, what's it called again?"
Besides, in this ever-changing world, the PGA of America -- like its counterparts elsewhere, in so many ways a dying organization -- has no business running such an important event. Sweater salesmen should stick to what they do best and leave big-time golf to those who have at least a clue about the running of an elite professional tournament. Think about it. Never before in the history of the game has the gap between "golf professional" and "professional golfer" been so vast. And it's only going to get bigger.
Here's just one example of how the PGA of America is out of its depth. The television coverage here at the Atlanta Athletic Club has fallen far short of what we should be able to expect from such a supposedly important championship. In almost complete contrast to the four minutes of commercials per hour limit imposed by those charged with running the Masters at Augusta National, the telecast was a dog's breakfast at which most discerning canines would turn up their snouts.
Good grief it has been awful. After every half a dozen shots or so, it is off to commercial or a trailer for one of CBS's upcoming shows. I have no idea of the actual numbers, but it is hard to imagine too many shots are shown live. All of which is immediately annoying and, more pertinently, a symptom of the clear lack of control the championship organizers exert over the broadcasters. It does seem like things are a little backward in that little relationship.
All right, so we need alternatives to the status quo. The real or original PGA at Wentworth comes to mind (minus its current commercial sponsor). So does the Australian Open. Maybe the South African Open. Or something somewhere in Asia, where lies, according to everyone apparently in the know, the future of golf.
But even those great events don't quite cut it at the highest level. For one thing, they are relatively stationary and not international. Which isn't good enough in this ever-shrinking world. So the fourth major needs to be mobile, one that travels indiscriminately around the world -- to Japan, to South Africa, to China, to Argentina, to Australia. Anywhere but the U.S, really.
Can you imagine the reception a proper major championship would get in any and all of those so-far neglected places? It would certainly make a great contrast with the flat, complacent, commercial-infested tosh we've had to put up with here this week. As they say in my home country of Scotland, "PGA Championship? Pick a window, you're leaving."