News
Is it finally HV3's week? Plus three other takeaways from Thursday at the Wyndham Championship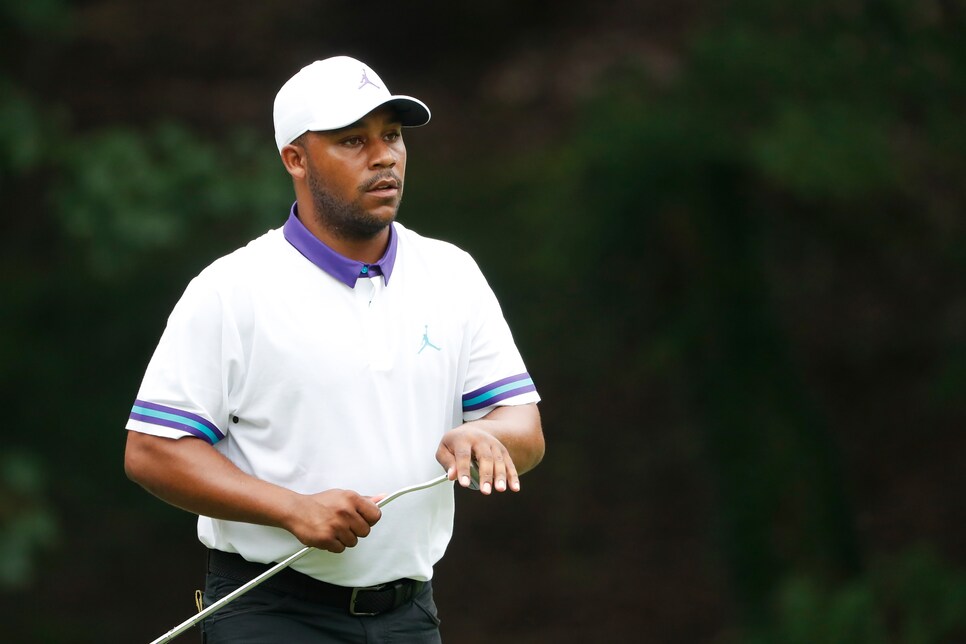 Thanks to the pandemic, which led to a shortened season, the Wyndham Championship is lacking in drama, which it normally has in abundance. Add in the fact it happens to be after a wild PGA Championship at TPC Harding Park, and we were due for our first true dud of the restart.
However, to steal a phrase from the legendary Lee Corso: "Not so fast, my friend!" Plenty of the top players in the world made the trip to Greensboro, N.C., and anytime Harold Varner III is in the mix is a good time to tune into the golf. We're only through one round at Sedgefield Country Club, but there are still a ton of intriguing storylines to watch in the coming days.
Here are our four key takeaways from Day 1 at Wyndham.
Can this please be Harold Varner III's week?
If there was ever a guy we were granted permission to cheer for in the press box, it'd be Harold Varner III, and not just because he was on the latest cover of Golf Digest. Nope, definitely not.
But seriously, everyone loves this guy. The term "real" gets thrown around with athletes. "Oh, he's real," or "the way he is on TV, that's who he is in REAL life, too." Most of the time that's probably not 100 percent true, but for Varner it absolutely is true. He's kind, he's honest, he's always himself and he's the exact type of guy who should get way more press than he does. Of course, winning his first PGA Tour event would help a lot in that area.
Could this be the week? I think the entire golf world hopes so. Varner, playing this week less than two hours from where he was raised, opened with an eight-under 62 at Sedgefield Country Club, matching his career-low round on tour and giving him a share of the Thursday lead with Tom Hoge and Roger Sloan. It should be enough to keep him in the mix the rest of the week, provided he doesn't start backpedaling later in the week. That's something he's had trouble with, though, particularly this season. Varner is 29th on tour in first-round scoring average, but then falls to 82nd on tour in the second round, 111th in the third round and 88th in the final round. We sincerely hope that changes at this "home game", because it would be one of the best stories of the 2020 golf season.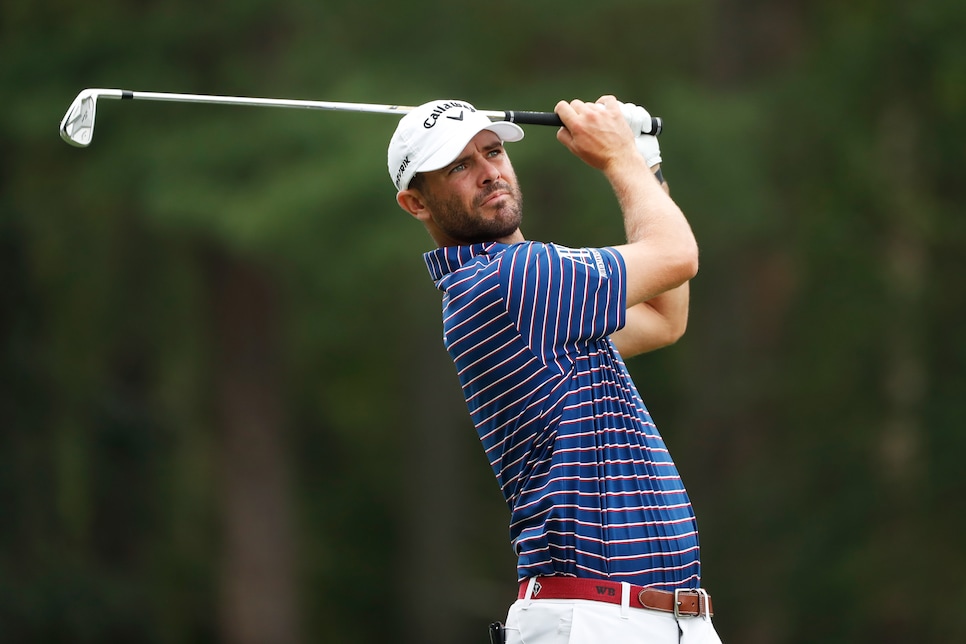 If it's not HV3's week, Wes Bryan is a good Plan B
Again, no cheering, but anytime Wes Bryan is in the mix is good for business. Good to see him playing well after coming back from injury. This is only his fourth start, but he's made the most of them so far, with a pair of top 25s and now a five-under 65 in the opening round at Wyndham. Bryan drove it well and putted it well, two areas he'll need to continue to excel in if he wants to contend this weekend. He needs an exceptional finish to jump from No. 199 on the FedEx Cup points list to inside the top 125, but if his exceptional iron play shows up, we like his chances.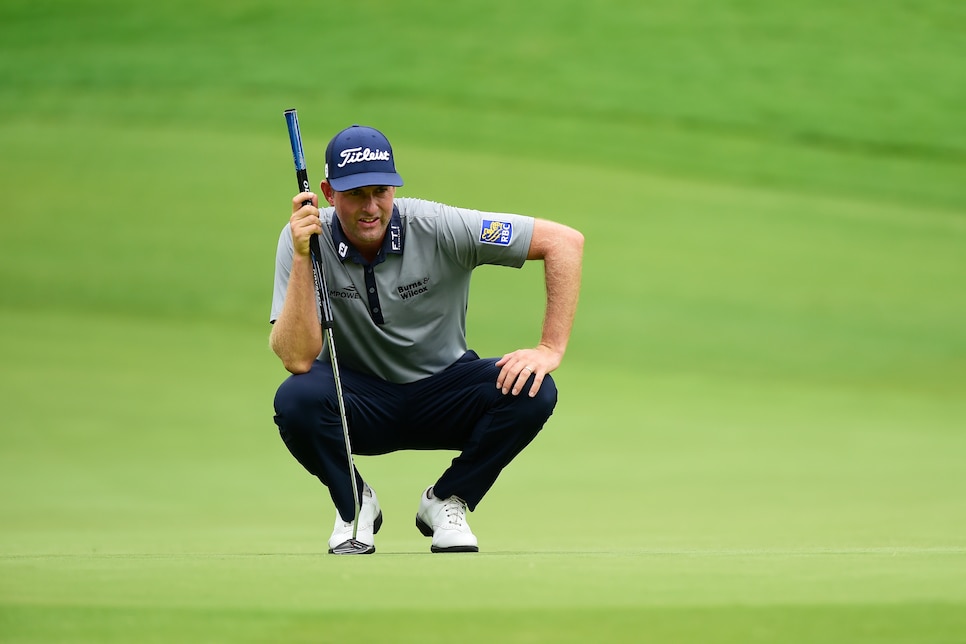 You guys aren't going to believe this, but Webb Simpson shot an under par round at Sedgefield
Not sure if you've heard, but Webb Simpson likes the Wyndham Championship. Also not sure if you heard, but he named one of his daughters after it. You can thank me later for this brand new information.
Kidding aside, Thursday marks the 13th consecutive round of 68 or lower for Simpson at Sedgefield. If you take out 2016, when he uncharacteristically finished T-72 in the event, it'd be 19 straight dating back to 2014. In 11 starts at Wyndham, Simpson has one win, two runner-ups, a solo third, a T-5, a T-6, a T-8 and a T-11. How insane would it be if he finished in every place 1 through 10? Because that's the trajectory he's on right now, and I have no evidence to back this up, but I'd be willing to bet my life savings that no player has ever finished 1 through 10 in the same tournament before. All he needs is a fourth, a seventh, a ninth and a 10th. I'm not even trying to make a joke here, he might actually pull it off.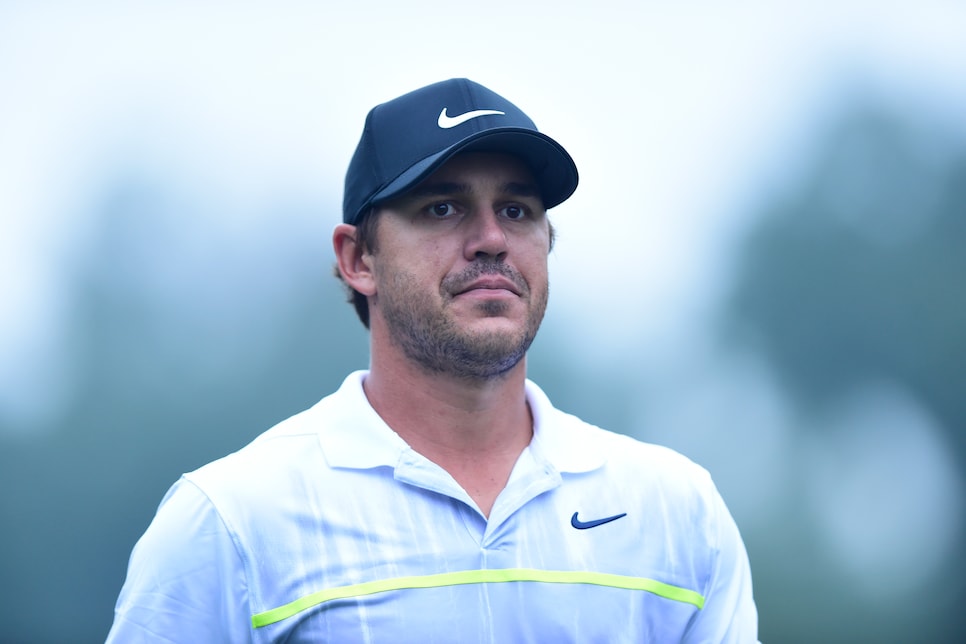 Let's all OVERREACT to Brooks Koepka's round
After all that Saturday night smack talk at the PGA Championship, Brooks Koepka has played his last 36 holes in six over par. He continued to putt miserably, and he drove it all over creation, hitting just five of 14 fairways. It's obvious his knee is cooked, his confidence is shot and his swagger is almost non-existent. Not to be hyperbolic, but I think the next logical step for our boy Brooksy is retirement.
Sounds ridiculous, right? Well that's the point. Let's come back down to earth, people. After the events of this past weekend, the immediate, knee-jerk reaction to any poor showing from the four-time major champ is going to be to pile on, to dig his grave. In reality, we're talking about the Wyndham Championship. He might say he's trying to play better in order to vault up the FedEx Cup standings, but no one actually believes that, right? Brooks Koepka doesn't play golf to earn FedEx Cup points. He plays to win majors, or at least attempt to peak at the majors. What he does this week, next week and the two weeks after that (if he makes it that far) could not be more irrelevant. The next time anyone should truly pay attention to him is at Winged Foot in September.