News
Playing Through The Tears
Ryan Palmer held it together until the very end of the Players, then he lost control. "It came out after I was done," Palmer said over his cellphone, heading to the airport Sunday night. "I made the putt, and it came out."
Palmer doesn't remember throwing his hat down on the 18th green at TPC Sawgrass, or hugging caddie James Edmonson. He went to the balcony of the clubhouse, called his wife and broke down again. "Talking to her was very, very, very emotional," said the 36-year-old. "I knew I couldn't play any more golf. There was not a chance of playing another hole."
The outpouring was the result of tragic news that Palmer received Thursday night after the first round. One of his closest friends from high school had been killed in a car accident.
Clay Aderholt, a classmate of Palmer's at Amarillo High, the quarterback and the pitcher on his school's teams and a father of two living in the suburbs of San Antonio, was in the wrong place at the wrong time driving home May 9. A tractor-trailer hydroplaned and jack-knifed in front of Aderholt, who died on impact. Palmer had shot an opening-round 67 when the calls and text messages started pouring in at dinner.
Dr. Fran Pirozzolo, the sport psychologist Palmer has worked with, realized the story was bigger than golf but told Palmer to get lost in the game. That was easier to say than to do. The loss of Aderholt was the toughest thing Palmer has had to deal with since turning pro in 2000 and working his way up to the PGA Tour in 2004. While winning three tour events and $13.4 million in his career, he remained close to his old friend.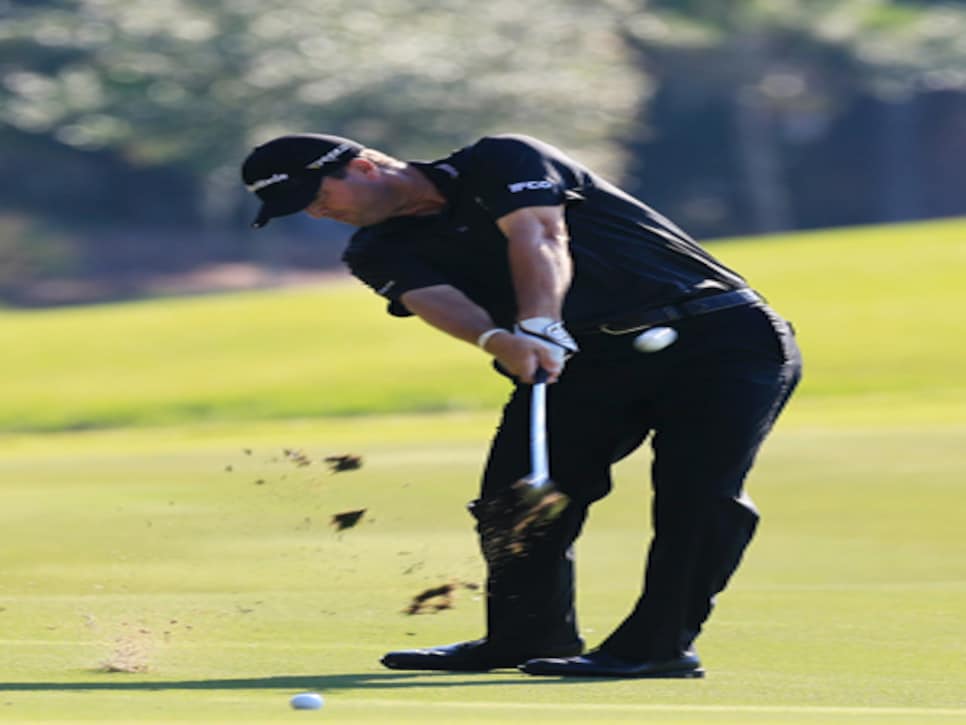 After a restless night, Palmer returned to the course Friday with "CA" written on his hat as a tribute. Listening to Pirozzolo, he somehow shot 69, holing out from off the green twice for eagle as if Clay had a hand in it. Weather delays pushed the end of his third round into early Sunday morning, where Palmer birdied the par-3 17th. When Tiger Woods double bogeyed the 14th hole later that afternoon during the final round, Palmer found himself just one stroke off the lead. His chances of victory ended with a bogey at 16, but Palmer was proud of the way he stayed strong.
"I've got zero disappointment in the way I played," he said.
The irony is that he had an awful track record at the Players, missing the cut in six of seven appearances. To shake things up, Palmer didn't arrive until Wednesday for a nine-hole afternoon practice round. Ranked 107th in the world, with no previous rounds in the 60s on the Stadium Course, Palmer came in "rested, relaxed and [with] no expectations."
Then he got the call at dinner and everything changed. Suddenly, it was about winning for Clay.
He came close, finishing T-5 with Martin Laird and Henrik Stenson, three strokes behind Woods. Almost to the airport for the flight home to Texas, Palmer told me he was proud of the way he kept his emotions in check despite being distraught over Aderholt's death.
"I know he'd be calling me and texting me," Palmer said. "I guess you could say I had a 15th club this week."
The quiet moments were the toughest. Pictures of the high school days, of the school dances, sporting events and proms, were hard to look at. "They teared me up pretty good," he said.
Palmer flew home to the Fort Worth suburb of Colleyville, Texas, and planned to attend the May 14 funeral in San Antonio, serving as a pallbearer in a private service. He last saw Aderholt at the Valero Texas Open in April, where they shared beers with their wives and talked about life -- from the old times in high school and at Texas A&M to being parents and raising kids.
Palmer's plan was to return to competition after the funeral and play in the HP Byron Nelson Classic outside Dallas, Aderholt's initials still on his cap. To win one for Clay is the goal, or at least play hard in his honor. "Crazy life," he said.
Jeff Maggert wasn't just trying to become the oldest winner in the history of the Players. On a Sunday "Pink Out" for breast-cancer awareness at the Stadium Course, the 49-year-old Champions Tour player-to-be had his mom, breast-cancer survivor Vicki Benzel, in the gallery, and hoped to give her an unexpected Mother's Day present. TPC Sawgrass elicits strong emotions for the Maggerts. Walking off the course after his first round at the 2008 Players, Jeff learned his older brother, Barry, had died flying a single-engine plane to his son's graduation in Colorado. Five years later he was trying to create better memories. "For sure it was kind of a rough time for all of us," Maggert said after taking his mother to dinner in the TPC clubhouse Saturday night. "Just coming back it always brings it back to mind." Maggert soldiered on for a T-2 finish, one of the tournament's most unforeseen showings.
David Lingmerth was known to be a finesse player with a strong slap shot when he played youth hockey in Sweden. In college at Arkansas, the muscular 5-foot-7, 175-pounder was known for wanting to wrestle teammates -- and coaches. Neither sport would work in the heat outside his Jacksonville Beach home last week, so Lingmerth occupied his mornings shooting hoops with father Thomas, uncle Goran and brother Andreas before driving to TPC Sawgrass every day. It was their way of settling David's nerves during long waits until mid-afternoon tee times on the weekend. According to Goran, who kicked for the Cleveland Browns and set an NCAA single-game field-goal record, David has range deep into three-point land and isn't afraid to let his family know it, whipping them repeatedly at H-O-R-S-E.