News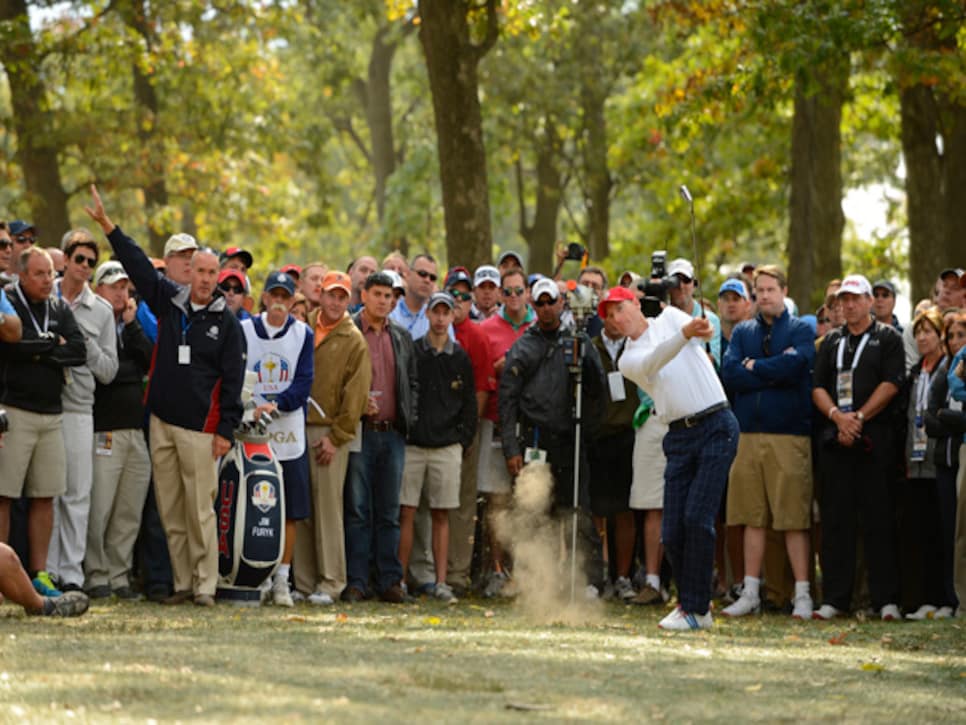 With a 1-2-0 record at Medinah, Furyk's all-time Ryder Cup mark dropped to 9-17-4.
For more than a decade I've been hearing stories about the parties in the United States team room at the Ryder Cup. These would hardly be called parties considering the outcome in five of the six matches played since the comeback at The Country Club in 1999. Jim Furyk was at the front row of that celebration, drinking tequila with Payne Stewart just like everybody in that room, but other than at Valhalla in 2008, there hasn't been much to celebrate.
Invariably, I've been told that it's usually Furyk who's up late with PGA officers trying to figure out a cure for what ails the United States in Ryder Cup competition and how they're going to fix it. Growing up a team sports athlete in Pennsylvania, there was something about his country's failings in this competition that went deeper than the wounds suffered in individual stroke or match play. Furyk's facial expression in the media center Sunday night made that plain.
When asked at the team news conference to compare his tough finishes in individual events to losing a team event, Furyk bristled. "Well, first of all, I would gather that you probably haven't been on a team to ask that question," he said. The response was a direct show of emotion for what kind of year it has been, or hasn't been by Furyk's standards.
There were the final three holes of the U.S. Open at Olympic Club, specifically the par-5 16th, where a slow-play warning and a tee box that was moved up the length of a football field resulted in a snapped drive and a lost chance at winning his second Open. Two months later he double-bogeyed the 72nd hole of the WGC-Bridgestone Invitational, losing to Keegan Bradley. His selection to the Ryder Cup team went down to the wire, with veteran players lobbying on his behalf to captain Davis Love III. Furyk admitted to me at the Deutsche Bank Championship during the FedEx Cup playoffs that he was stressing over the pick. And that's omitting his playoff loss to Luke Donald at the Transitions Championship.
At Medinah he was 1-1 shepherding Cup rookie Brandt Snedeker as his partner, and was up most of the day in a singles match against Sergio Garcia. In 1999, playing in his second Ryder Cup, Furyk beat Garcia, who was fresh off his runner-up finish in the PGA at Medinah, for a crucial point in the four-point American comeback. This time Garcia earned a crucial point in a four-point Sunday comeback for Europe, winning the 17th hole when Furyk hit the left bunker and failed to get up and down, then the 18th after a Furyk three-putt. So that question of suffering individual vs. team pain went right to the core, and Furyk opened up to one of the week's most dramatic and poignant scenes.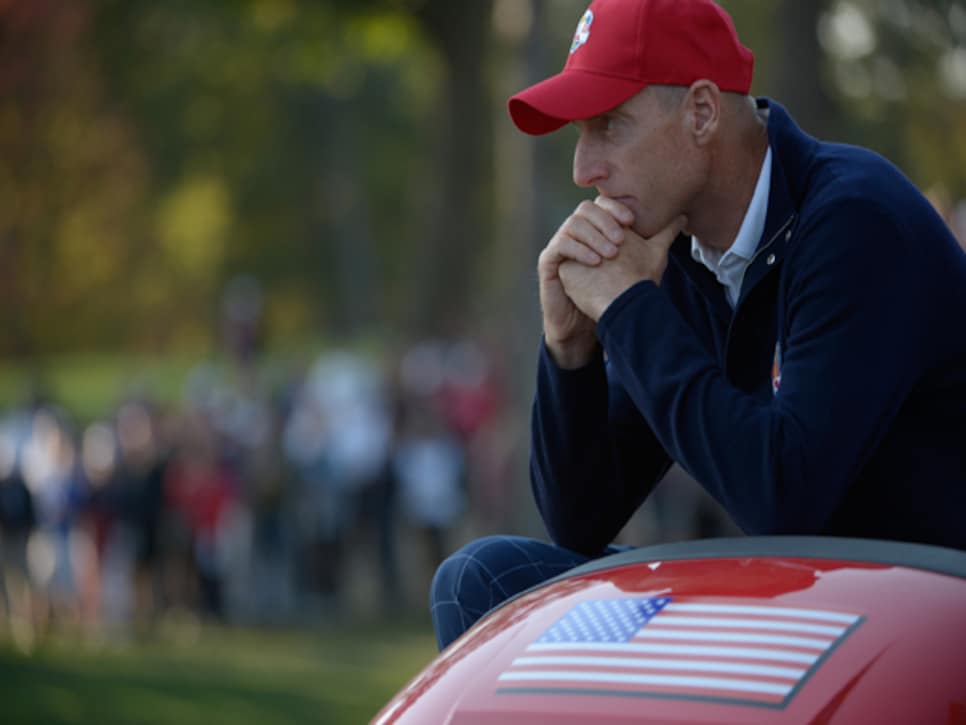 Furyk called his missed putt on 18 Sunday "the lowest point" of his year. Photo: Dom Furore
"Losing the U.S. Open this year, losing Bridgestone, I'll be honest, it's been a very difficult year," he said. "But if you had been on a team or if you had been on this team, I've got 11 guys, I've got a captain, I've got four assistants that I know will pat me on the back; that know how I feel, understand how I feel. You know, we came here as a team. We wanted to win the Ryder Cup as a team and we didn't do it, but we are going to leave here in the same fashion."
This stream of Furyk's consciousness sent me thinking back to the closing press conference at Celtic Manor in 2010, when Furyk was most vocal in having the back of Hunter Mahan after the latter's chunked chip led to a singles loss to Graeme McDowell. So instead of shutting it down, Furyk continued venting.
"It's been a low year," he said. "I've played very well this year but haven't closed the door. I'm pretty sure Sergio would tell you that I outplayed him today. I didn't win, and I lost the match. I've had a lot of that happen this year.
"As far as team versus individual," he said, "it's the lowest point of my year."
Because he is 42, there is concern that this is Furyk's last Ryder Cup team, and that the missed putt on the 18th green at Medinah will define this part of his career. Or does he play another one or two for retribution before assuming a captaincy?
Just two seasons ago, with his hat on backward in the rain, Furyk closed out the year with a gutsy up and down from a greenside bunker at East Lake, a sand save that locked up the Tour Championship, the FedEx Cup, and player of the year honors. Last November, he went 5-0 at the Presidents Cup in Australia and was the team's MVP.
I'm told Furyk didn't take this one as hard behind closed doors in the team room. It wasn't like '99 at The Country Club, but it wasn't a funeral either. It was just another Ryder Cup party for Jim Furyk. He's been to too many that have ended like this.
In case you were wondering, the weather at Gleneagles Resort last week was typical for Perthshire, Scotland, this time of year: wet and cold -- so wet and cold that the Centenary course, site of the 2014 Ryder Cup, was shut down due to flooding. Whoever takes the post as next United States captain will have to deal with this in more ways than just rain gear. Whether it's David Toms or another suitable candidate, playing an away Ryder Cup is no easy task. In fact, since 1981, only one United States team has won on foreign soil, the 1993 team of Tom Watson.
The last time I spoke to Martin Kaymer before the Ryder Cup was after the first of two 79s at the PGA Championship. "Don't worry about me," he said. "I'll be fine." Leaving Kiawah Island, Kaymer spent three days working in the heat of Scottsdale at his home course, Whisper Rock. He then returned to Germany to work with instructor Gunter Kessler. "My hands were bleeding," Kaymer told me on the putting green at Medinah, a smile on his face, explaining that he had his cut shot back. "It was like a puzzle. I just had to put all the pieces back together." Although he fared respectably at the KLM Open (T-21) and BMW Italian Open (T-5), Kaymer still didn't totally trust taking it to the Ryder Cup, as his playing in a Friday afternoon four-ball loss proved. José Maria Olazábal, the European captain, sat him out Saturday but as fate would have it, Kaymer had the putt to clinch the historic comeback win by Europe. Like he did on the 72nd hole to set up a playoff win over Bubba Watson in the 2010 PGA Championship, like what countryman Bernhard Langer couldn't do in the 1991 Ryder Cup, Kaymer made the putt. Afterward he credited Langer for a conversation they had before the competition.