News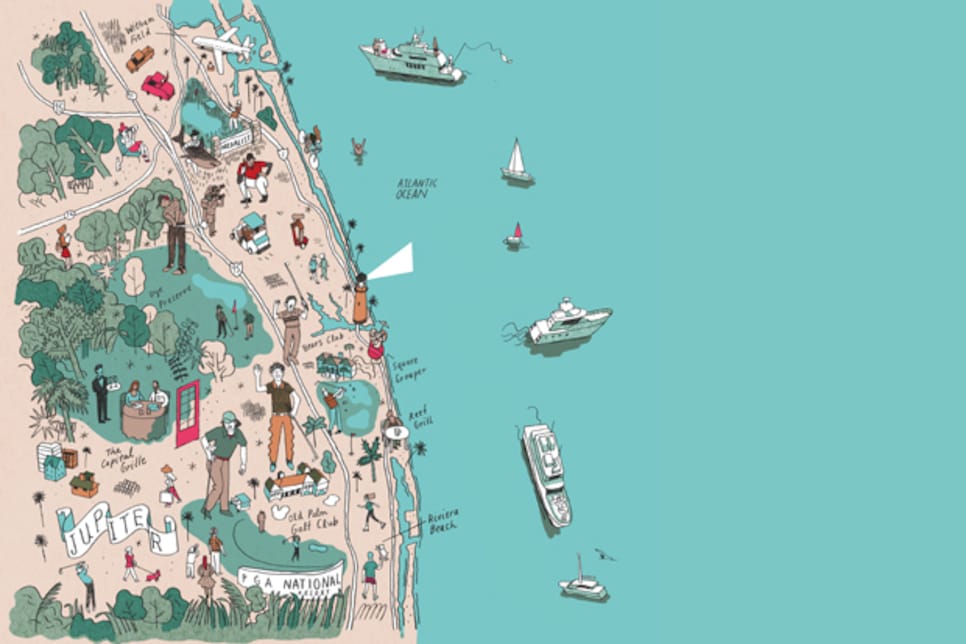 Whether sitting behind the Nicklaus family for Christmas Eve services at Christ Fellowship, seeing Ernie Els playing with his kids at Juno Beach or awaiting a table on a January night outside the Reef Grill with Luke Donald, chances are you're going to bump into a tour player living in or around Jupiter, Fla. If you're lucky, you might even be in the Hobe Sound Deli when Tiger Woods is grabbing a sandwich on his way home from Medalist GC.
My local knowledge comes from decades of living in this sweet spot of the golf world -- a period that dates to the late-1980s when Greg Norman and Nick Price left Orlando and eventually made Jupiter Island their home. More recently Woods arrived in 2011, Rory McIlroy has closed on a compound along the Intracoastal in Palm Beach Gardens and Lee Westwood is awaiting completion of his mansion at Old Palm GC, where 2010 British Open champion Louis Oosthuizen is a neighbor.
There has been such an influx of tour pros over the past five years into the Jupiter area that Isleworth (Woods' former community in greater Orlando) and Lake Nona (Els' old U.S. base) have been replaced by Medalist (Tiger's new club) and The Bear's Club (home course for Els, McIlroy and Donald) as stomping grounds for the world's best golfers. There is even talk of a Tavistock Cup-like competition between Medalist and Bear's Club or, on a less public level, a home-and-away series between Tiger and Rory -- loser buys at the Capital Grille. "I think having [McIlroy] down there, I'm sure we'll have a few dinners together and certainly hang out a bit more," Woods says.
Further validation for the area as golf's hot spot came last month when President Obama chose the Floridian in Palm City for a weekend golf vacation. The avid left-hander played 27 holes then met with Butch Harmon at the instructor's learning center at the club for an extended lesson. The next day, after some consideration of whether to drive 30 minutes to meet at Medalist, the president stayed at the Floridian, where he and Woods played their first round together.
Why Jupiter? Well, it's about more than no state income tax, although that is a contributing factor for those relocating from outside the Sunshine State. Northern Palm Beach and neighboring Martin counties, about 150 miles southeast of Orlando, simply have better weather, less traffic, the ocean and what transplanted Rhode Islander Brett Quigley calls, "the Jupiter lifestyle of shorts, golf shirts and flip flops."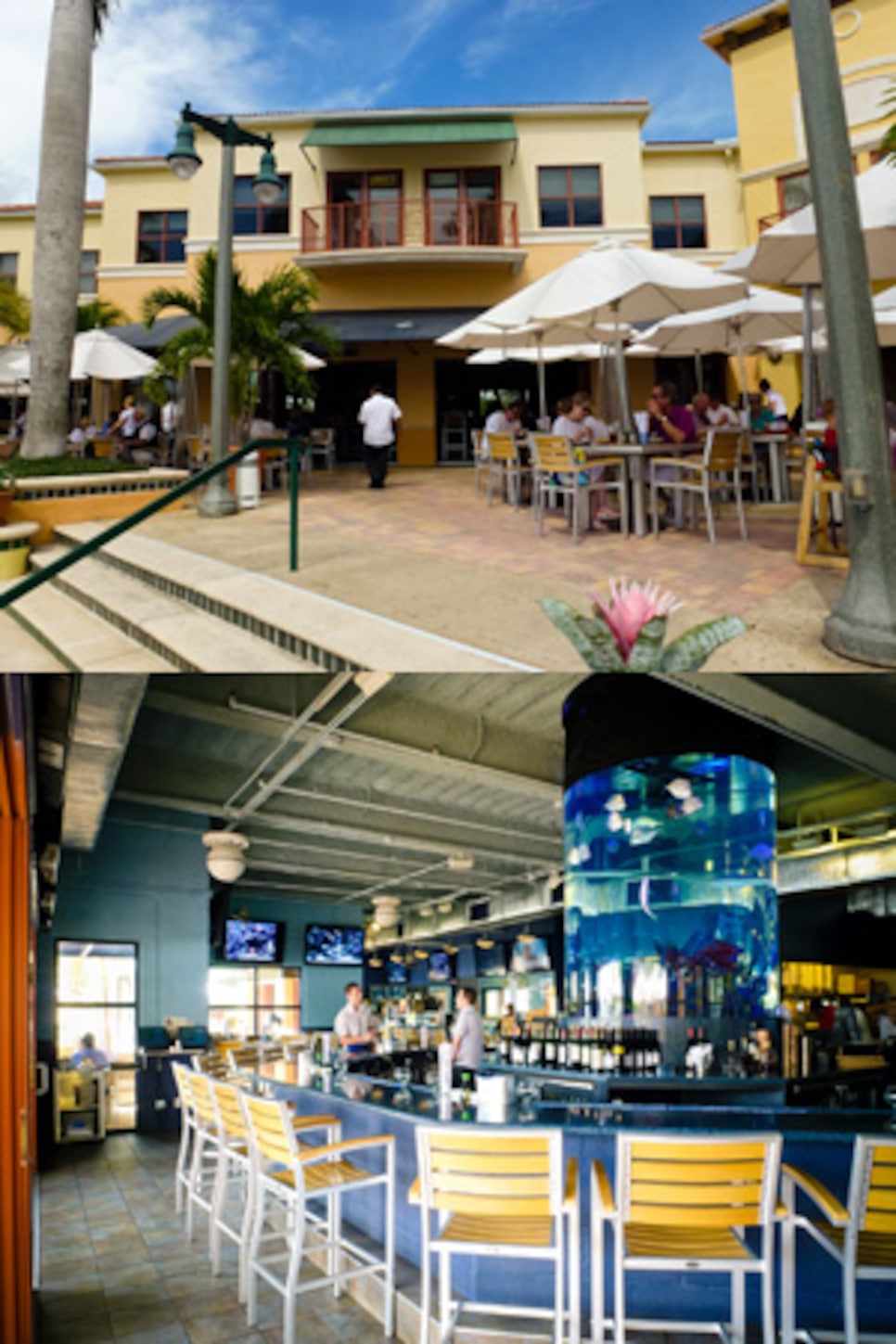 The lifestyle includes paddle-boarding (Stacy Lewis), surfing (Fredrik Jacobson has his own coach), cycling (Camilo Villegas is known to make 100-plus mile rides to Miami and back), weekend boat runs to the Bahamas (Robert Allenby) and dining at laid-back restaurants such as Guanabanas, The Food Shack, The Dive Bar and Hog Snappers with their fresh, flavorful seafood. If Price isn't hitting balls at McArthur GC, he's having lunch at the Lazy Loggerhead Cafe or sitting three miles off the Jupiter pier on his boat Caddyshack, fishing for pompano or whatever might be biting at the spot where the gulfstream comes closest to shore.
The vibe and the weather -- the January average low in Jupiter is a not-so-cruel 57 degrees -- put the pros in a good frame of mind. "In Chicago, it's a quicker lifestyle. In Florida, I can relax," says Donald, whose family splits time between the two locales. "The weather does have an effect on your attitude. When you see blue skies nearly every day and are able to pull on your shorts to practice, it's definitely a more serene atmosphere when I'm in Florida. I don't worry about things so much."
This Land of the Tour Pros starts at PGA Boulevard in Palm Beach Gardens and extends approximately 20 miles north to Hobe Sound, from the Atlantic Ocean on the east to the backwaters of the Loxahatchee River a few miles inland. I was playing with Tom Fazio at Jupiter Hills recently, and the golf course architect recalled the pre-boom period in the 1970s, when there was concern the club's name wouldn't be recognizable because nobody had heard of Jupiter, and when the mega-resort and golf community known as PGA National was populated by wild boar and bobcat. Fazio told me he recently counted 33 courses from McArthur (which he co-designed with Price) to PGA National, where he and Uncle George originally designed the Haig and Squire courses that opened in 1980. I told him we had almost that many pros as members at Medalist.
The irony is that PGA National, with its "Bear Trap" and history of holding a Ryder Cup, a PGA Championship and several Senior PGA Championships, had little connection to the golf community until the Honda Classic made it a permanent home in 2007 and Els blessed it internationally with a one-stroke victory over Donald in 2008. Even today you won't find tour pros on the PGA National tee sheet with the resort guests other than during Els' Autism benefit, but this is the one week of the year that seems to connect everybody, starting with the Nicklaus family (Barbara's foundation is benefactor; Jack redesigned the Champion), to the Woods-McIlroy rivalry that took off in last year's shootout.
"I'd like to think the new Honda Classic has played a vital role in this," says tournament chairman Ken Kennerly, who came to North Palm Beach in 1994 to work for Nicklaus and cried at the event's media day in 2012 announcing that Woods had committed to the field. Kennerly has been around long enough now to say, "It's hard to find a better quality of life than Palm Beach County, and slowly it's become a haven for tour pros. What we have down here is the perfect blend of all worlds. A lot of guys saw that they could feel right at home."
Jack and Barbara were among the original settlers, moving from Columbus, Ohio, to Lost Tree Village in 1965 at the behest of Dr. Cary Middlecoff. Back then Jack would hit balls at Frenchman's Creek under the watchful eye of Jack Grout, while a young apprentice named Jim Flick observed and took notes. Among the range rats at Frenchman's was Gardner Dickinson, the devoted disciple of Ben Hogan. It was actually Hogan who migrated first to the Palm Beach area, getting ready for the Masters for many years at Seminole GC (see page 40).
The Nicklauses had two of their five children (sons Jack II and Steve) when they moved 47 years ago. Now, at 73 with 22 grandchildren, Jack doesn't play much golf but still competes against his friends in tennis -- hosting the Golden Bear Sports Camp on the grass courts behind his house every year. (He won this past Christmas with playing partner Bob Bryan, a two-time Wimbledon doubles champion.) He is still readily available for golf advice, coaching Charl Schwartzel on how to play Augusta National before the South African's 2011 Masters victory and McIlroy (whom he first met at the Gardens Mall) before his win at the 2011 U.S. Open.
Friends say Jack's as crotchety as ever at times, but I keep catching him in good moods, whether it's hosting a dinner at his house in a benefit for Bear Lakes member Dana Quigley, whose son Devon suffered a traumatic brain injury, or doing a Q&A with Jack and Bill Belichick at last year's Honda Classic pro-am draw party. I don't know what was better: catching Jack, Arnold Palmer and Gary Player hanging out in his kitchen or seeing Belichick so animated in Nicklaus' company.
"We've enjoyed our 47 years in Palm Beach County and hopefully we'll have a lot more years here," Jack said before leaving a recent county golf association banquet, where he was a keynote speaker. "It's been a great place to raise a family, and the support I've had from all of you is terrific." The legend exited, of course, to a standing ovation.
Old Palm GC, across the street from PGA National, was the work of Jack and Barbara's close friends, Raymond and the late Maria Floyd. Raymond intended to make Old Palm his Bear's Club with Maria, who oversaw the clubhouse, making her design statement in Palm Beach/Southampton style.
Westwood saw the Old Palm community and fell in love with it, renting space in the Floyd Cottage while his palace along the 14th fairway was completed. Word around the club during the holidays was that Westwood made himself right at home. He attended the Christmas Eve buffet with his family and was at the New Year's Eve party of a club member. He was there on "Pub Night" with wife, Laurae, and "Kids Night" with his children, Sam and Poppy.
The 22-time European Tour winner finally committed to Palm Beach after years of going back to his compound in Worksop, England, during the dreary winter months in the British Midlands. At Old Palm he rode a golf cart to the gym and the driving range, where most of the evenings concluded in 75 degrees at sunset with 11-year-old Sam on the short-game area. Before he flew off to start the season in Dubai he told me on the range one night that he was three to four weeks ahead of schedule in preparing for 2013.
Westwood stayed sharp with games at Seminole, with Donald Trump at Trump National, Jupiter, which the The Donald recently acquired, and also at The Fox Club against Eoghan O'Connell, the Irish former Walker Cup player who runs the club. He also had a knock around Old Palm one day with his agent, Chubby Chandler (who has a U.S. base at Old Palm), accompanied by one of the club's legendary caddies, George (The Animal) Slupski.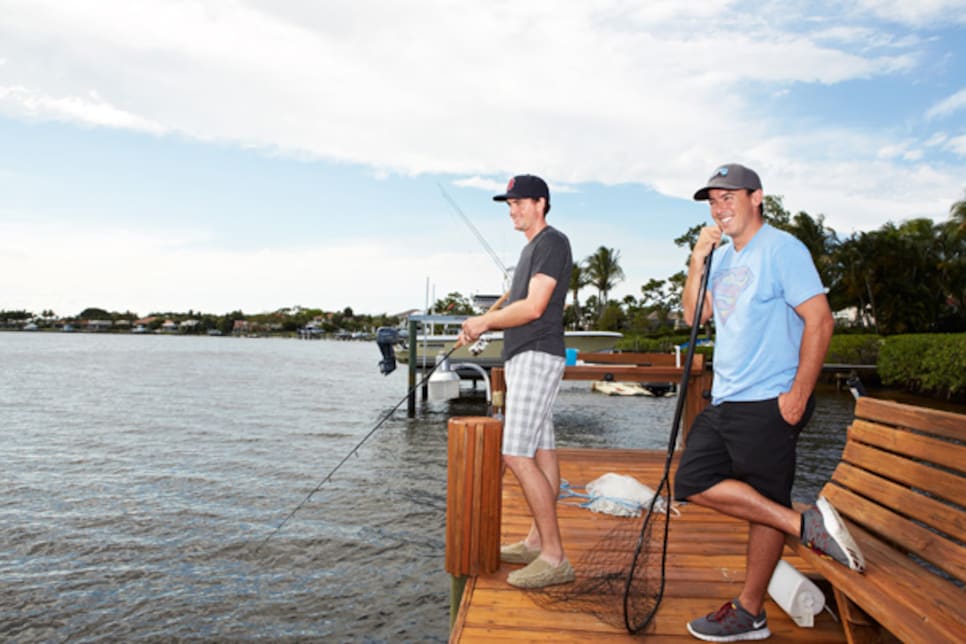 While Old Palm has a group of mini-tour players working in the caddie yard, George is a little different. He's 6-foot-4, 250 pounds and -- little did Westwood know -- the Senior Long Drive Champion. After some prodding, George finally grabbed Lee's new Ping G25 driver and pumped one 50 yards past Westwood's tee ball. Around the club, the story has become an instant classic.
Jupiter Island is a world unto itself, with seven- and eight-figure homes making it some of the most expensive real estate in the country. At the North End, near Bridge Road, is the Jupiter Island Club, where Tiger addressed an old-school men's group last year called "The Whiz Kids" and, according to witnesses, wowed them.
Norman, who lives less than a mile away, thought when Tiger moved into the neighborhood amid his personal turmoil that they could perhaps buddy-up and be friends, but Woods gave Norman the cold shoulder, although Tiger did rent office space in Norman's old building and also became a member at Norman's signature club, Medalist. The chill between the two escalated after some of Norman's comments about Woods at the 2011 Presidents Cup, but Tiger just kept being Tiger, using the club not only to shoot commercials, but to host outings for his foundation and knock balls around with his son, Charlie. Accompanied by close friend Ahmad Rashad, Woods also shot a course-record 62.
Norman left Medalist last December in a dispute over the club's redesign strategy, pulling his name off the course and the Great White Shark off the wall above the bar in the men's grill. De Mudd, the club president and also a member at The Bear's Club, was pushing for a restoration to the original Norman-Pete Dye layout, but Norman didn't want that and Dye didn't want to get involved. When Mudd hired Dye disciple Bobby Weed, Norman severed all ties. After a phone call by Dye, Norman became an honorary member at The Dye Preserve in the horse farms of West Jupiter, where up-and-coming tour pros such as Scott Langley, Morgan Hoffmann (two of Rickie Fowler's roommates) and Steve LeBrun are members.
Mudd didn't want to lose Norman, but he has been trying to boost the membership by giving the club some sizzle, and Woods' apparent comfort around Medalist is a win-win. "The hang factor of him going out to the range, going out practicing on the course, bringing his teacher in -- it has been a seamless relationship," Mudd says. "Yes, he's special, but as he walks around here, he's comfortable because he's just one of the guys."
Woods gets nothing but high marks from members and staff for the way he treats them on the range and interacts at the halfway house. He is said to write generous checks for the employees' holiday fund. Tiger prefers playing most of his golf with Rashad or by himself early in the morning, avoiding the Wolf gangsomes usually made up of groups that include Fowler, Dustin Johnson, Steve Marino, Marc Turnesa, Hank Kuehne and occasionally the LPGA players who have taken up membership, Belen Mozo, Meaghan Francella, Alison Walshe and America's top-ranked player, Lewis. As head pro Buddy Antonopoulos says, "Go out to our range and it looks like a tour event."

When Woods first moved south during the summer of 2011, there were stories of him checking out the nightlife in The Gardens and Palm Beach. Not any more. When you hear he is out to dinner, it is usually with his son, daughter or mother Tida, who has relocated from California to a home along the Loxahatchee River. It's not like the days when Woods would drive down from Orlando to spend time on his boat, Privacy, docked at Old Port Cove in North Palm Beach. In those days, sightings -- whether at Starbucks or the Gold's Gym in Jupiter -- created a local buzz. Now, Tiger's got a gym in his house, a driving range in his back yard and when he pulls up to the Benjamin School (that Nicklaus' children also attended) to drop off Charlie and Sam, it's not a big deal.
Although he loves living on the water, Woods actually ended up in Jupiter because his ex-wife, Elin, was the former nanny of Jesper and Mia Parnevik when they lived at Admiral's Cove, and she wanted to be closer to her Swedish friends. After the divorce, Elin bought a home just down the ocean from Seminole GC. She too maintains a low profile although the Halloween function she hosted for tour players and their families in 2011 is still being hailed as the party of all parties after she hired Universal Studios to convert the dwelling into a haunted house. After the bash, where Mark Calcavecchia famously dressed as Fowler and Fowler as Calc, Elin had the house torn down and is building her own dream home.
As with Parnevik, who came from Sweden to attend Palm Beach Community College, Calcavecchia is one of the originals, moving to the area at age 13 from Nebraska, learning the game on the North Palm Beach CC muny before settling in the 1980s at Bear Lakes CC, where he and Ken Green became synonymous with the place. To this day, most of Calcavecchia's friends are the ones he grew up with -- other former county amateur champs such as Dave Pesacov, the long-time instructor at The Presidents CC in West Palm Beach, and mini-tour legend Adam Armagost, who is now one of the most respected caddies at Seminole.
Calc has a reputation for spending most of his earnings and endorsements, and that was the case with the home he and Brenda built on the Loxahatchee River. The Calcavecchias' "end-all spot" features a two-lane bowling alley, which is usually a popular spot during the holidays and Honda Classic parties. Most of the couples attending are of Champions Tour vintage, including Nick and Sue Price, Olin and Pam Browne and recent Tequesta converts Russ and Jackie Cochran. Tunes by Rush and Green Day are the preferred backdrop until late in the night when Brenda Calcavecchia lights up the disco ball and cranks up the dance music.
The Calcavecchias, Brownes and Quigleys were the early golf families along the Loxahatchee, but word spread that with direct access to the Atlantic through the Jupiter Inlet, living on the river might be better than living on the ocean. The north and south forks are now dotted with homes belonging to Fowler, Marino, Villegas, Johnson and one of the newest inhabitants, Keegan Bradley.
The 2011 PGA champion has taken up residence in one of the various multi-million-dollar teardowns that were buys during the Great Recession. Bradley moved to Jupiter from Orlando when he was playing the Web.com Tour in 2010. He rented one of the upscale apartments along Military Trail and used it as a crash pad for some of his St. John's teammates playing the mini-tours. When Bradley won the Byron Nelson and the PGA two years ago, he upgraded to a penthouse along the Intracoastal where Belichick and Bill Parcells were his neighbors.
Keegan didn't last long there. "It was getting too small with all my buddies around," Bradley says. "The privacy just wasn't there, so I texted a realtor and the first house I saw, I loved. I decided I was going to move on a Monday and bought on a Thursday."
Bradley fishes with Villegas, works out at a nearby gym run by famed trainer Joey Diovisalvi and plays The Bear's Club with Rashad (his "ATM") and Michael Jordan. When I interviewed Bradley last year he was still a little star-struck by The Bear's Club treatment that includes customized range balls for individual tour-pro members.
Donald spent a lot of time during his recent 11-week break playing against Jordan. "There are two sides to him," says the Englishman. "He busts you, makes you tougher, then he builds you up. It's nice to have access to someone who is so influential, who was the greatest athlete in America." But the beauty of The Bear's Club is that longtime journeyman Tom Gillis gets the same deal as the superstars -- and his Abacoa subdivision is not far from where Bradley's former St. John's teammates live. Gillis told me his annual dues ($15,000) are more than worth it for being able to practice at the excellent facility, which includes a par-3 course where Donald hones his highly regarded wedge game.
With its opulence, beauty and tour conditions, The Bear's Club is just as much a part of the landscape as the lighthouse overlooking the inlet or a sunset over the river. It's all part of Planet Jupiter.