News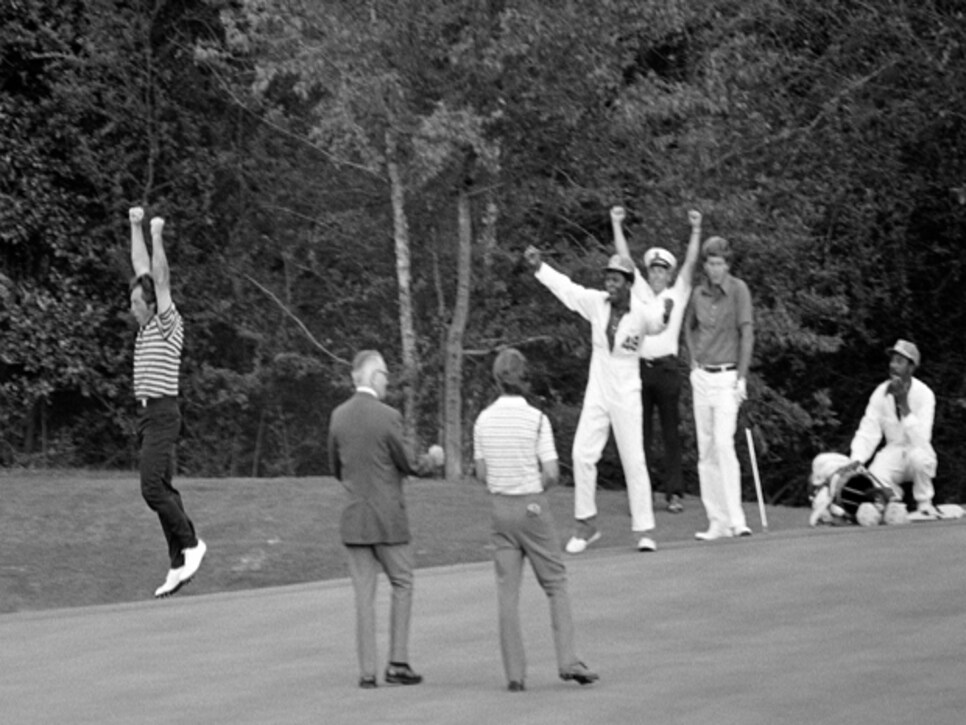 Zoeller jumped for joy after winning the 1979 playoff at No. 11 over Sneed (far right) and Watson (center).
Think of them as something akin to the No. 16 seeds of March Madness. Long shots. Thrilled merely to be included. We're speaking of Masters rookies, guys who have virtually no chance of winning a green jacket.
Overstatement? Well, Augusta first-timers have only won three times since 1934, and two of those occasions were the first two years of the tournament. The only other time it happened was 1979.
But this year might be different. Maybe this rite of spring will be the right spring for a first-time entrant. Maybe prayers from a fresh voice will be answered at Amen Corner. Maybe this year -- the 80th anniversary of Bobby Jones' invitational tournament -- the winner won't already have a collection of scars and souvenirs before getting his green jacket.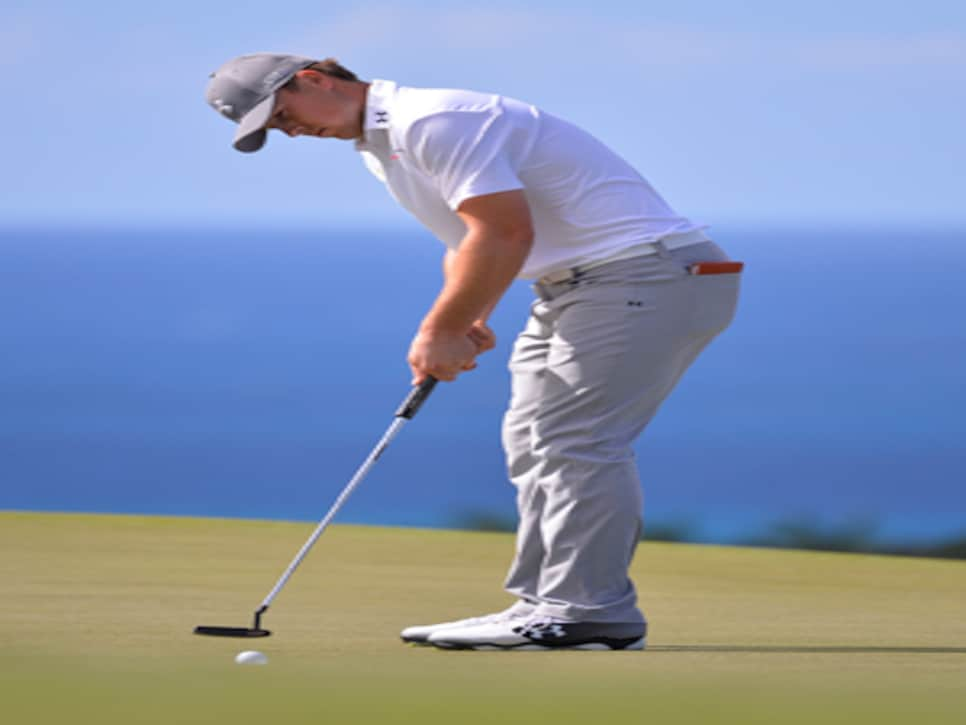 Perhaps simple math will tip the seemingly unforgiving scales. When Steven Bowditch won the Valero Texas Open and Matt Jones claimed a playoff victory Sunday at the Shell Houston Open, they became the 23rd and 24th rookies to earn an invitation to this year's Masters, which accounts for nearly one-quarter of the smallest field among the four majors. It breaks the record for first-timers set in 1935, the tournament's second year, which rightfully could be considered an anomaly. Several well-known players, including '35 winner Gene Sarazen, were absent from the inaugural in '34. Even without a late addition from the winner of the Shell Houston Open, there will be more golfers making their Augusta debut than in decades; 22 rookies played in 1962 and '66.
Raw numbers are only part of the equation, however. Raw talent can't be dismissed. Ten newbies, led by 2013 PGA Tour rookie of the year Jordan Spieth at No. 13, occupy the top 50 in the World Ranking. Not far behind is No. 23 Patrick Reed, who has won three times in his last 15 starts and will enjoy a bit of hometown support. The Texas resident led Augusta State -- located two miles from Augusta National -- to consecutive NCAA titles in 2010-11. And Reed is one of two players -- the other is late bloomer Jimmy Walker, No. 24 in the world -- who has three victories since last summer but will make his Masters debut.
"I'm not going to say that it can't happen -- I mean, we all know it could happen eventually -- but the odds are pretty well stacked against you your first time," says Zach Johnson, who figured out Augusta National in his third visit, winning his green jacket in 2007. "Just the course knowledge and the intimidation factor are enough. Now, you look at this class coming in, and you can see several of them getting into contention. And from there, you never know."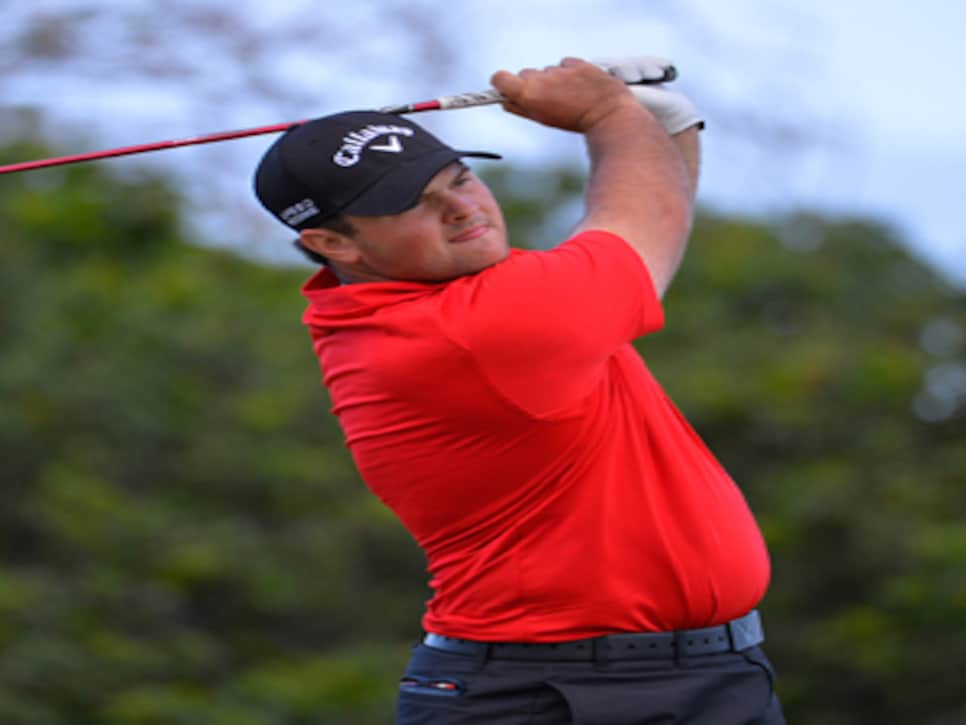 "You go there trying to convince yourself you can [win], but, honestly, I didn't think about winning my first year," says 2013 U.S. Open champion Justin Rose. "I was always told that just making the cut in your first Masters was a pretty good achievement. I was a bit more into that than anything else. But I can see where some of these younger guys brimming with confidence might think otherwise."
Fuzzy Zoeller is the only man alive who can talk about conquering the Masters in his first appearance. In 1979, Zoeller defeated Tom Watson and Ed Sneed in a playoff, which never should have happened; Sneed bogeyed the last three holes of regulation. Zoeller won with a seven-foot birdie putt on the second hole (No. 11) of sudden destiny.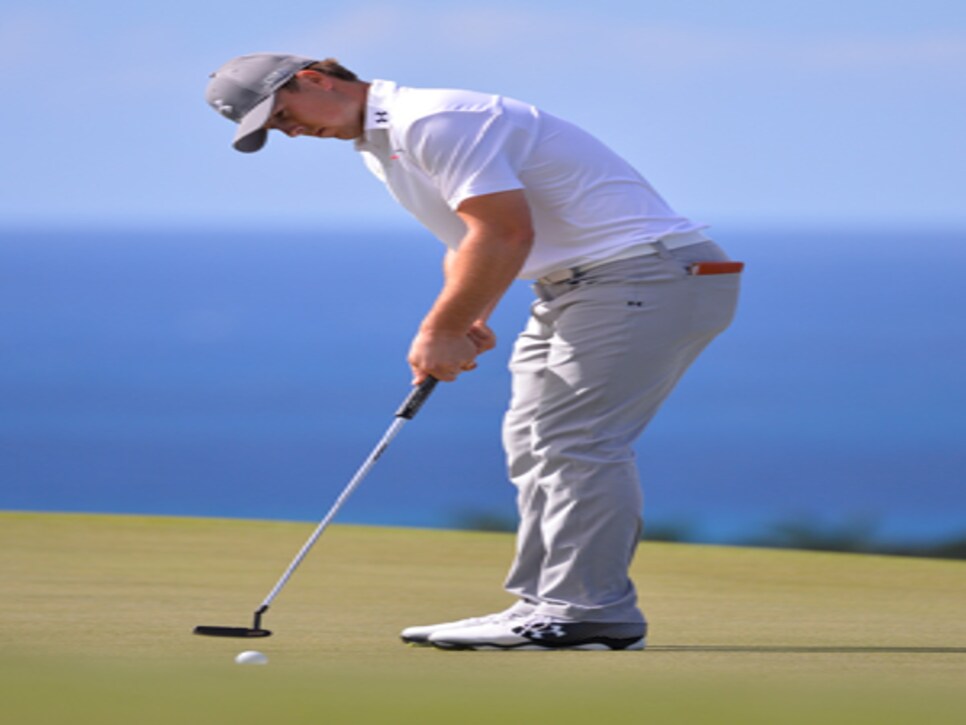 "Winning was really a bonus. I already had accomplished what I wanted to accomplish, which was to earn an invitation for next year," recalls Zoeller, whose wife, Diane, was home expecting the couple's first child when he captured the second of his 10 career PGA Tour victories. "You know, so much about that place is local knowledge. But I loved it the first time I played it. I thought, 'Oh, God, I like this place.' Still, I was in the right place at the right time. Poor Ed [Sneed], sometimes that ball just doesn't want to go in the hole."
Horton Smith and Sarazen were the other first-timers, winning in 1934 and '35, respectively -- when the event wasn't officially called the Masters (that didn't start until 1939) and the winner wasn't awarded the green jacket (a tradition that began in 1949). Smith's first-timer designation you dismiss simply because, well, everyone was a first-timer in 1934. And, like Zoeller, fateful circumstances were required in Sarazen's triumph, namely "the shot heard 'round the world." Craig Wood, runner-up to Smith in '34, figured only something extraordinary could prevent his victory in '35, and Sarazen delivered when he holed his 4-wood second shot at the par-5 15th for an albatross. The Squire defeated Wood by five strokes in the ensuing 36-hole playoff.
Five times a Masters rookie has taken the silver medal, not counting the inaugural, most recently in 2011 when Jason Day tied fellow Australian Adam Scott for runner-up, two strokes behind Charl Schwartzel, who birdied the final four holes. Before that there was Dan Pohl in 1982 (losing in a playoff to Craig Stadler), Tony Lema in 1963 (one stroke shy of Jack Nicklaus), Lloyd Mangrum in 1940 (four behind Jimmy Demaret) and Ralph Guldahl in the fourth Masters in 1937 (two strokes adrift of Byron Nelson).
Day, who finished third last year, is part of a recent surge of neophytes trending on the leader board. In six of the last 10 years, newcomers have managed to post a top-10: Thorbjørn Olesen, T-6 (2013); Day, T-2 (2011); John Merrick, T-6 (2009); Andres Romero, T-8 (2008); Luke Donald, T-3 (2005); Paul Casey, T-6 (2004).
"I speak from my experience. After that first time I played pretty average for a few years, and I found out all the bad spots to be in," says defending champion Scott, who debuted with a T-9 in 2002 but didn't have another top-10 until 2011. "I started playing a lot more defensive than I did the first year. [The first year] I played well, I hit it down my target, gave myself a lot of chances. And had a pretty good week. But then once you figure out where you're not meant to go, you play a bit defensive. You can't play like that. Otherwise you can get in real trouble. And I think that was just part of my learning experience there."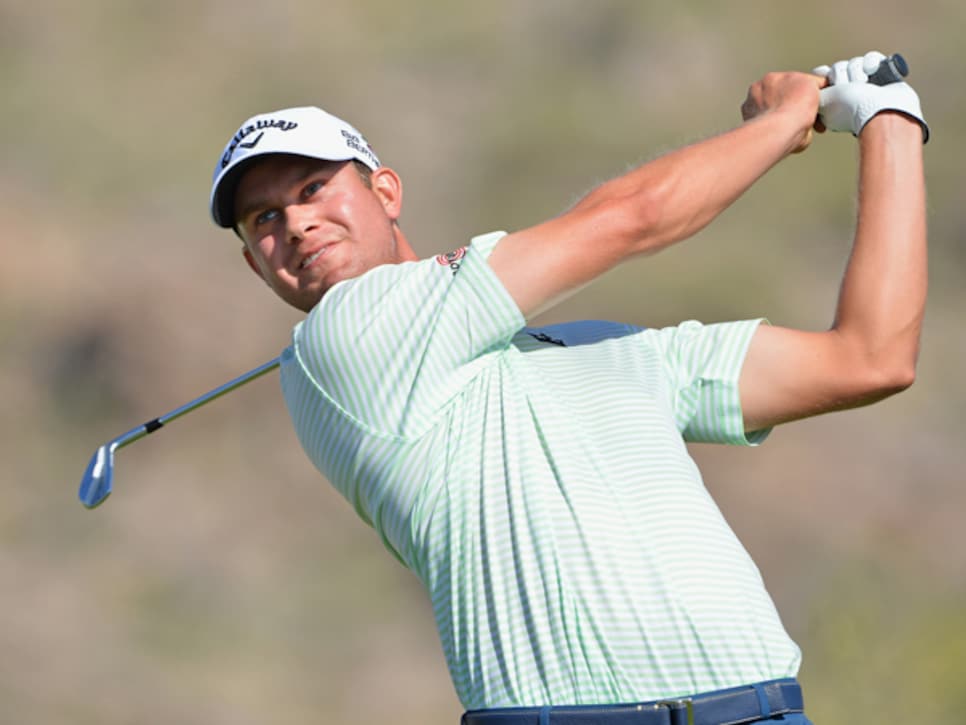 English contends a positive outlook will be as important as experience. Photo: Chris Graythen/Getty Images
"You think of all the talent that has gone through there, and to be just one of three guys, it's pretty special," Zoeller, 62, says. "But why hasn't it happened again? I think it comes down to using a local caddie. Jerry Beard was my seeing-eye dog that week. I could have won blind, he was so good at leading me around. Guys are missing out not tapping that local knowledge. They should tell their guy [regular caddie], 'Here's a ticket. Come watch and next year you can carry the bag.'
"But you know what?" Zoeller adds. "It's going to happen again. Think of all those years between the Squire and me [44 years] and where we are now, and it's about time. These young guys don't seem to scare."
You mean guys like brash Billy Horschel? Ranked 49th in the world, Horschel has never played Augusta National and didn't intend to scout it out until the weekend prior. Cramming for an exam? No problem. "I feel like I'm a quick learner. And my course management is pretty good," he says. "I'll get some veteran guys and pick their brains. I feel like if I'm hitting the ball well and controlling my ball flight, I have a good chance. No one intimidates me."
Or even the quieter Walker, who was just shy of three months old when Zoeller danced on the 11th green. "I've always dreamt about it. I've been watching it since I was a kid," says Walker, who played a casual round with his father at Augusta National about five years ago, one of his most cherished experiences in golf. "It's been a long time coming, so I want to go there with a mindset that if I play my game, that should give me a chance."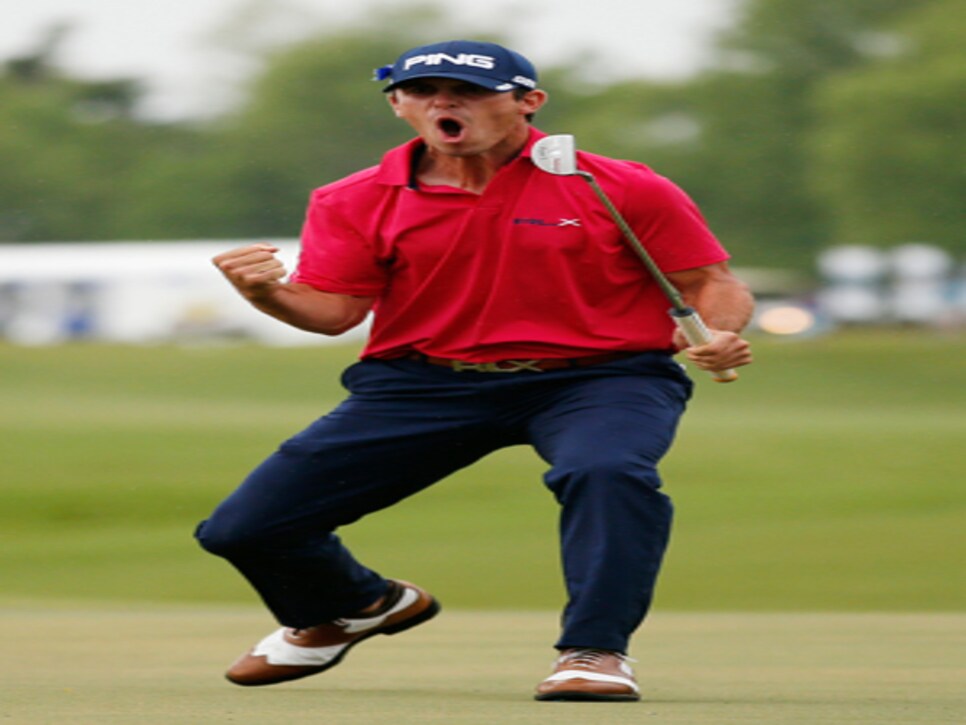 Photo: Stuart Franklin/Getty Images
Perhaps at the top of the list (or at least the top five?) is Reed, who is on a roll with his victory last month at the WGC-Cadillac Championship at difficult Trump National Doral. He has confidence and chutzpah and even a bit of local knowledge. He, like University of Georgia products and fellow Masters first-timers Harris English and Chris Kirk, got a taste of Augusta National during college.
"In my eyes, whoever shows up at an event nowadays has a chance to win," says Reed, 23, who currently is the hottest player in the world whose Sunday uniform is a red shirt and black slacks. "I don't put it past myself ... I'm definitely not going to say that I don't have a chance of winning. I feel like I do. But at the same time I'm going to have to put four really good rounds together."
English, No. 36 in the world, is similarly positive. "I guess every golf tournament you want to go into it thinking you can win," he says. "There's no real reason preparing and doing all the things you do to get ready for a golf tournament if you don't think you can win. It's another golf tournament. Yes, Augusta is going to be tough, and almost no one has won the first time, but it is another golf tournament. Experience matters, but who knows? This could be the year. I think if you prepare efficiently, you always have a chance."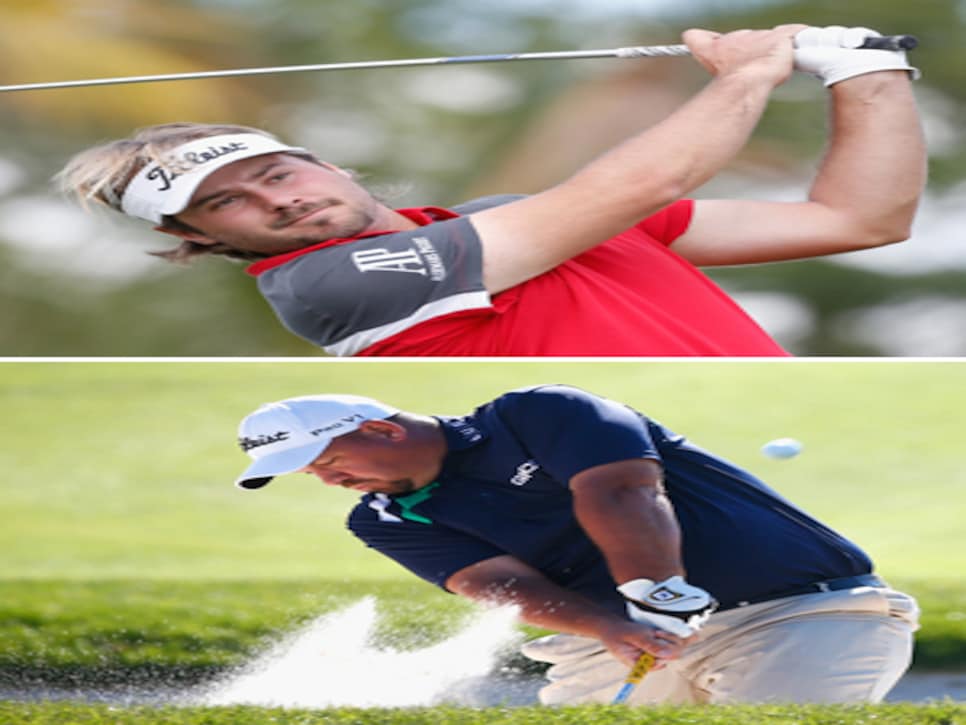 major championship, while de Jonge has
played in five. Photos: Chris Trotman/Getty Images;
Sam Greenwood/Getty Images
If the idiosyncrasies of Augusta aren't enough of an impediment for the uninitiated, the aura and wonder of the former tree nursery also can be overwhelming, a walk so pure that even Mark Twain might have found it unspoiled. Jack Nicklaus admits that he still gets chills when he drives down Magnolia Lane toward the stately white clubhouse.
So what chance does a rookie have of holding it together? Well . . .
"The whole place is so amazing that you need time to adjust to how incredible it is," says Davis Love III, who competed in 19 Masters. "But the golf course itself might not be the issue it once was. It used to be that you got to Augusta and those were the fastest greens you putted on all year. And then Memorial had greens nearly as fast. Now we have [Bay Hill] and a lot of other weeks where they're really close. There are a lot of things that help guys get used to playing big events, like the WGCs. They have experience, and they've got the game. I think the new guys have a better chance than maybe 10 years ago."
"But," he cautions, "it is still the Masters."