News
My Town: Jeff Sluman's Chicago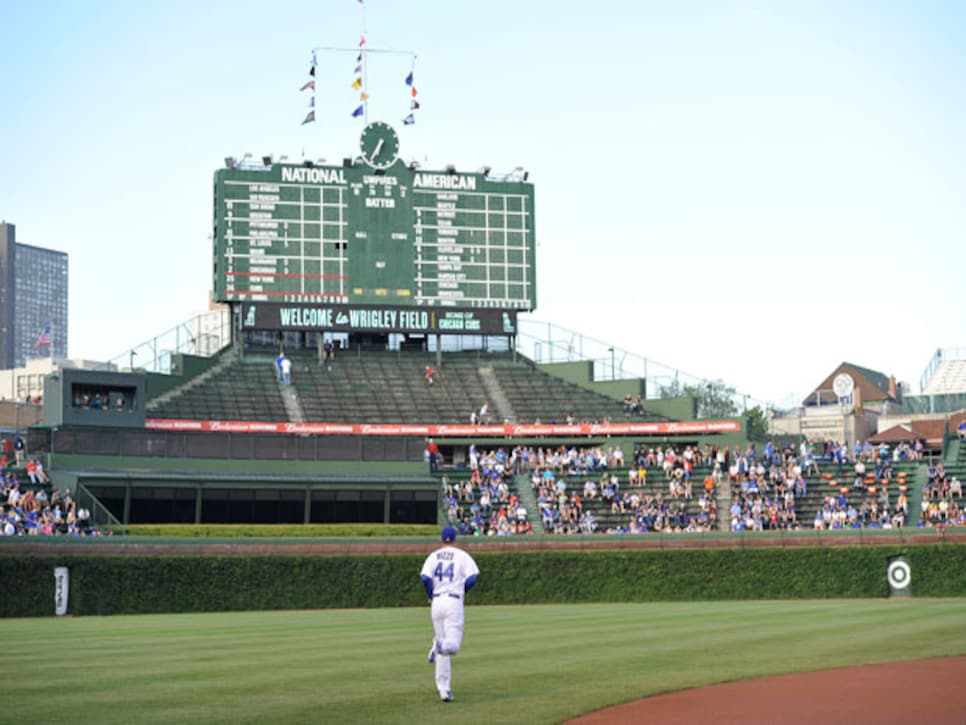 The Cubs' Anthony Rizzo takes the field at Wrigley.
If the American contingent needs any local knowledge about the Windy City during next month's Ryder Cup at Medinah CC, United States assistant captain Jeff Sluman will be the go-to guy.
Sluman has lived in the Chicago area for two decades, having settled in the suburb of Hinsdale, Ill., the hometown of his wife, Linda, a physician. The 1988 PGA champion, no stranger to cold winters growing up in Rochester, N.Y., takes Chicago's variable climate in stride. To him the city's many strengths -- including its bounty of public and private golf -- outweigh any weather negatives.
"It's clean. It's fun. It's vibrant," Sluman says. "Culturally, architecturally, it's one of the great cities in America. We always say if Chicago had the weather of Southern California, there would be 30 million people living here."
Although Sluman resides in a "small little village," he enjoys having the variety of the big city nearby. "If you can't find something to do in Chicago," he says, "you're not looking very hard."
The Chicago area has some of the most avid golfers in the world, and they have plenty of choices. Public golf is alive and thriving. You have to start with the Jemsek family's Cog Hill G&CC in Lemont. The Dubsdread layout, one of its four courses, has been the home for many years of the Western Open and BMW Championship. It's a wonderful place, where golfers get a private-club experience at a daily-fee operation. I always loved the finish to the front nine (Nos. 7-9) and No. 16, a beautiful par 4. Other Jemsek facilities, St. Andrews and Pine Meadow, are also worth checking out.
The Chicago Park District has half a dozen courses, including some in the city. The Sydney R. Marovitz course is a neat nine-holer right by Lake Michigan.
I'm a member at Hinsdale GC, a fun family club designed by Donald Ross. As a Seth Raynor fan, I really love Shoreacres, which is very playable for any level of golfer and has great green complexes. There are so many private-club gems if you can get on: North Shore, Medinah, Olympia Fields, Chicago GC.
There is so much good food in Chicago it's hard to know where to start. My wife and I love Il Poggiolo, a nice Italian place that we can walk to in Hinsdale. In nearby Burr Ridge, we really enjoy Topaz, where the food is top-notch. For pizza downtown, we like Lou Malnati's. Being a native, my wife gets the thick crust, and as a New Yorker, I like the thin. They're both great. The Pump Room, in the Public Chicago Hotel, has a fantastic history of many famous people eating there. It can be hard to get in at Table Fifty-Two, but the southern recipes are tremendous, and the fried chicken at Sunday brunch will blow your mind.
You have to start with the Four Seasons and the Ritz-Carlton on Michigan Avenue, and the Peninsula right off Michigan Avenue. You can't go wrong with any of those. For a boutique hotel, The James Chicago is a great option. Even if you're not staying at the Trump International Hotel and Tower, check out The Terrace at the Trump on the 16th floor. It's one of the world's great rooftop bars with spectacular views of the Wrigley Tower and Chicago River in the summer.
My daughter, Kathryn, and I love going to the Museum of Science and Industry. It's a fascinating place where we can go a couple of times a year and not be bored. The Shedd Aquarium is also a classic Chicago attraction. There are lots of things to do in the Navy Pier area. For sports fans, Chicago's pro teams are real institutions. From playing with Mark Grace so many years, I'm a long-suffering Cubs fan, but not as long suffering as some in the city.