News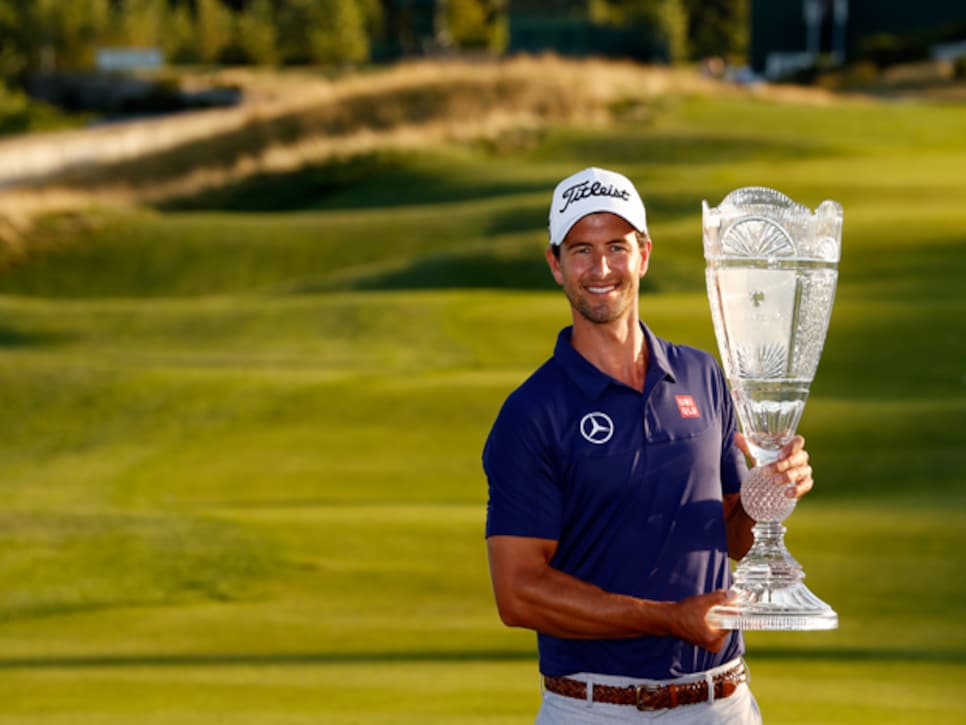 Not to jump the gun, but recent events suggest golf may be entering a new age of good behavior.
The game's most recent big winners, Lydia Ko and Adam Scott, are part of the trend, as is last Sunday's hardest loser, U.S. Open champion Justin Rose. The impeccable comportment last month of a couple of other teenagers, U.S. Amateur champion Matt Fitzpatrick and European Solheim Cup star Charley Hull, provide more evidence, as do 2013 major winners and fan-friendly figures Inbee Park, Jason Dufner and Phil Mickelson.
Emerging is a pattern of prominent players exhibiting enhanced poise, dignity, humility, modesty and respect for opponents and for the game -- in victory and defeat. The time is right, which is why Golf Digest's recent "Good Guys on the PGA Tour" ranking in its September issue has resonated.
Even in such an individual game, behavioral styles go in cycles, the pendulum swinging back and forth according to the dominant player's personality, but also according to societal forces. The buttoned-up Harry Vardon era led to an appreciation for the flamboyance of Walter Hagen, which gave way to the courtliness of Bobby Jones. Ben Hogan's insularity made Arnold Palmer's way with people that much more refreshing, while Jack Nicklaus successfully split the difference. Seve Ballesteros, Greg Norman and Nick Faldo were all openly driven, clearing the path for the über-motivated Tiger Woods.
It would be unfair to imply that Woods single-handedly gave pros permission to behave badly. Clearly his intensity is evocative of Hogan, except that both his celebrations and anger are more explosive. But though all about performance, Woods is respected by his peers as an enjoyable and ethical playing partner. He may resent the scrutiny that comes with his station, but on balance he has more than delivered on his end of golf's social bargain.
Still, as a result of the Woods-generated lucre that flooded the game, the meritocracy at the highest level was weakened, making it easier for players to lapse into entitlement. The most recent sign of the decadence was Jeff Overton's tweet complaining that being a member of the 2010 Ryder Cup team should have gotten him a spot in the PGA Championship despite his being No. 151 in the world. "Who did you give your invites to?" he carped to the PGA. "Not the guy that helped make you 50 million in Wales." Still painful to read.
A close relative of the condition was in play at the Solheim Cup. Women's golf may not live as large as the men's game, but while Asians dominate the world rankings, American women still draw the most attention and endorsements. In effect, they are conditioned to expect rewards rather than to fully earn them.
What foreigners stereotype as ugly Americanism ensued in Denver. The U.S. team's celebratory hand gesture was obnoxious. Michelle Wie's excessive fist-pumping after making a birdie putt to stay 2 down and then running to the next tee before her opponent putted out was embarrassing. Paula Creamer, Morgan Pressel, Cristie Kerr and Stacy Lewis were at various moments altogether too pouty. I have it on good authority that more than a few of the LPGA's venerated old guard were secretly rooting for the Europeans to teach the brats a lesson.
Even assistant captain Dottie Pepper vented, bemoaning what used to be. "It wasn't about participation medals, face paint, hair ribbons, spousal gown allowances, decorated hotel rooms, custom rain suits and 'inside the ropes' badges," she wrote for ESPN. "It was about pouring your heart and soul into something you got no material benefit from."
By contrast, the European women stayed both focused and restrained, most endearingly the 17-year-old Hull, who won fans by under-celebrating, the equivalent of a football player who after scoring a touchdown hands the ball to the referee. The British decorum continued at Brookline with Fitzpatrick, 18, and his 14-year-old brother and caddie, Alex. They were following the example of Rose, who after exhibiting grace in victory at the Ryder Cup and Merion, showed even more in defeat by agreeing to a television interview after three-putting the final green at the Barclay's from 25 feet to miss the playoff.
Meanwhile, there is the remarkably unchanged persona of the 16-year-old Ko, a true phenom who seems destined to become a model for how to handle early success.
Whether it's the natural motion of a pendulum from one style to another, or a tough economy's message that nothing can be taken for granted, golf as a sport suddenly seems more grounded in old-school gentility. And what's most gratifying is that it appears to be a movement led by the young.