News
Tiger, Phil And Player Of The Year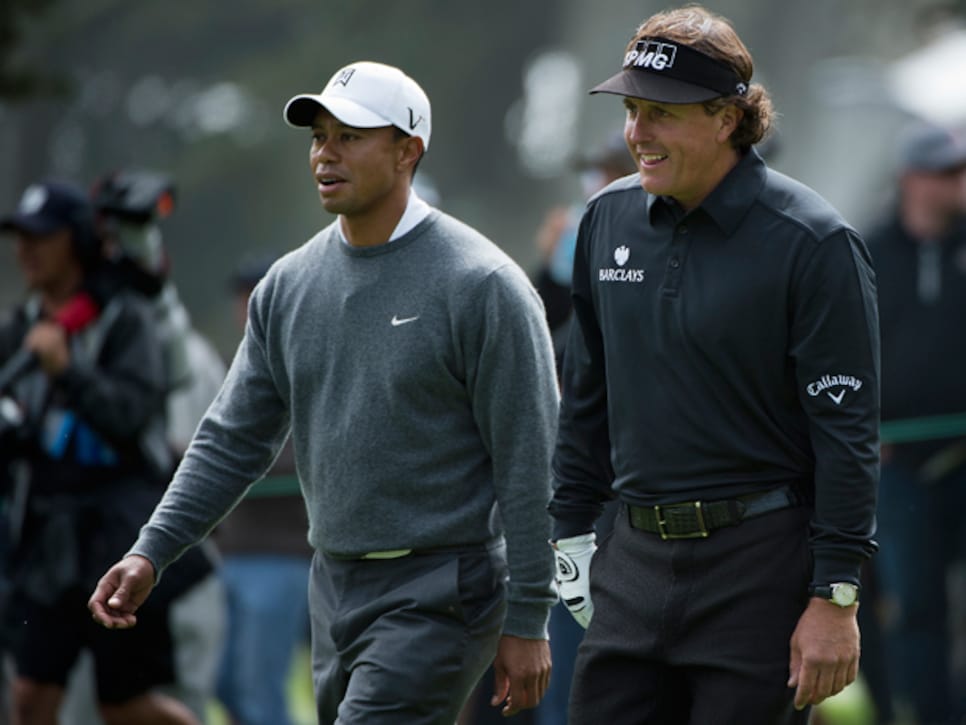 Tiger Woods and Phil Mickelson during the first round of the 2012 U.S. Open.
Among the spoils of winning in professional golf -- and especially a major championship -- is that the victor for a short time is aggrandized beyond proportion.
That means Tiger Woods is being unnecessarily hyped. Just the raw facts of what Woods did at the WGC-Bridge-stone Invitational in Akron, Ohio -- winning for the fifth time this year, mixing in a 61 on his way to a seven-stroke blowout, all in the week before the year's last major -- belie embellishment. He appears in even better form than he did after cruising to victory in May at the Players. It's a loaded term, but it's far from a stretch to consider him, to a significant degree, back.
This story line with a little extra mustard -- Tiger is again unbeatable -- makes a nice counter to the enduring buzz for Phil Mickelson. Lefty's victory at Muirfield in the British Open last month redefined both what we think of him historically and what we can expect of him going forward.
It's been too long, but the two most compelling figures in golf are once again close to evenly matched at the very top of the game.
There will always be Tiger fans and Phil fans and never the twain shall meet, but Woods has always separated himself in the non-subjective departments: wins, major wins, records. Mickelson isn't going to catch him on any sort of career basis, but this year there's an award that would carry extra meaning: PGA Tour Player of the Year, determined by a vote of the players.
It's still early, with a major and the FedEx Cup playoffs yet to be contested, and 2013 major winners Adam Scott and Justin Rose, or even Matt Kuchar or Brandt Snedeker, might have something to say about it. Nor is the award definitive, competing with the equally prestigious PGA of America Player of the Year honor, which is based on a point system. Furthermore, Woods has won the tour's award 10 times. He probably wouldn't care if he didn't win it again this year ... unless Phil did instead. So he cares.
Mickelson, on the other hand, has never won the award, just as he has never been No. 1 on the World Ranking, where Woods has spent seemingly a generation and counting. So Mickelson cares too.
Here's what makes it interesting: Lefty is leading. No doubt Woods has played at a consistently higher level and has three more victories. But Mickelson's first British Open triumph was momentous. Unless Woods wins the PGA, Muirfield will be how 2013 is remembered.
Major championships have often determined year-end awards. The best example was Ben Hogan, who after coming back from his car accident in 1950 won the U.S. Open at Merion for his only official victory of the year. Meanwhile, Sam Snead won 11 times, although not any majors. Hogan was named PGA Player of the Year, while a wounded Snead significantly cut back his playing schedule.
Mickelson himself has previously been a victim of majoritis. In 1996 he won four tournaments but none of the big four while Tom Lehman won twice including the British Open. Lehman was the tour's player of the year.
It's a criteria Woods supports. In 2008 Woods won four events including the U.S. Open at Torrey Pines before sitting out the rest of the year with injury. When Padraig Harrington won the year's final two majors, Woods said the Irishman deserved to be the tour's player of the year, which he was.
Bereft of a major, the ball is now in Woods' court. A PGA victory would be game over, a milestone moment in his saga of greatness, redemption and the ascent of Mount Nicklaus.
But if neither Tiger or Phil (or Scott, Rose, Kuchar or Snedeker) were to win at Oak Hill, Mickelson's lead would increase. Then again, so might Woods' motivation. The chance to thwart Phil might ignite his former propensity for late-season winning streaks.
Remember 2006? After winning the Masters to back up victory at the previous year's PGA, Mickelson stood on the 72nd tee at Winged Foot on the verge of supplanting Woods as No. 1. Then Lefty made his catastrophic double bogey to lose the U.S. Open, and Woods reestablished dominance by winning the next two majors.
Now Mickelson is on the verge again. Perhaps it will provide the push Woods needs to finally get his 15th major. Even if he doesn't, expect a pitched battle from the current No. 1 to keep the champion golfer of the year from also becoming player of the year.