News
Woods' Daunting Dominance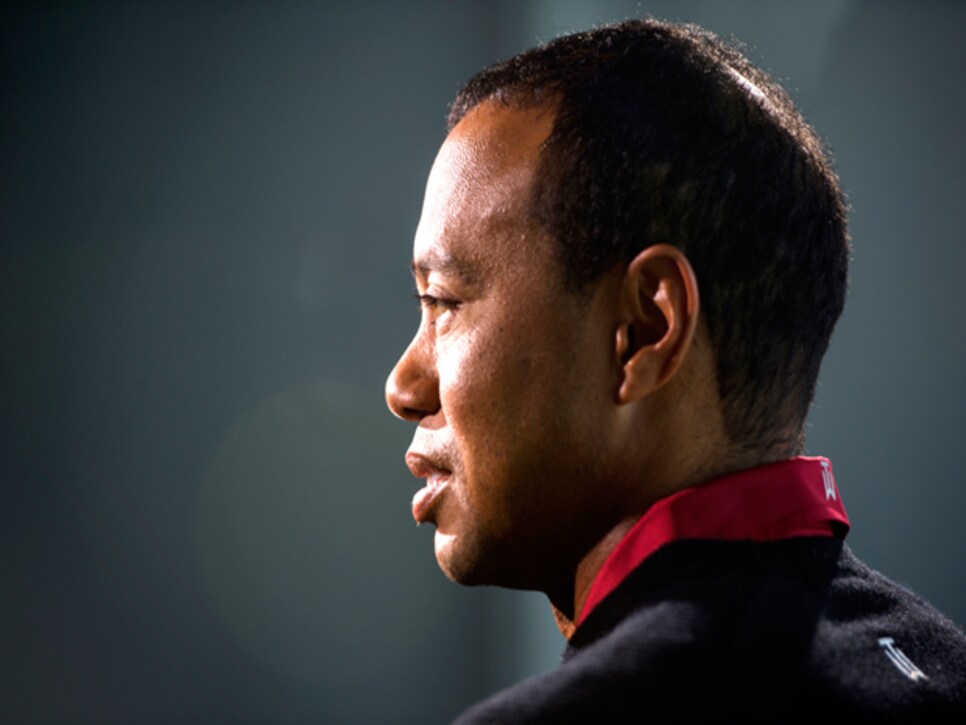 It's looking more as if Tiger Woods will not surpass Jack Nicklaus' record of 18 professional majors.
The career numbers, which for so long ran overwhelmingly in Woods' favor, are no longer adding up. If Woods does not win one of the next three majors he plays in, he will fall behind the pace of Nicklaus -- whose victory at the 1978 British Open marked his 15th major championship in 67 major starts as a pro -- for the first time since the eve of the 2000 British Open at St. Andrews. If Woods doesn't win a major this year, it will mean he will need to win five majors after the age of 39 to get to 19. In the modern era, Nicklaus, Ben Hogan and Sam Snead have won the most majors after turning 39: three each.
But even as the odds of Woods catching Nicklaus lengthen, they still aren't as long as the chances of a golfer ever again being as dominant as Woods.
I don't doubt a male golfer with as much or even more talent than Woods will come along. There's a good chance that person -- perhaps a competitor in the inaugural Drive, Chip and Putt Championship -- could already be among us.
But so long as the upper crust of touring pros can achieve an exceptional lifestyle with merely good but not great golf, the most promising players will overwhelmingly decide -- consciously or unconsciously -- not to try to be like Woods.
For a long time now, Woods' peers, and especially the best ones, have been paying close attention to how he does things and the results achieved. They saw that, yes, by devoting all his energy and focus to being truly great, Tiger gained more than any golfer in history in terms of fame, riches, power and records. But they also noticed, especially lately, that Woods' life was anything but an easy one -- seemingly filled with isolation, compulsiveness, loss of privacy and injury.
And so, those with similar abilities and thus possibilities have done a cost-benefit analysis. What is the price of true golf greatness, and what is the return? And a reasonable conclusion could be that it's simply not worth it to be like Tiger. From being a model, he's become a cautionary tale. Instead, the new model for achieving greatness is Phil Mickelson, who never was and never will be as good as Woods, but who compromised some of his potential to build a more balanced life.
Such thinking goes against much that has been idealized by the American sports fan. Woods (and Michael Jordan and Lance Armstrong) was celebrated for winning ruthlessly and relentlessly striving for improvement. As Woods often said, "winning takes care of everything." It was a mindset based on the belief that whatever trade-offs might come from pursuing greatness, they were worth it.
Woods was following (and trying to build on) a tradition of sacrificing life for golf carried on by intensely dedicated winners such as Ben Hogan, Sam Snead, Arnold Palmer, Gary Player, Lee Trevino, Seve Ballesteros, Greg Norman and Nick Faldo. Some players, like Curtis Strange, burned so hot they burned out. Part of the genius of Nicklaus was that while he could be as intense as anyone, he did it in a selective way that allowed him both longevity and a remarkable normality.
No one ever burned hotter than Woods in his prime. It could be almost frightening, and the complicated aftermath is a big part of why no top player has appeared to burn anywhere close to that way since.
Instead, today's emerging best players almost seem ambivalent about pursuing greatness. It's understandable. For today's effectively "branded" pro, performance is only a small part of income. Being a mere "star" is more wonderful than ever, but the unavoidable demands of superstardom have come to be associated with diminishing returns. It's no wonder that the large group of players with the most horsepower seem hesitant to really step on the gas. Among this group, close losses don't seem to hurt as much, and WDs are more frequent. For them, life is good as golf threatens to slouch toward yet another prolonged period of parity.
Recently, Rory McIlroy sounded as if he was trying to rally reluctant volunteers, possibly including himself, when he said, "I think a few guys need to put their hands up and try and be dominant players because that's what people like to see."
Woods was born with his hand up, which is why -- even hurt and diminished -- he has remained by far the most compelling figure in the sport. If he can somehow show in his remaining years that going for greatness doesn't have to lead to a cautionary tale, there might actually be a next Tiger Woods.