News
Has Tiger Found Peace Within?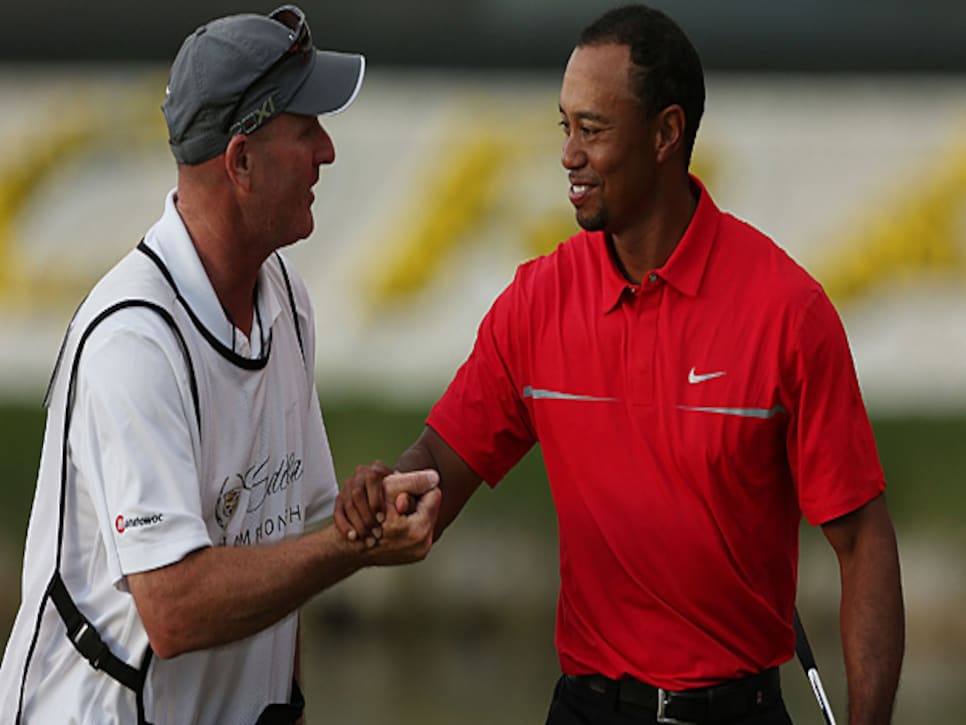 Woods celebrates with caddie Joe LaCava following his latest win at Doral.
The "blink" reaction to Tiger Woods' victory at the WGC-Cadillac Championship was that it was pleasingly different -- more sure, more authoritative, more calm. A lot like the good old days.
Woods, naturally, wouldn't go there, keeping his eyes forward as always, though he did credit his swing, his fitness and his Stricker-ized putting.
Still, I think it was more about his inner life.
It might be foolhardy to speculate in such a way about Woods, who is very good at revealing very little. With Tiger, probably more than any great sportsman ever, it is less about the words and more about the actions.
The thing Woods never talks about, as if believing he can, through sheer will, expunge it from history, is his scandal and its effect on him. Instead, when forced to discuss his comeback, he omits all but two things, his health and his swing.
Woods' palpable resistance to the elephant in the room is so powerful that it is almost never brought up in his presence. A brave attempt was made in his post-victory interview, when a reporter ventured the following: "Last year, you couldn't finish a final round, and today you finish off the field. Is the difference purely being healthy or is there something else that's in play?" Quickly, as if brushing in a one-foot tap-in, Woods said, "No, it's nice to be healthy."
All this is understandable. For Woods to achieve his goals, he can't dwell on the past, or the negative, can't indulge amateur psychoanalysis, can't open up his life.
Still, just as there is a part of him that was shamed, there is an equal part that wants redemption and forgiveness. When in early 2010 he stood before the blue curtain a few months removed from hitting the fire hydrant and said, "I ask you to find room in your heart to one day believe in me again," that was real.
While Woods has handled the long aftermath with remarkable stoicism, he has on occasion looked uncomfortable in public, and more revealingly, uncertain in the clutch, where he was always most at home.
But time heals, and the win at Doral hinted strongly at impending liberation. Woods carried himself lightly, keeping any flashes of anger brief, and never brooded. Sure, 100 putts over 72 holes will do that for a golfer, but when Woods missed a shot, as he did when he blocked his tee ball on the 17th hole Saturday, he briskly picked up his tee as if he had hit a good one.
Steve Stricker, the putter whisperer who is also a sensitive and perceptive friend to Woods, was onto something deeper when he tiptoed into Tigerland and said, "Yeah, he just seems in a better place mentally to me." Not that Woods bit when the quote was played back to him. "Yeah, it's kind of nice to make putts," he said. "No wonder [Stricker's] always in a good mood."
Woods probably isn't, but for all the criticism and scrutiny he endures, he has also learned that the large majority of golf fans increasingly show him both sympathy and support. Intuitively or not, people realize that despite the rewards, Woods' life has not been easy, that his early stardom probably left a hole in his development and that he has paid a huge price, fairly as it might be, for his public and private missteps.
His comeback has revealed a more empathetic side, whether in apologizing to his Ryder Cup teammates for disappointing play, being an attentive father to his two children, or sharing an encouraging word with the current, and struggling, No. 1, Rory McIlroy. "Yeah, we've talked a little bit, yeah," Woods allowed grudgingly. "Am I going to share? No."
The response drew media laughter because the flintiness Woods exhibits in staying so aloof is first cousin to the fortitude required to be a great player, and as such draws respect. For all of McIlroy's brilliance and likability, Tiger is still the game, and will be as long as his incredible saga plays out. The resulting acceptance post-scandal has added up to a weight being lifted, one that has been a lot heavier than Jack Nicklaus' record.
Not that the burden is completely gone. We saw its effect Sunday on his third shot to the par-4 18th, a chunky wedge that had it carried another yard less could have rolled back into the water and led to a triple and a playoff with Stricker. "Stress free?" Woods said to a reporter who suggested the win was easy. "Did you not see 18?"
We did. But there was much more that was pleasingly different, which for Woods, bodes well.