News
Can He Keep The 'Ha' In Hahn?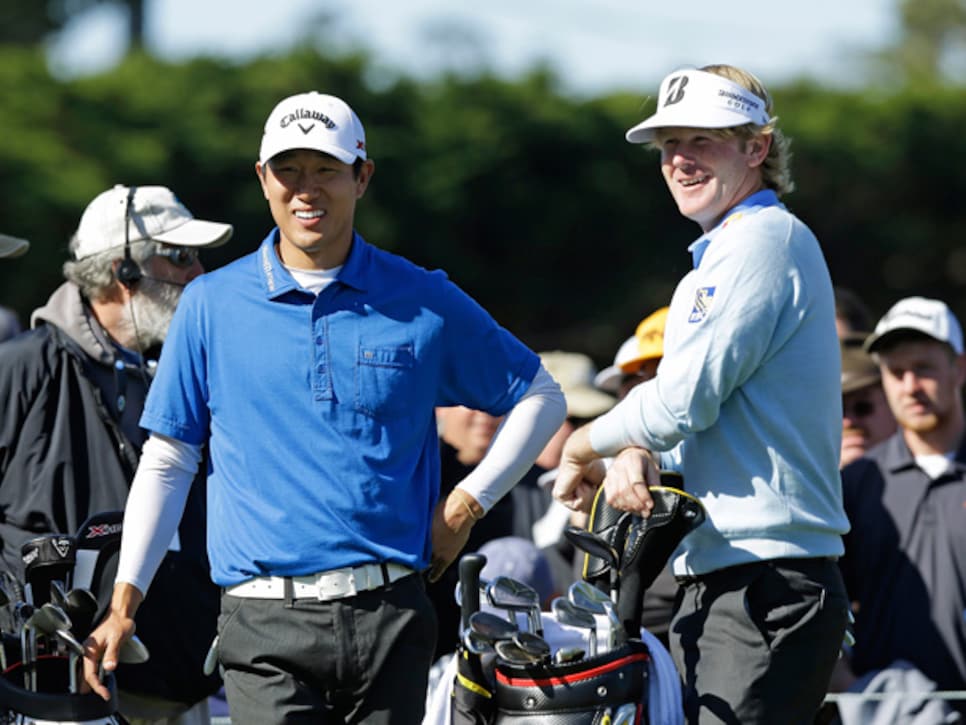 James Hahn with Brandt Snedeker during the final round of the 2013 AT&T Pebble Beach Pro-Am
No doubt it's an early call, but James Hahn has all the makings of that increasingly rare breed on golf's professional tours: the genuine character.
In rougher hewn days, there were a lot of them -- players with personality, a story and, of course, exceptional ability. It's tough to hit that triple in today's game, when spontaneous wit presents far more danger to a carefully marketed image than canned stuff like The Golf Boys.
But Hahn, a 31-year-old PGA Tour rookie, has the first two elements in abundance. And based on two top-five finishes in his first five events, including a T-3 at Pebble Beach, he may have the third.
Hahn's Gangnam-style celebration on the 16th hole at Phoenix, which he pulled off with the panache and confidence of a Chi Chi sword dance, opened a public door to an engaging soul. The Cal graduate (American Studies) describes himself on his lively Twitter account as "world's best sleeper, Priceline King, Craigslist addict." He marks his ball with a carwash coin and says his dream foursome would include The Rock, Bernie Mac and Katt Williams. Raised in Alameda, Calif., he possesses the easy Bay Area openness that has seen natives such as Johnny Miller, Roger Maltbie, Ken Venturi, the late Bob Rosburg and, most recently, Arron Oberholser find eventual careers in television.
"James has always been a free spirit and a performer," says Hahn's older brother, Tom, who caddied at the AT&T. "He loves life, and people are drawn to him."
Born in South Korea, James began beating balls at age 4 on a driving range near the Oakland Airport operated by his father. A self-described "Tin Cup kind of guy," Hahn had trouble with the regimentation of college golf and quit the team before his senior year. A year later his former teammates took the 2004 NCAA title. He turned pro with something to prove, but financial need and frustration led him to leave the mini-tours for sojourns at an advertising agency and even the women's shoe department at Nordstrom ("My Al Bundy period"). The lean years finally stopped in 2012 when Hahn finished fifth on the Web.com Tour to qualify for the PGA Tour.
Hahn's track record is thin -- two victories on the Canadian Tour and one on the Web.com -- but his game passes the eye test. At a fit 6-1 and 180 pounds, his action is both graceful and textbook, learned not by working with coaches but as a juvenile range rat and later through his favorite medium -- YouTube. Without the funds for hands-on instruction, Hahn borrowed from videos of swings he admired and took Internet tutorials.
"Guys would ask me who I was working with," he says, "and I'd tell them I just had an hour with Butch Harmon and 20 minutes with Leadbetter." Hahn has power (fourth in driving distance at the AT&T) and touch (David Feherty dubbed his final-round up-and-down from deep Kikuyu at Pebble's par-4 ninth a "stunt shot"), plus he can go low (final-round 62s at both Humana and Phoenix).
The package has similarities to an early Lee Trevino, or even another East Bay late bloomer with graceful lines and a charismatic demeanor, Tony Lema. Hahn, while staying outwardly humble, carries himself like a man on the verge of something. After pulling off a difficult approach Friday on the 17th at Monterey Peninsula CC, he walked back toward the fairway and, unable to contain himself, suddenly sprung catlike over a waist-high gallery rope. "My life is in a great spot," he says.
Will Hahn have staying power? Trevino came to feel suffocated by attention and often shut down his naturally comedic self. Bubba Watson has become reticent and suspicious. There is a pragmatic reason Tiger Woods -- and so many talents who have followed -- keep their public persona so bland: longevity.
But citing his good fortune at being part of The Show, Hahn has a smile for everyone, even the golf writer who asked him, on the eve of his last-group-on-Sunday pairing with co-leader Brandt Snedeker, "What do you do to keep yourself from getting those yips?"
Rather than "Really?" or even silence, Hahn responded with a friendly riff. "You look over to the right, see the ocean and think about how cool it would be to be a surfer," he said. "It's like Happy Gilmore -- put yourself in your happy place. I guess this is my happy place."
If it remains so, the game will gain some welcomed character.