News
Any Questions? Plenty, Actually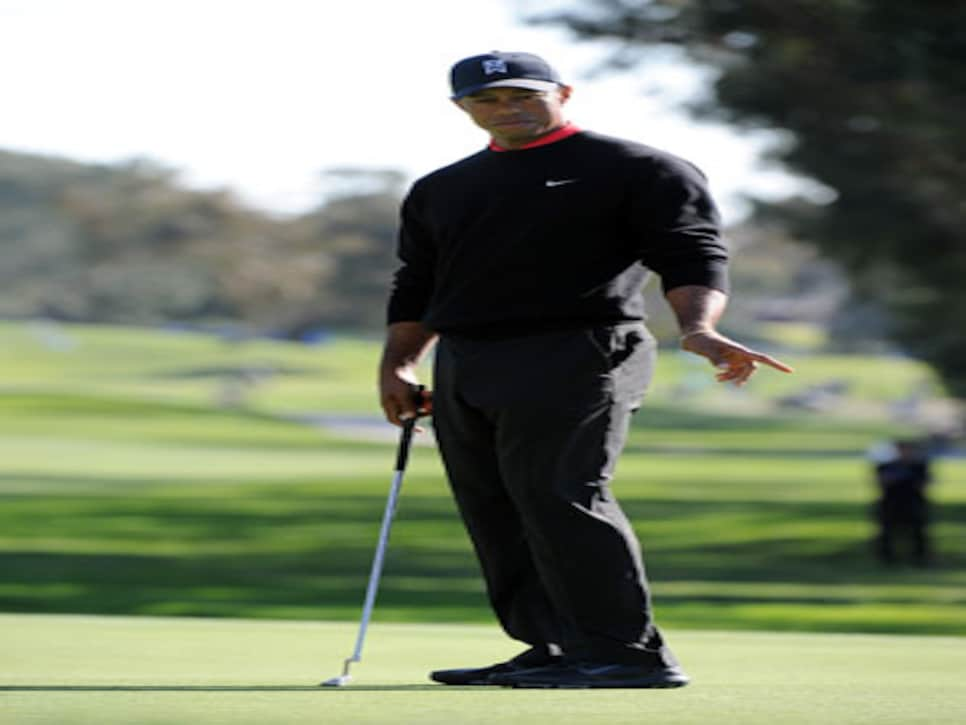 Woods was both impressive and erratic en route to his 75th career win.
At the beginning of the new Nike commercial in which Tiger Woods performs with Rory McIlroy, Woods hits a wedge shot stiff and smugly asks his rival, "Any questions?"
McIlroy's only response is "Not bad, not bad." But if after his mostly brilliant but finally awkward four-stroke victory at Torrey Pines Woods had been looking for an answer to the same interrogative, it would have been an emphatic "Yes."
So many questions. Did Woods' off-season work on his short game and putting make a difference? No doubt. Is the driver better? Maybe. Is the head clear? Hard to say. Is Tiger back? Who knows.
Of course that last one is the biggie, so powerful is the gravitational pull of Woods' historical greatness and the longing to see it again. It came to mind more easily after as he again won on a Monday at Torrey Pines, eerily reprising the weekday scene of his epic U.S. Open playoff victory in 2008.
But that was nearly five years ago, and Woods, always complex, would seem to be infinitely more so at 37. His answers to the many questions are invariably cryptic, but much is roiling underneath. And help in deciphering it will not be forthcoming.
So it's hard to make too much out of Woods in winning at Torrey Pines for the eighth time as a pro. His success there goes back to the days when he was winning multiple Optimist Junior Worlds, the course's familiar bailout areas giving him a comfort level even when he isn't sharp. Then again, Woods is the world's No. 2, which by definition means he should win now and then.
Whether this win will serve as a jumpstart to a true comeback year is to be determined. In five of the six previous times he won the tournament, he went on to win a major that year. But imposing that pattern -- or any pattern -- now seems artificial. In 2012, all three of his wins came in his last start before a major, seemingly priming him for a peak performance. And in two of those majors -- the U.S. Open and the British Open -- he played well for 36 holes before fading.
After his victory at Torrey, Woods had a logical explanation for those failures -- a poor short game. On the hardest courses, an ability to get up and down efficiently when missing greens is crucial, and Woods didn't have it in 2012. Last week at Torrey he did, and it made all the difference. Perhaps that will re-open old doors for him in 2013.
Still, something more intangible, some form of scar tissue, also seems to be lurking. On Monday, Woods led by eight after a birdie on the 13th and appeared primed for a true statement victory. Instead he dropped four shots over the last five holes to take some luster of the achievement. He blamed losing patience with the exceedingly slow pace of play, and that was believable. But there was also no denying that a couple of shots were shockingly poor, grim reminders -- like his duffed drive in Abu Dhabi -- that while his good shots might be as good as ever, his bad ones continue to be much worse than they used to be.
Even as he insists there is nothing different about him, until Woods returns to something approximating his former glory, the specter of those shots will cause us to see him differently.
The apprehension was in the voices of the CBS commentators -- each intimately familiar with the way the game eats at the psyche --when Woods suddenly started looking shaky on the interminable back nine. Gary McCord tentatively mentioned the term "driver yips." The team seemed hesitant to acknowledge that Woods' had skied his 3-wood tee shot on 17, until the camera made it obvious that he was 75 yards behind his playing partners. As Woods lined up a three-foot bogey putt to keep his lead at four, even David Feherty, known for celebrating the best in Woods, seemed worried, saying, "This is a BIG putt."
Among announcers, the most observant of Woods is Nick Faldo, who after reaching the game's pinnacle suffered a precipitous decline. Even when Woods is winning, Faldo brings attention to moments and behaviors that are not up to the old standards, always implying the way down is a slippery slope. "This one is going to irk him," said Faldo during Woods' closing stretch. "He's still got demons on his shoulders."
For now, this is all part of Woods' burden. That rather than inspiring the old certainty, there will be doubt. What matters is whether Woods himself has it. He won't tell us. But ultimately, his golf will.
But let's be fair. A win is a win. And the verdict at Torrey? Not bad, not bad.