News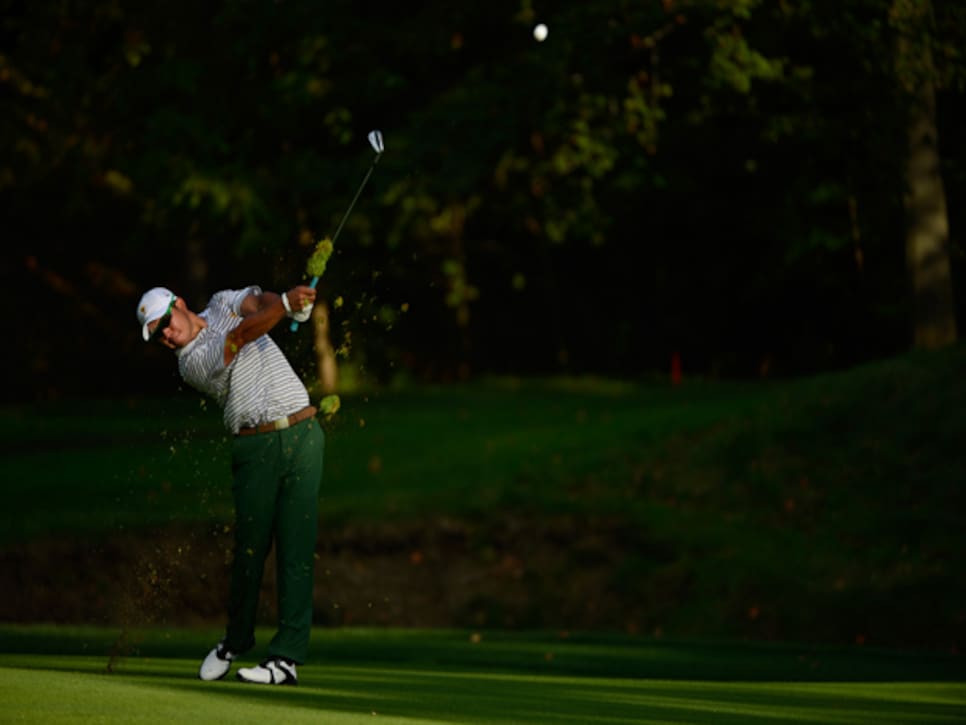 So much was made of rising American star Jordan Spieth entering the Presidents Cup that the debut of another twentysomething seemed to be going unnoticed. Yet with one towering 8-iron to two feet on the 18th at Muirfield Village, resulting in a conceded birdie and a vital half point during the opening day of play, Japan's Hideki Matsuyama changed all that.
The shot, in his first match, with Masters champion Adam Scott as his partner, was an attention grabber. Combined with three more days of equally exciting play, it put the 21-year-old Matsuyama in the conversation with Spieth and Peter Uihlein among the great young players to watch in 2014.
Even Jack Nicklaus was impressed, commenting while in the NBC TV booth how much he liked Matsuyama's game. "We're going to hear a lot more out of this young man before his career is done," pronounced the Golden Bear.
International team captain Nick Price shared the opinion. Like many observers, Price had heard Matsuyama mentioned among talent on the rise, but finally put a face with the name during this year's U.S. Open. A final- round 67 at Merion GC left Matsuyama T-10 in his first appearance in the major.
After that round Matsuyama took the shuttle to the players' locker room on a range set up at Merion's West Course and hit balls for two hours. He then practiced putting for an hour, offering a glimpse of his work ethic.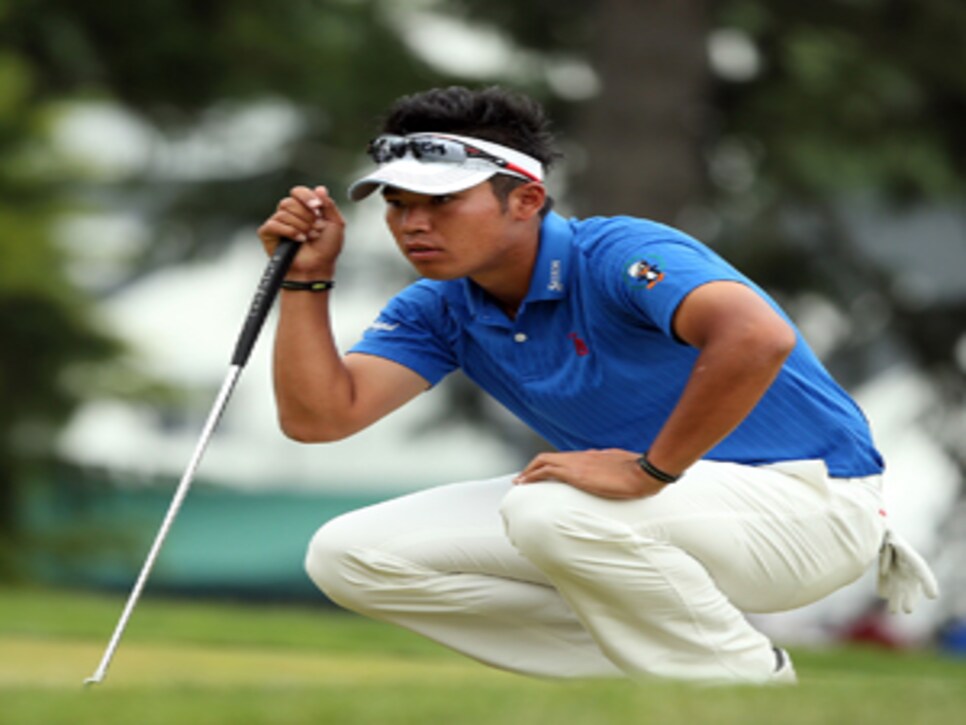 "He hits the ball so straight, and he has a wonderful touch around the greens, a beautiful putting stroke," Price said. "I walked a little bit Tuesday [at Muirfield Village] and then Thursday with him, and he's a great player. I mean this, the guy has got a huge heart and he's just not scared. I think that showed with the shot that he hit on 18 today."
A two-time Asia-Pacific Amateur champion, Matsuyama filled a void on the International team left by the absence of Ryo Ishikawa, a golf rock star in Japan since he turned pro at 16 who played in the last two Presidents Cups but had to compete in the Web.com Tour Finals this year to keep his PGA Tour card for 2013-14.
For a country that has taken pride in the success of the Ozaki Brothers (Jumbo, Jet and Joe) in the 1970s and 1980s and Shigeki Maruyama and Shingo Katayama in the 1990s and 2000s, Matsuyama has the potential to become its best global golfer. Although Jumbo Ozaki made the World Golf Hall of Fame with 95 career victories, all but one came in his home country, the 1972 New Zealand PGA. And while Ishikawa rose as high as 29th on the World Ranking near the end of 2009, the now 30th-ranked Matsuyama is considered more athletic and less technical.
More importantly, perhaps, he doesn't seem to have the same burden of expectations heaped on him as Ishikawa by fans and the media at home.
Matsuyama grew up playing junior golf against Ishikawa, but didn't turn pro until this past April and still lives out of his dorm room at Tohoku Fukushi University, a school hit hard by the tsunami that devastated Sendai and the neighboring region in March 2011. He played in his first Masters a month later, earning low-amateur honors, and made the cut again as an amateur in 2012. Success in majors in 2013 helped him qualify outright for his first Presidents Cup team on World Ranking points, accruing most with his top-10 at Merion and then a T-6 in his British Open debut at Muirfield in July.
Scott, a six-time Presidents Cup participant, was still getting to know his partner last week, but gladly paired with Matsuyama at Muirfield Village in hopes of keeping the first-timer from getting too caught up in the moment. "I just told him to play the way he knows how to play," Scott said, aware Matsuyama was the only International to have won three tournaments in 2013 (all on the Japan Tour). "He's played well in high-level events."
Another calming influence in Ohio was that of Maruyama as an assistant captain on the International side. Anticipating a Japanese player would qualify for the squad, Price asked the 44-year-old to join his team as an advisor last October, figuring he could not only help with communication but also add credibility. In the Internationals' lone Presidents Cup victory at Royal Melbourne in 1998, Maruyama posted a 5-0 record.
Price proved prescient when Matsuyama qualified for the team, particularly considering Maruyama had already become a counselor of sorts for the budding star. The veteran worked on honing the pupil's short game in the days leading up to the U.S. Open, then had him keeping the ball on the ground and hitting stingers off the tee in the run-up for the British Open.
And the tutorial for the Presidents Cup? "You need a strong mind," Maruyama told me just before Matsuyama teed off in Thursday's opening four-ball match with Scott.
The strong mind showed through in his second and third matches of the competition, from making a three-footer to clinch a foursomes win over Jason Dufner and Zach Johnson, to draining an 18-foot birdie putt on the 16th hole to keep his match with Scott alive in four-ball against Tiger Woods and Matt Kuchar. While ultimately losing the match, Matsuyama made four birdies while Scott had one.
A 3-and-2 singles loss to Hunter Mahan dropped Matsuyama's overall record to 1-3-1, but it didn't reflect the impression he left on those watching. Not when you're getting the blessing from Hall of Famers, and also his partner, the Masters champion.
"For sure, he's the future of Asian golf, I believe that," Scott said. "He's come on so strong and fast the last year or so. This was a great year with him. I know he's disappointed to lose his [singles] match, but he's such a strong player. He's got such a bright future."
Fred Couples will be a tough act to follow as U.S. Presidents Cup captain in 2015 -- or maybe not. Couples said Sunday after clinching the Cup at Muirfield Village GC he was going to retire undefeated, although he intimated in 2011 he was stepping aside as well but came back. He also told me the week before at the Nature Valley First Tee Open at Pebble Beach that he would not rule out a Ryder Cup or even a Junior Ryder Cup captaincy. PGA of America president Ted Bishop said Monday that with a 3-0 record the 54-year-old Couples would certainly be on their radar -- especially now that the association has moved from its tradition of going with a more contemporary captain by taking 64-year-old Tom Watson for the 2014 matches in Scotland. As for candidates to replace Couples at the Presidents Cup in 2015, possibilities include one of his assistants, either Davis Love III or Jay Haas. Couples did say he would go to Korea as an assistant captain.
Nick Price made it clear in his post-match remarks he would be honored to come back and serve a second term as the International captain, and as he said, "[I] don't care where it is." The problem for Price is the 2015 competition will be held at the Jack Nicklaus GC in Incheon, South Korea. That potentially creates an awkward selection process for the International Federation of PGA Tours in that national hero K.J. Choi is waiting in the wings to captain in his home country. Choi, 43, was one of three Koreans on the 2011 team and was at Muirfield Village GC. Price or "Pricey," as the team called him, was a popular captain and deserves another shot -- especially with Greg Norman getting two chances in 2009-11.