News
Open Chatter Suggests Anchoring Ruling Will Land By The End Of 2012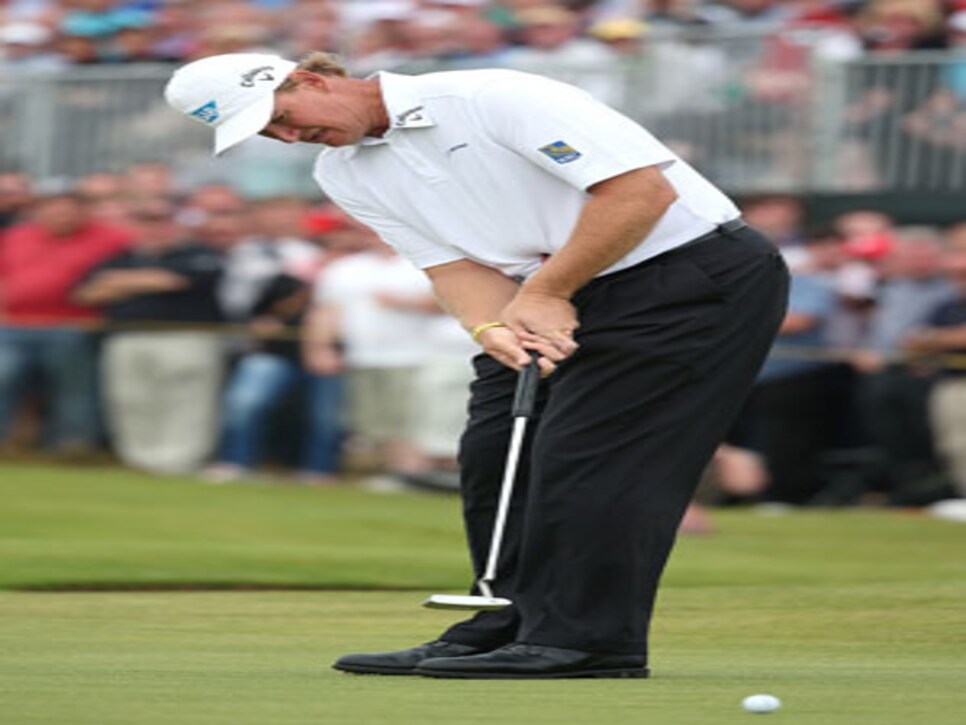 Gut Check: The intuition of many golf insiders is that Els and others will have to make adjustments in 2016 or so.
After Ernie Els dropped a 15-foot birdie putt on the 72nd hole of the British Open at Royal Lytham and Adam Scott rode the bogey train to the finish, Els had his fourth major title and the belly putter had its third major out of the last four. It also had golf's ruling bodies looking to strike a blow to the solar plexus -- literally.
At the R&A's annual day-after press conference July 23, officials said longer-than-standard putters were "firmly back on the radar."
"We need to clarify the position as soon as possible," said Peter Dawson, chief executive of the R&A. "I think you're going to see us saying something about it one way or the other in a few months, rather than years."
Dawson's words mirror those of Mike Davis, executive director of the USGA, who told Golf World there had been discussions about belly and long putters between the ruling bodies during the Open and that a decision on the clubs would likely come, "in the fall." Asked if Adam Scott being in the lead and using a long putter had an impact on the debate, Davis said, "Zero. We've been in discussions on this for a long time. ... We're really trying to figure out what's in the best interest long term."
Davis confirmed the USGA and R&A have drafted multiple versions of an amended rule to begin the process of figuring out potential language that would be used, while stressing at the same time no decision has been made. Davis also reiterated that any change would center on anchoring the club to one's body. In other words, although a piece of equipment is at the center of the talk, this would not be an equipment rule, per se. "We wouldn't be taking anyone's clubs away," said Davis.
A ban on anchoring, however, would signal a paradigm shift in professional golf. During the Monday press conference it was noted that of the 156 players in the British Open, 43 used long or belly putters (26 long, 17 belly) -- 27 percent of the field. Five years ago during the 2007 British Open, only 10 players used such clubs. However, there is precedent for successfully using a longer-than-standard putter without anchoring the club. Angel Cabrera won the 2009 Masters using a belly-length putter he held in a conventional manner.
Whereas the long/belly putter once was thought of as an option for those suffering severe grief on the greens, such a dramatic uptick in usage has raised questions of it producing an unfair advantage -- that non-yippers can now make a more infallible stroke. "We're now seeing people who can putt perfectly well in the conventional way thinking an anchored stroke gives them an advantage," said Dawson. "I think that's the fundamental change that we've witnessed in the last couple of years."
Perhaps, but at the Open Els' and Scott's putting numbers weren't exactly cause for alarm. Els had 122 putts, ranking T-71 of 83 players who made the cut. Scott had 120 putts, ranking T-58.
The thought of such clubs being an advantage is not new. In fact, in a strange turn of events, it was Els who initially brought significant attention to the topic when, in 2004 at the Deutsche Bank-SAP Open, he took issue with champion Trevor Immelman's use of a belly putter. "They should be banned as nerves and the skill of putting are part of the game," said Els at the time. And while Els' quote is memorable, often forgotten is that Scott, whose career recently was resurrected by the long putter, also spoke out against the implement at the same tournament.
Players using conventional-length putters appear somewhat split on the belly/long putter's effectiveness. Asked about Scott's use of the long putter, Geoff Ogilvy replied, "It makes his bad days better. I don't think it makes his good days better still." Padraig Harrington, however, had a different take.
"Guys wouldn't be using them if they didn't putt better with them," he said. "Clearly in the rules, if somebody invented the belly putter tomorrow, it would not pass. The only reason it got through is the people who used it 20 years ago were coming to the end of their careers and people were sympathetic. They didn't want to finish Bernhard Langer's career by telling him 'you can't hold it like this, you can't attach it to your arm. That's it, you can't play anymore.' "
Harrington might retroactively get his wish. Although the ruling bodies remain noncommittal, the reason they want to announce something this fall is so that if a change is made, golfers will have plenty of time to adjust. It is difficult to believe there would be such a sense of urgency to make an announcement if a change weren't forthcoming. There's also the fact that much time and energy is being expended to define what actually constitutes "anchoring." Once those details are worked out, it would seem likely some form of restriction would be put in place. If a change is made, it would take effect with the next revision to the Rules of Golf, which is Jan. 1, 2016, meaning players will have three years to adjust.
Until recently, Davis has voiced an opinion that while belly/long putters were certainly a topic for discussion, he didn't see a need for a rule change, leaving one to believe the ramped up talk is coming more from the R&A than the USGA. Still Davis rhetorically asked, "What if in the future the top 50 players were all using a belly putter?" That seemingly innocent query can be interpreted as yet another tea leaf to read on which direction the governing bodies are leaning on this issue.
It's been nearly 25 years since the legality of long putters was affirmed. USGA executive director David Fay told Golf World at the time, "Putting is a very individualized art form. To inhibit a golfer's individual style would take some of the fun out of the game."
By 2016 some of that fun may be taken away.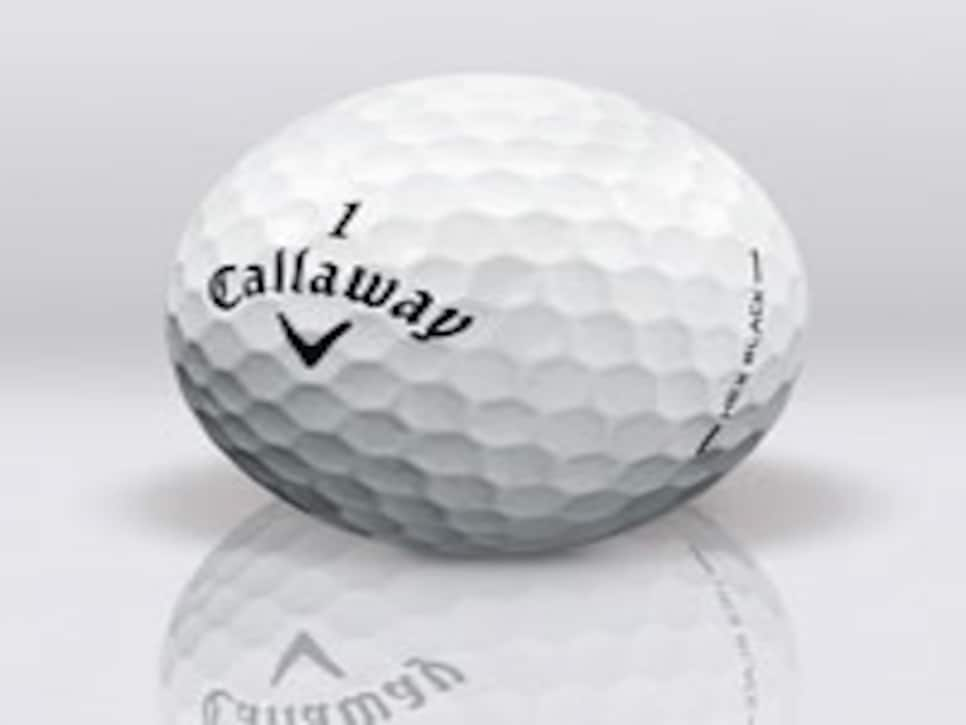 Callaway Hex Black Tour __
Ernie Els won his fourth major title at the British Open using this five-piece ball (dual core, dual mantle layers and urethane cover with HEX aerodynamics). The dual core is designed to optimize spin separation (low spin on the driver, high spin on short irons).
Ernie Els not only gave shaftmaker KBS its first major victory at the British Open (Els uses the 130-gram KBS Tour X-flex shafts in his irons) but did so with a rather unique shaft setup. Els uses a 2-iron shaft in his 3-iron and so on down the set until he reaches the 8-iron, which is an 8-iron shaft tipped ½-inch. A 9-iron shaft is in the 9-iron and a 9-iron shaft in the pitching wedge, tipped ½-inch as well. Doing this gives Els the mid-trajectory ball flight he seeks. ... The Big Easy also had his Callaway X Utility irons bent weak for the Open. The 18-degree to 19 degrees while the 21-degree was bent to 21.5 degrees and the 24-degree to 24.25 degrees. ... Some inconsistent tee shots during Tuesday's practice round at Lytham led Steve Stricker to bring his Titleist 909D3 driver to the company's tour staff to check for a crack in the face. After verifying the driver was indeed damaged, Stricker went through a lengthy fitting session for a new driver -- a prototype Titleist 913D3 with 8.5 degrees loft and a Fujikura Tour Spec 8.2x shaft tipped one inch at 45 inches. The swingweight was D5 and the hosel at the A1 (neutral) setting. Stricker finished T-15.