News
Chesson Hadley's Quirky World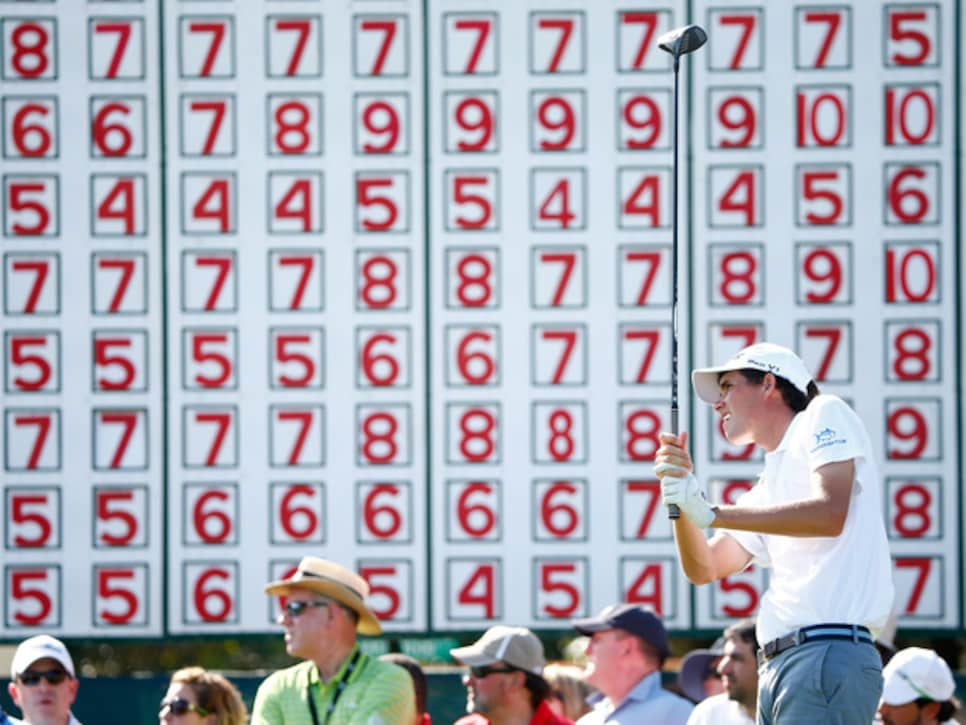 The finger snap Chesson Hadley has patented on the PGA Tour is a celebratory trademark that predates his days playing for Bruce Heppler at Georgia Tech. It's a takeoff of the dip snap (familiar to tobacco chewers) he saw as a kid growing up in North Carolina and serves as Hadley's version of a fist pump. The lanky rookie broke it out with a winning birdie putt in the Puerto Rico Open and two weeks later was asked to explain the technique on Golf Channel's Morning Drive set by the range at the Arnold Palmer Invitational.
"I try not to do it too much because you don't want to oversaturate the system," Hadley explained when we spoke Saturday night. "But if I make a big par putt or a big birdie putt, absolutely I'm going to throw it down."
Sensing college opponents get mad, Heppler and Hadley's swing coach, Jeff Paton, thought it was showboating and asked him to tone it down. Hadley pretended to listen, and eventually Heppler and Paton relented. As Heppler realized, "It's a game where you have to be good to yourself," and Chesson was just being Chesson.
"I am really, really good at not listening to people because I'm so stubborn," Hadley said with one of his big, playful, goofy grins. "I get myself in trouble with my caddie because I so badly want to do it my way, and my wife says I'm good at not listening to her, either."
Hadley wouldn't listen to the doubters when he didn't get past the first stage of Q school in 2010 and 2011. Instead of feeling sorry for himself, he took a job as a waiter at Casa Carbone in his hometown of Raleigh. That's the restaurant where he made $50 a night as a busboy in high school. Awaiting the eGolf Tour season to start, he returned to Casa Carbone, this time married and waiting tables with a business management degree from Georgia Tech. Typical of Hadley, he brought positive energy to the job, greeting customers with the line, "I'm here to make your dreams come true."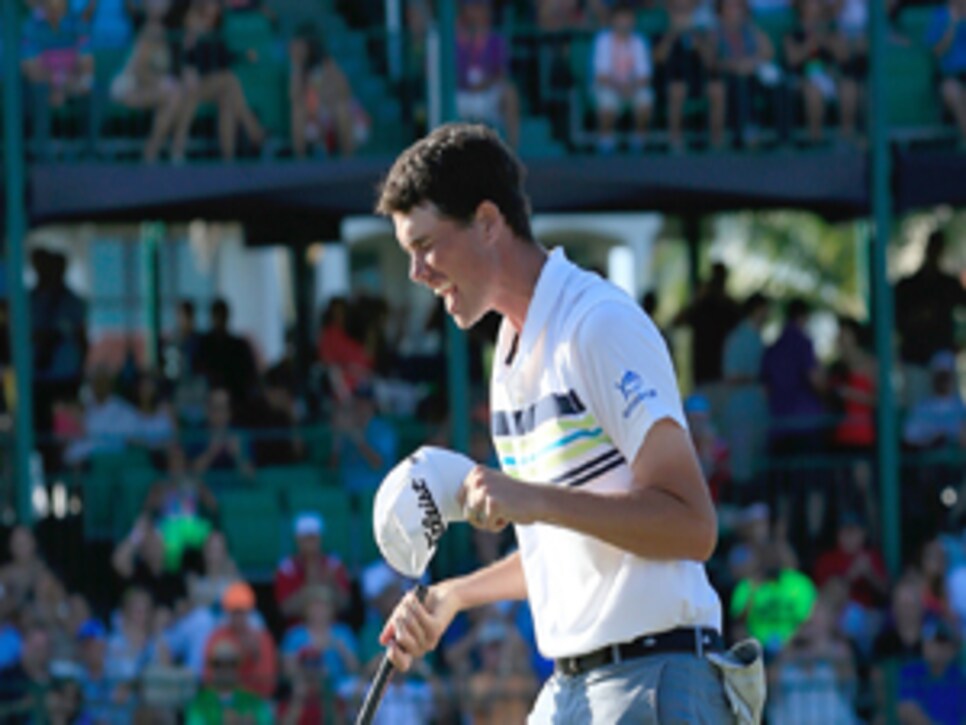 Playing on the PGA Tour is Hadley's dream come true, something he earned by winning twice last year as a rookie on the Web.com Tour, where one of his victories was the Web.com Tour Championship. At 26, he missed full exempt status by $567, but he took care of that through 2016 with his win in Puerto Rico.
"It took me a little while to get out here, or to even get status on the Web.com Tour," he said. "But I've always felt I had something to offer that maybe not everybody has. I really don't mean that in a self-righteous way. Like I said about not listening to my coach. I'm just different. I'm weird."
As a character, the 6-foot-4, 165-pound Hadley is different in a refreshing way. "Chesson is one of the few people I know who is like a cartoon character,'' said Tech teammate Roberto Castro. "Once he got excited about what he was doing, he'd walk up to the best player in the world and say, 'Let's go!' with that goofy smile."
As a player, Castro isn't surprised with Hadley's success as a rookie, comparing it to the way he broke into the starting lineup as a Georgia Tech freshman and eventually finished T-4 at the NCAAs. He figures anybody who can shoot the low numbers Hadley did on the Web.com Tour is capable of shooting 21 under to win in Puerto Rico.
That Hadley even played in Puerto Rico is a credit to his coaches, Heppler and Paton, along with agents Chubby Chandler and Nick Mullen. Burned out after missing six of his last seven cuts, strung out over shooting 73 in the opening round of the Honda Classic, Hadley was talking about a trip back to Atlanta to see Paton.
Paton, the director of golf at the GC of Georgia, has been working on Hadley's swing since college. He convinced Hadley to forget swing thoughts and just play golf. Hadley shot 66 Friday to make the Honda cut and added a pair of 69s on the weekend. For once Hadley wasn't too stubborn to listen; when Chandler told him, "You can win Puerto Rico," he got on the plane to San Juan.
There was no finger-snapping to the Bay Hill finish. Going out in the third-to-last group on Sunday thanks to three more rounds in the 60s, Hadley finished the last five holes in six over to shoot 79 and plummet from the top five to a T-26. That potentially cost him a Masters invitation depending on how he plays the Valero Texas Open. The top 50 in the world qualify, and he moved up three spots to 56th going into San Antonio.
Outside the Bay Hill locker room, Hadley made his biggest save of the day by appearing with a six-pack of beer to share with wife Amanda, some friends from Jupiter and Mullen, his day-to-day road manager. Five-month-old baby Hughes didn't know how much money his father just burned coming in.
"I'm about as good as you can be after a meltdown," he said before delivering a typical Chesson Hadley line. "You know it stinks to stink."
Ian Triggs may not have the brand recognition of Butch Harmon, Sean Foley or other top instructors, but don't be fooled by the lack of celebrity. The past two weeks his work drew attention following victories by John Senden in the Valspar Championship and Karrie Webb in the JTBC Founders Cup. Triggs, 61, has been coaching Senden since the latter's childhood in Brisbane. He started working with Webb about a decade ago when her wheelchair-bound instructor, Kelvin Haller, couldn't travel. It's no coincidence that both Senden and Webb have classic golf swings. "Triggsy's methods always work on getting the body position correct, then letting the body rotate and the arms fire," Senden explained at Bay Hill. That said, Senden's and Webb's victories were byproducts of Triggs focusing on their short games. Webb credited her 41st LPGA victory with work she and Triggs did on the putting green the night before the final round.
His mother (Penny), his wife (Danielle) and his Florida teammate (Billy Horschel) have all seen a new attitude from Matt Every since the Bay Hill champ's son, Liam, was born 21 months ago. "Charlie Howell was telling him, 'Wait until the baby is born. Everything gets put in perspective,' " said Penny after Every edged Keegan Bradley at the Arnold Palmer Invitational. Horschel admits Every is misunderstood and honest to a fault, but, "[Once] he had someone else in his life who was important to him, he turned the corner." Danielle agrees. "He's a lot more calm," she said. There's a friendly family debate over how Liam got his name. Matt said it's from Liam Gallagher, lead singer in his favorite band, Oasis. Danielle said it was a name they both agreed upon. "He likes to tell everyone that," Danielle said with a smile.