News
My Town: Butch Harmon's Las Vegas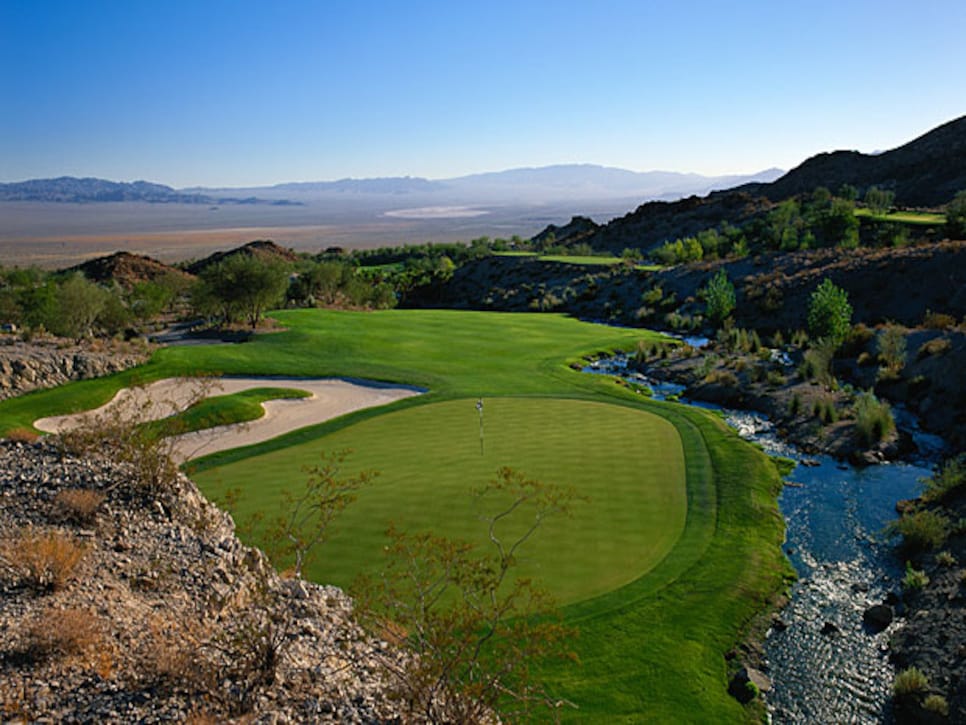 The 12th hole at Cascata.
Butch Harmon hit the jackpot when he came to the Las Vegas suburb of Henderson, Nev., in 1997 to open his golf school at Rio Secco GC. "Vegas is the place," Harmon said. "Great golf experience all day. Great entertainment experience at night."
The business model was based on high-end instruction to classes of no more than 10 students, with five or six instructors (all personally trained by Harmon or one of his brothers, Craig and Bill) per class. The high rollers lined up to take lessons from Tiger Woods' teacher. "People come to Vegas to spend money anyway," Harmon said. "It fit the demographics."
Woods has moved on, but Harmon's brand has grown like the city of lights. Golf Digest's teacher of the year for 12 straight years has made Henderson his home, with stars such as Phil Mickelson, Dustin Johnson and Nick Watney flying in for lessons. He doesn't see himself moving. "I like the desert," he said. "As a kid, growing up in Palm Springs, I liked [having] no humidity. Plus you have the best of all worlds here."
, where I'm based, is a good course with a good mix of holes. It's not your typical desert course; it's a little different. But it's the ambiance at Rio that sets it apart: the golf course, the practice facility, our headquarters, the great food, and some might like the T-Mates female caddie program.
My favorite course in town is Cascata
. It's owned by Caesars Palace, and it's our sister course. It goes up and down the side of a mountain and is fun to play.
is the most popular course in town. It's a little easier to get on than it used to be. I liked it better before they redid it--they tried a little too hard with some of their tweaks--but it's still a fascinating experience.
For dinner at the Wynn, Sinatra is a good choice. Italian food is its specialty, as you might suspect. The Wynn also has Switch Steak, which is a fun place, and they've got great entertainment. ... At Caesars Palace, I like the Forum Shops for shopping, and my favorite restaurant in town is there, The Palm. ... The best gourmet place in town is Michael's just off Las Vegas Boulevard. They've got the best Dover sole I've ever had, better than I've ever had in the U.K. It's awesome.
My favorite hotels are the Bellagio, the Wynn and Caesars Palace. I think the Bellagio is a classy place. I like everything about it. Great restaurants, quality entertainment--the Cirque du Soleil "O" Show is there, which is one of the best in town--and it has the fountains out front.
Wynn to me is the nicest looking hotel in town. Everything Steve does, he does first class, and I've always admired that in him.
I'm too old for the nightclubs so I can't give you very much good info there. The best entertainer in my book is Garth Brooks at the Wynn. His show is phenomenal. I've seen it three times. ... Another show that is worth the price of admission is "Jersey Boys."
Outside the city proper, there are a lot of interesting places to visit. The Hoover Dam is popular, or you can take a tour of the Grand Canyon just over the border in Arizona. About an hour away is Mount Charleston, where you can ski and play golf in the same day. We go over a lot.
I also like the sports betting side of Vegas. You can go into a casino and bet on games, whether it's football or March Madness. The atmosphere is pretty wild. It's fun to watch even if you don't have any money on the line.