News
The Man Behind The Mustache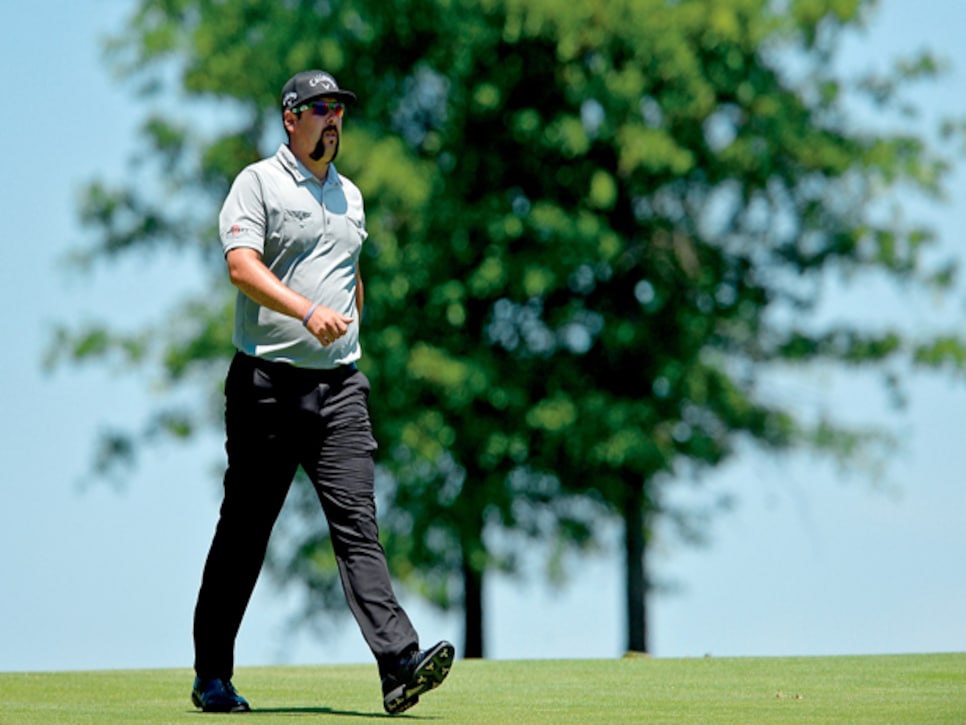 Self described as "Half Man, Half Amazing," the usually fun-loving Andres Gonzales was all but destroyed exiting the final round of last month's Web.com Tour Championship. When playing partner Lee Williams holed a 45-foot putt on the 18th green at Dye's Valley Course at TPC Sawgrass, Gonzales was the odd-man out in the ultimate game for status on the PGA Tour.
With his Fu Manchu, Gonzales is often mistaken for Danny McBride, the caustic star of HBO's "Eastbound and Down." But instead of a Kenny Powers meltdown, Gonzales poured out his emotions on Golf Channel and returned to his hotel room and the solitude of his diary.
An eclectic soul, Gonzales has taken to writing about his experiences on tour (he was a journalism major at UNLV). While his published work appears on Twitter -- where he is known for comically and unsuccessfully attempting to engage Tiger Woods in a dialogue -- Gonzales reserves his more sensitive stuff for a Word file.
"Take the positives of playing well and being so close to the tour," the 30-year-old wrote after finishing 51st on the inaugural Web.com Finals money list when the top 50 earned PGA Tour cards, "and use it to fuel good golf to get back to where you belong."
This perspective follows Gonzales' belief that once you get to know him, you'll learn he's nothing like what he looks. The "look" is a byproduct of his college days in Las Vegas, where he graduated in 2006. UNLV coach Dwaine Knight didn't allow facial hair or hair over the ears. "It's why you see Ryan Moore with a beard, Charley Hoffman with long hair, even Adam Scott occasionally goes with long hair and beard," Gonzales said of his fellow former Rebels. "Coach Knight was strict, but it was for our own good. I guess we all got a little rebellious after we got out of there."
Moore, one of the most decorated amateurs in history, was influential in the process of getting Gonzales in there. After a wasted freshman year at Oregon State, Gonzales transferred to UNLV on Moore's recommendation. The two were high school friends and rivals growing up outside of Tacoma, Wash. (Moore beat Gonzales in the 4A state championship). Moore, however, made his eventual roommate sign a contract promising he would not miss a class, be late for any practice or get below a 3.0 grade-point average.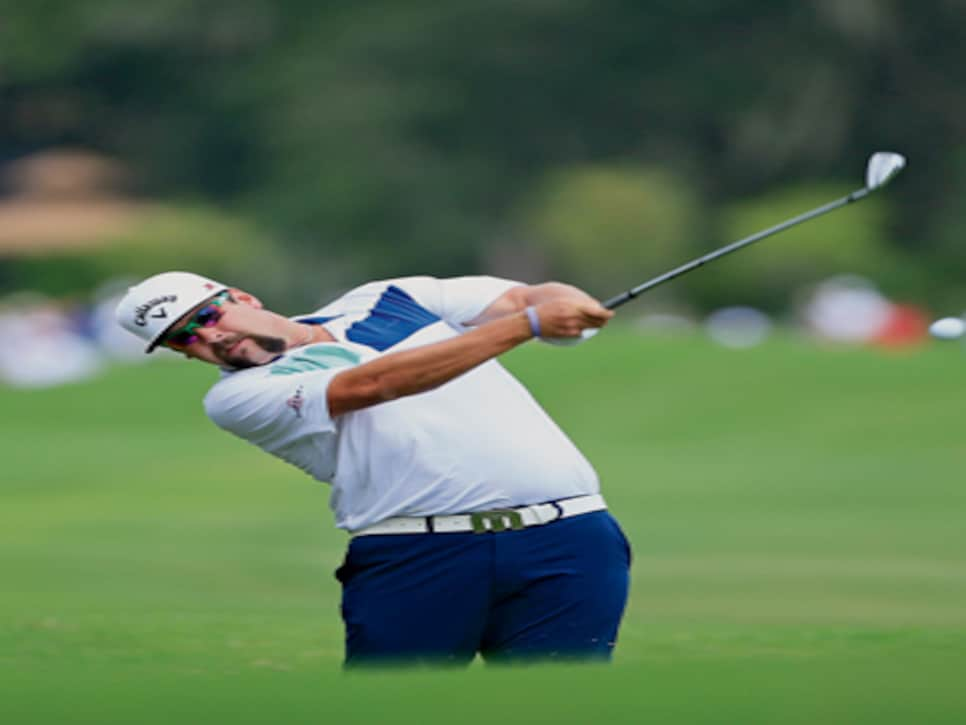 Around campus Gonzales was known as "Gonzo," although his close friends called him "Andre" and his real close friends -- even today -- call him "Dre." Knight described his 6-foot-2, 240-pound former charge as, "A big burly guy with a kind heart, a big heart."
Gonzales' wife, Kristin, would concur. They met when they were 12. Their first date, he recalled, was to a Red Robin in Olympia. (She drove, he bought.) His mother has a masters degree in oncology. His father played baseball for Seattle University and was an endodontist before dying of pancreatic cancer in 2007. The long hair Andres once grew was for "Locks of Love," a program that accepts donations of human hair with the intention of making wigs for cancer patients.
Kristin also had a grandfather die of pancreatic cancer in 2001, so it was a tribute to both. Gonzales has since shaved his head, but the full Fu Manchu remains a trademark.
"When I first started growing the mustache, it was just kind of a joke," he said. "Eight years later I still have it. I just think its fun. Now I'm pretty used to it. It's something different for me. Golf is a bland game."
Golf wasn't so bland for Gonzales when we caught up after his nine-under 62 in the second round of the Frys.com Open. Exempt into the PGA Tour's 2013-14 season opener based on T-8 at the Wyndham Championship in August, Gonzales needed to overcome an opening 74 at CordeValle to avoid another missed cut.
Impressively, the 62 followed a night where Gonzales suffered food poisoning and needed an IV to replace lost fluids. "I was just trying to get done with the round," he said. "And before I know it, I'm making everything."
Gonzales' only previous 62 in competition came in the first round of the second stage of PGA Tour Q school in 2010. He went on to qualify for the PGA Tour in 2011 but his stay was short-lived. He returned in 2013 after finishing in the top 25 on the 2012 Web.com Tour money list but bombed again in 2013, making just three cuts in 17 starts.
A swing change made in March while working with Ann Marie Gildersleeve at Austin (Texas) CC, however, is close to clicking, Gonzales insists. His final-round 64 at the Wyndham first hinted that might be more than wishful thinking. And a T-16 at the Frys kept him positive as he headed to the course he played in college, TPC Summerlin, for the Shriners Hospitals for Children Open.
After Las Vegas, though, it's back to the Web.com Tour in 2014. "I was hoping to squeak out a win last week," Gonzales said Monday as he readied to tee off in the Charley Hoffman Foundation Pro-Am at Summerlin. "I definitely played well enough to win. If I can do that, I'll stay out here."
Vijay Singh filed a lawsuit against the PGA Tour in May claiming his reputation had been damaged through the tour's handing of its investigation into Singh's use of deer-antler spray. Five months later the 50-year-old Hall of Famer was claiming he put the controversy behind him after a second-place finish in the Frys.com Open. "It kind of messed up my season," Singh admitted at CordeValle. "But I've put my head in the right spot, and it's a new season for me." Singh's only comment on the lawsuit, which is still pending, was that it was a distraction more professionally than personally. (The tour declined comment.) Meanwhile, Singh was looking forward to the Shriners Hospitals for Children Open in Las Vegas. With the new attitude and a new swing thought that had him ranked 15th in driving distance at 305.5 yards, plus a new caddie (Cayce Kerr), Singh feels like a new man. He's even gone back to a standard-length putter with a claw grip and talked about this putter being "really, really hot."
Butch Harmon has been scaling back the number of tour players he works with, but he made an exception for Jimmy Walker. "About 16 to 18 months ago he called and wanted me to take a look at him," Harmon said Monday from his home near Las Vegas. "I knew who he was. I'd seen him and I was intrigued when he came out of college [Baylor]. He worked hard, he's a good kid and quite simply I was surprised he hadn't won before this." Walker had a career year in 2013, with a second at the Greenbrier and $2.1 million in earnings. That wasn't good enough for Harmon, who worked with Walker for three days before his win at the Frys.com Open. "He was tired of people saying he was the best player who hadn't won a tournament," Harmon said. "This is a big monkey off his back."