News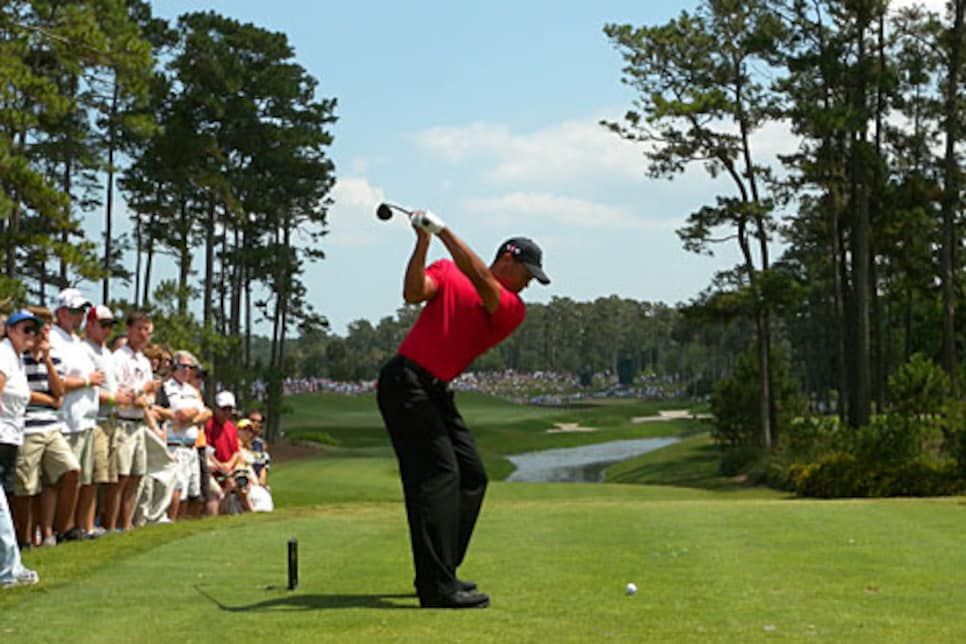 search mission: Woods shot a final-round 73 while struggling to get his position at the top of the backswing like he wants it.
Many are those for whom a Tiger Woods in full cry represents golf at its finest and most fascinating. The Masters in 1997; the U.S. and British Opens in 2000; the British Open again in 2006; and the U.S. Open in 2008 spring immediately to mind, championships where the world's top player performed at or close to his imperious best.
But nowhere on that list will you find mention of the Players. Although he was a winner in 2001, Woods has never found the intricacies of TPC Sawgrass' Stadium course to his particular liking; since that lone victory his best finish is the rather forlorn solo eighth in which he found himself at the end of this, his 12th appearance in the PGA Tour's flagship event.
The statistics, as has been the case lately, superficially point to a lack of accuracy off the tee (Woods hit but 55 of the 112 fairways at Quail Hollow and Sawgrass; new Players champion Henrik Stenson, by way of contrast, hit 41 during his victory week alone) as the main cause of a so-called malaise that has so far seen the 14-time major champ record top-10 finishes (including a win) in the last five PGA Tour starts he has made in 2009.
Certainly, NBC analyst Johnny Miller seemed in no doubt. Just before the network signed off on its coverage of the Players, Miller, referring to Woods, told viewers, "He's got to drive it better, that's all there is to it."
But such negative spins and conclusions are at once lazy, incomplete and misleading. Here's the reality: Like every other poor sap trapped within the endless mysteries and intricacies of the swing, Woods is a golfer forever doomed to toil unavailingly in pursuit of the impossible—perfection. That process has many stages, ranging from a feeling of near hopelessness to one of tingling anticipation as the quality of strike and flight gradually improves.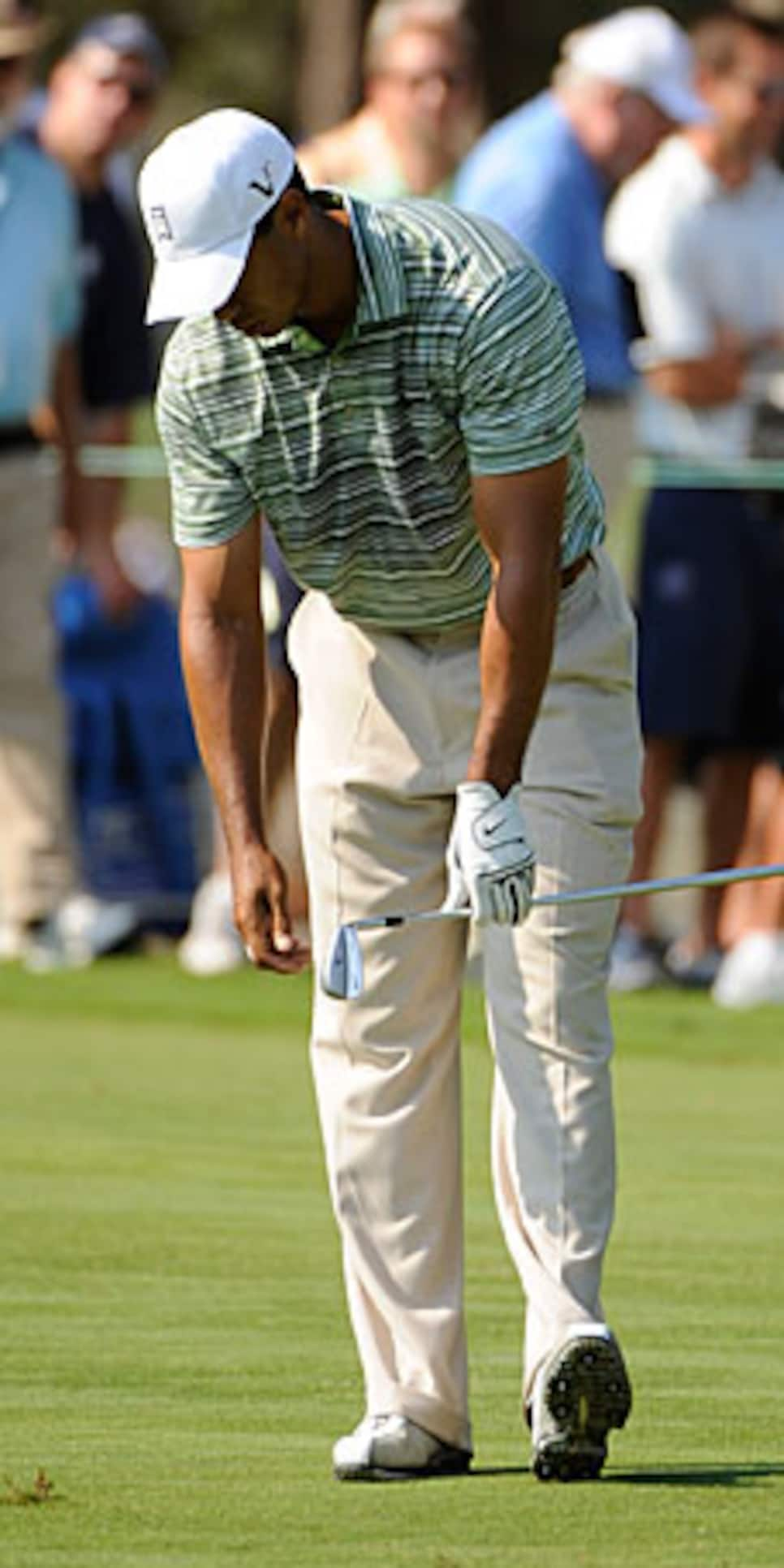 Right now, despite his post-tournament protestations that he is "not far off," Woods is fearful more than anything. He is a man battling a quick hook, a shot that has always caused him to flip out whenever it makes an unwanted appearance in his bag.
Little wonder, then, that NBC roving reporter Roger Maltbie was moved to comment on how Woods looked "a little laid off " (the shaft pointing left of the target) at the top of his backswing during his second-round 69. Such a position makes sense for a man fighting a hook. In trying to get the club more in front of his body on the way down and through impact— thereby alleviating the notorious "stuck" feeling on the downswing —the last thing Woods needs to be is across the line at the top.
The downside is that laid off isn't where Woods ultimately wants to be either. It is, however, a stage he is going through to rid himself of the destructive right-to-left shot he hates so much. And he's getting there. Over the weekend, he hit only two hooks off the tee. But, for the moment at least, the price he has to pay is a slightly open clubface at impact, one that produces shots he described as "spinners" to the right of his target.
"It was a long, frustrating day," he sighed in the immediate wake of a closing 73 that saw him finish at five under par, seven shots behind Stenson. "I thought I was doing a pretty good job of getting it around. I was trying to release the club a little earlier, but, no matter where I aimed, the shots kept spinning off to the right. I'll fix it, though. I know what I'm doing wrong, it's just a matter of me doing it right on the course."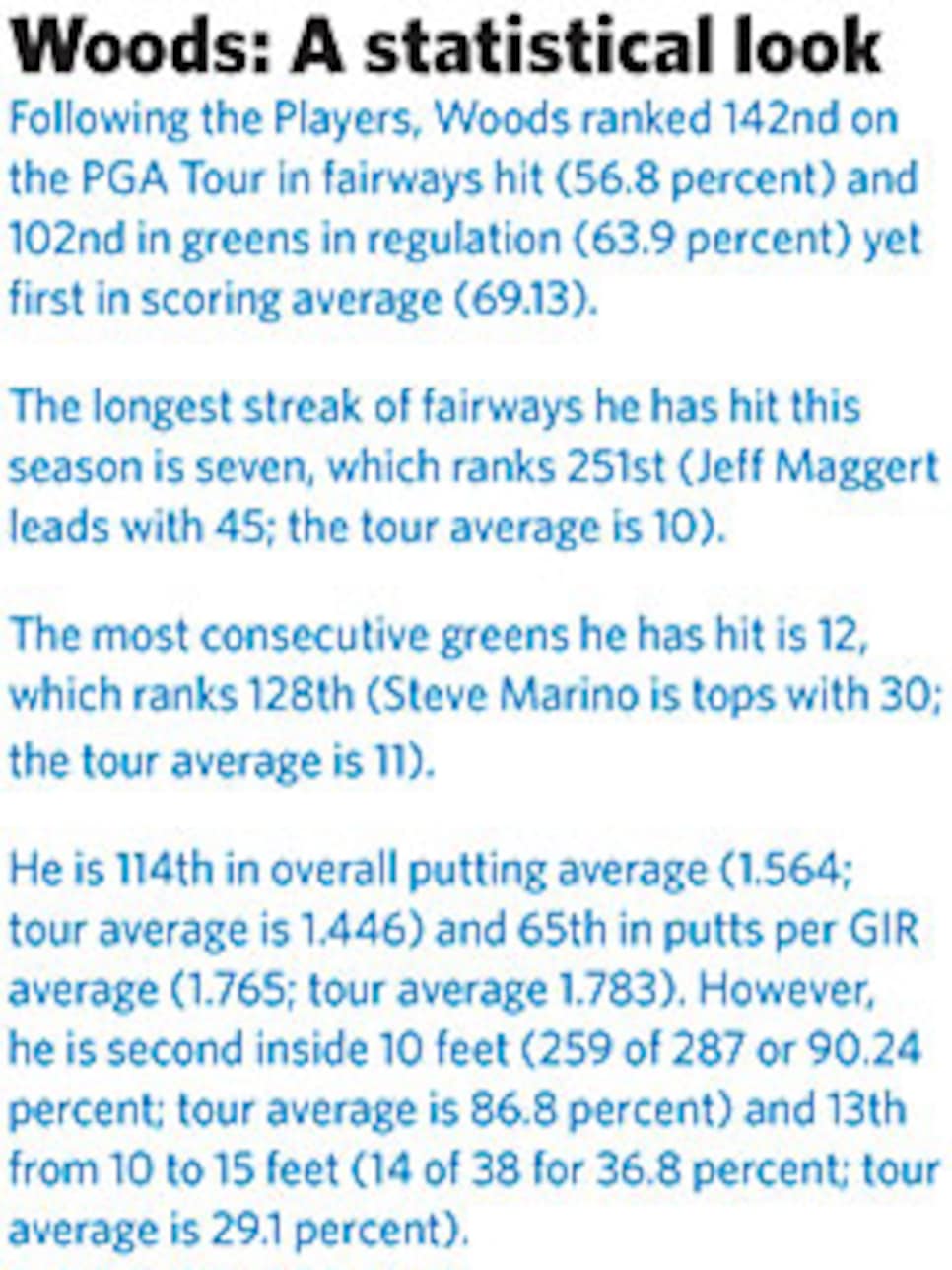 Still, for all his obvious travails, a struggling and flawed Woods is, perversely, one of golf's most fascinating sights. No one—not Phil Mickelson, not Sergio Garcia, not Vijay Singh, Angel Cabrera or Stenson—can get their golf balls around golf courses quite like Tiger. The low, running 7-iron he struck from behind a tree to the right of the fairway onto the 18th green Friday was, with due respect to the new and deserving champion, pure genius at work and a highlight of the tournament. At the very least it paid homage to the old axiom that golf becomes ever more interesting the longer the ball spends on the ground.
"He hits it into the same places as the rest of us, but he finds a way to make a couple extra pars every round," acknowledged former U.S. Open champion Geoff Ogilvy. "His short game is obviously ridiculous, and he's clever, too. Most of the time he misses in spots where he can get up and down, even when he isn't swinging or hitting that well.
"The most remarkable thing is that he still goes for a lot of shots," Ogilvy said." He is still very aggressive, as much as Phil. He rarely backs off and plays safe. I don't see him chipping out much. If he did, he might win more often on a course like this."
For all that, in the wake of this latest "failure," ill-informed speculation will no doubt continue to swirl around both Woods and his coach, Hank Haney. While both have publicly asserted that no temperamental or philosophical problems exist between them, mischief-makers are never slow to introduce conflict even where none exists. Truly, in a difficult game, a little knowledge is a dangerous thing, especially when it is given to those who not only don't know but don't know that they don't know.