News
Glad that's over Price's wild final round in Lutz, Fla., that included seven birdies and three double bogeys ended with a one-putt par on No. 18 as he won his first tournament since 2002.
The Outback Steakhouse Pro-Am is held on a formidable course (TPC Tampa Bay in Lutz, Fla.), has some fun extras (celebrities such as Bill Murray and George Lopez) and often comes down to the wire. The Champions Tour has played an event in the Tampa area since 1988, but no edition has played out quite like the one Nick Price headlined April 19. "It was such a strange day," the 52-year-old Price said in the understatement of the year, of his final round, which consisted of seven birdies, seven pars, a bogey and three double bogeys. The glorious and the ghastly -- it is believed to be the first time a senior had three doubles on his final-round card and still won -- added up to 71 and a nine-under 204, a two-shot margin over Larry Nelson that secured Price's first title in 39 senior starts.
Price was the best player on the planet for a couple of years in the 1990s, with 18 PGA Tour victories, 24 wins internationally and three gems (the 1992 and '94 PGA Championships and 1994 British Open) sparkling up one of the best golf résumés in the modern era. But his last win had come in the 2002 MasterCard Colonial, when he was 45. Along with wanting to spend more time with a growing family (he and wife Sue have three children: Gregory, 17; Robyn, 15; and Kimberly, 12), Price tried to hit the ball farther to keep up with his younger peers, and he got out of the groove he had been in for so long.
If a golfer plays decently in his late 40s, he has a much better chance of playing well once he turns 50. Most multiple-major winners competing actively have made hay on the Champions Tour, but two who left competition for lengthy periods, Ben Crenshaw and Curtis Strange, have been winless as seniors, Crenshaw in 135 starts, Strange in 80. Mark O'Meara, who has 37 appearances on the Champions Tour, is almost exactly where Price found himself when he arrived at the Outback: hopeful that a few brushes with victory as a senior were going to turn into the real thing sooner rather than later.
The old over-at-55 wall is but myth now, providing players stay hungry. Nelson, who at 61 was bidding to become the seventh-oldest winner in Champions Tour history, has 19 senior victories but his last came in 2004. An assortment of nagging injuries played a part in his falloff, along with diminishing returns on the greens. Through the 2004 season the three-time major champion never ranked worse than eighth in putting average; since then he hasn't cracked the top 30. "I find myself getting kind of discouraged by the time I get to the [15th hole] because I've missed it inside of 10 feet about six times," Nelson said, his mood suddenly brighter after turning his putting around during a first-round 65. "When you start making a few, then it makes everything easier. Today was the best putting round I've had in two years."
Known to switch putters daily if the mood strikes him, Nelson was loyal to the same model for 54 holes at the Outback, an Odyssey mallet into which he recently had put a different shaft and used for the first time on the practice green Friday morning before teeing off at TPC Tampa Bay. "I always felt like it was the arrows," Nelson joked of his constant putter tinkering, "but I've had the same wife for 42 years, so it's not like I can't find something I like."
Nelson didn't even require a putter on the par-4 first hole in the final round, holing a 135-yard pitching wedge for an eagle to quickly cut his deficit to Price from three strokes to one. Playing in the final group with amateur partner Vinny Testaverde, Price wasn't fazed by Nelson's dramatic start, making an eight-foot birdie putt on No. 1 and a 30-footer on No. 3, but his wild ride began on the par-4 fourth hole when he hit his tee shot in the water en route to the first of his doubles. He splashed another drive and made a 7 at the par-5 seventh then super-pushed a 5-iron into the junk that led to a 5 on the par-3 11th.
It was mystifying stuff for a golfer known for securing PGA Tour titles once they were in his grasp. "That's the strange thing," he said later of his key blunders. "I didn't feel like I lost my concentration. Maybe the fourth hole, but the other two I was focused. Something in the telemetry didn't work out for some reason."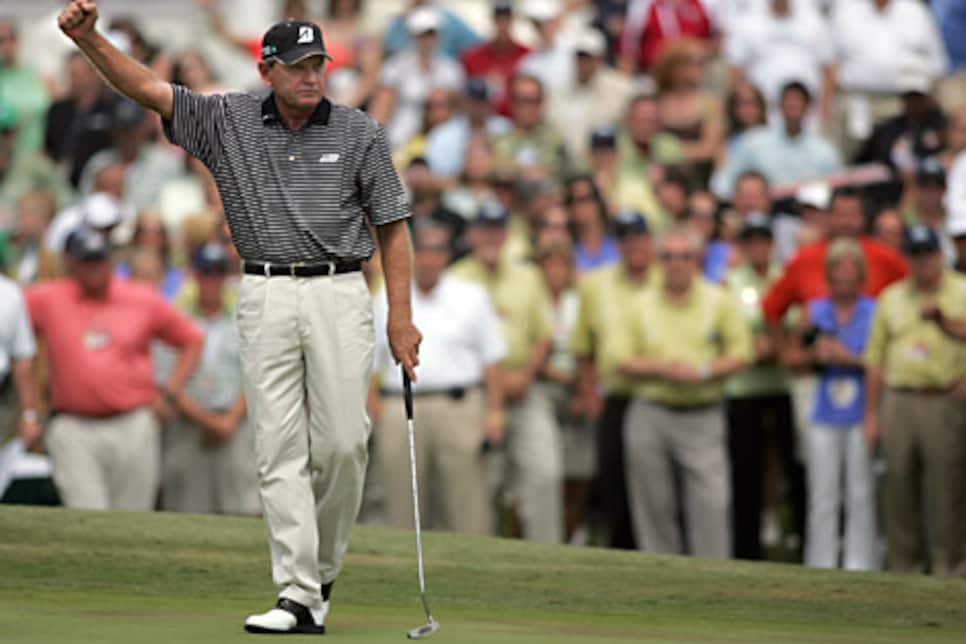 Price compared winning for the first time as a senior with his maiden victory on the South Africa Tour, the 1979 Asseng Invitational. "I didn't sleep at all -- at least I slept this week," said Price. "That was pretty hard. At least I played well. I didn't make the mistakes, I just couldn't sleep."
Before he could have nightmares about his miscues this time, Price had an about-face on TPC Tampa Bay's closing stretch, which is one of the most interesting on the Champions Tour, fraught with water and the potential for more of the kind of trouble he had experienced through the first part of the day. Price trailed Nelson by two shots after botching No. 11 and failing to convert a three-foot birdie try on No. 12, but starting on No. 13 Good Nick resurfaced, holing putts of 16, eight and 25 feet for three consecutive birdies to regain a two-shot lead.
He had the same margin as he stepped to the tee of the 443-yard 18th hole, a watery beast that tripped up Hale Irwin a couple of years ago. Price didn't do anything fancy, nothing like Murray's birdie less than an hour earlier that roused the considerable gallery. Price stayed dry, scrambling (conservatively) for a par. "As disappointed as I am for me, I'm happy for him," said Nelson, who had a hanging lie for his second shot at No. 18 that caused him to play away from the flagstick. (A two-putt par left him one stroke ahead of Loren Roberts, Lonnie Nielsen and Hal Sutton, who had his best finish in his brief senior career.) "It's great for our tour and for him. This is not a course you can play safe or scared on."
Price joins a list of marquee champions in Tampa, including Jack Nicklaus (1996), Irwin (2005) and Tom Watson (2007, '08). "The one thing I'm really proud of is the way I finished," Price said. "You know, playing the last six holes three under par, which is not easy on this course." He seemed a bit stunned by such a turbulent round. "I [have to figure out] how I can go play under the gun again and not make the same mistakes," Price said. "My whole career, I never played golf like this. I hope it doesn't happen again. I think the golfing gods were testing me, I really do."
On the morning after perhaps the oddest but definitely one of the more meaningful days of his long journey through golf, Price had gotten so many voicemails on his cell phone there wasn't room for any more. They were good wishes for one of the game's good guys, who rediscovered just how good it feels to win, no matter how zany the plot.