News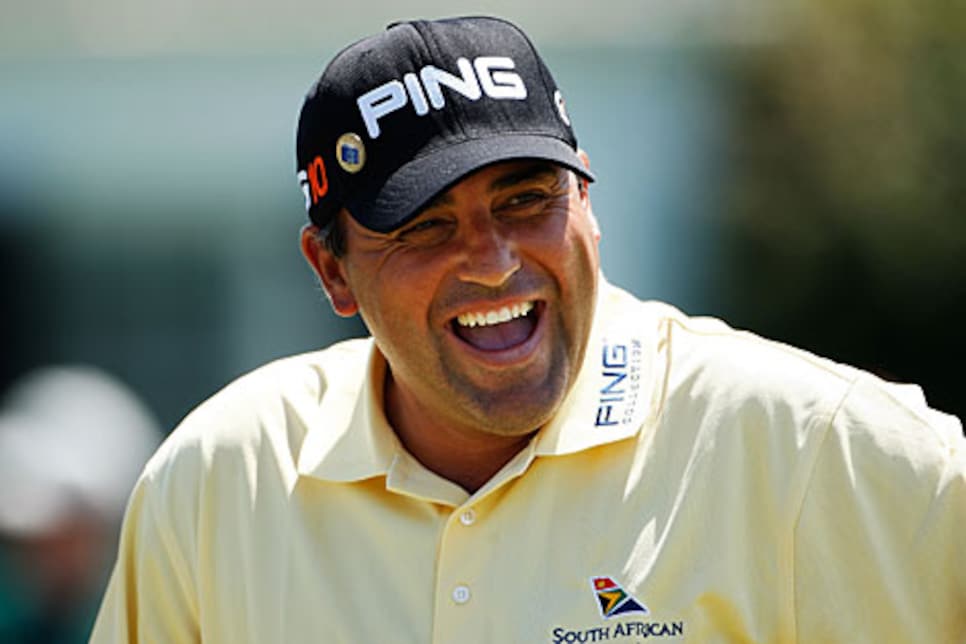 Reason to smile: Known as El Pato, which is ­Spanish for The Duck, Cabrera made the Masters his second major victory.
Every night last week in Augusta, Charlie Epps and Angel Cabrera retired to the house they were renting to enjoy a home-cooked meal, drink some red wine and unwind after their day at the 73rd Masters. Cabrera did the cooking, and whether it was his red sauce over chicken, Salisbury steak or veal Milanese, the Argentine would enjoy preparing dinner.
"We just relaxed and kind of chilled, had nice quiet evenings," Epps said late Sunday as his player was being honored by the members of Augusta National GC. "I don't ask him any questions. I wait until he talks because he's very quiet."
Epps was on hand as Cabrera's coach and part of the entourage that had just filed out of Butler Cabin, a party of Argentines that included Andres Romero, manager Manuel Tagle and various friends who go back to the days when the man wearing the boxy 46-regular green jacket was a caddie in ­Cordoba. At 64, Epps is to Cabrera what Burgess Meredith was to Sylvester Stallone in the "Rocky" films.
The long-time pro at Houston CC and now the Redstone Golf group, Epps got to know former Masters champ and legendary club pro Claude Harmon when the latter would visit son Dick at River Oaks. Epps communicates with Cabrera in a jocular, endearing style similar to that used by Claude's son Butch with his students. That means the needle goes both ways. Cabrera, whose nickname is El Pato (The Duck), calls Epps Gordo (fat one) or Gordita (little fat one), although it's clear the 39-year-old double-major winner who plays golf the way Jerome Bettis ran through tacklers doesn't miss many meals either.
Besides teaching Cabrera how to putt, Epps also works with Cabrera on controlling his emotions: "I never thought he would overcome his anger," or his impatience. Making the challenge harder last weekend was that Cabrera has given up smoking, a familiar sight during his 2007 U.S. Open victory at Oakmont.
At night Epps told Cabrera the angst he felt was not much different than what Masters founder Bobby Jones experienced in his heyday. Epps talked about how Jones came back from every tournament 20 pounds lighter because of the stress. Epps let Cabrera prepare the meals because it was another way to help him stay calm.
Friday night Epps shooed guests out the door around 11:30. Even with a 2:35 p.m. starting time Saturday, Epps wanted Cabrera to get his rest. "Otherwise," Epps explained, "those Argentines would have stayed until 4 in the morning." Saturday night, it was just Epps and Cabrera, and they talked about the shots he had hit that day to produce his third straight round in the 60s.
Epps moved to Argentina as a boy when his father took a job there for Kaiser cars. He played golf at Cordoba CC, where Cabrera would eventually caddie. Epps moved back to the United States and settled in Houston. He came to prominence coaching Blaine McCallister to five PGA Tour victories. He began working with Cabrera at the 2007 Players, one month before his U.S. Open triumph, at the behest of Tagle. Cabrera's manager had considered Stan Utley, the ­putting guru, but went with Epps because he speaks Spanish, and Tagle thought their personalities would mesh.
Most of their focus was on visualization and aiming because the impatient Cabrera sought a routine. Growing up on the slow greens in Cordoba, Cabrera struggled with the speed on most major championship putting surfaces, but Epps' messages—"stalk the greens like Lee Trevino," and to be an artist painting a picture—clicked.
Cabrera, notorious early in his career for being a poor closer, was solid down the stretch at Oakmont. But a combination of the enormity of that victory, and a continuing lack of confidence on the greens, led to a slide back down the World Ranking; he was 69th coming to Augusta this year, without a top-10 finish in the U.S. since a T-5 at the 2008 WGC-Accenture Match Play.
To get his confidence back, Epps had Cabrera watch a DVD of his U.S. Open victory. Cabrera also returned to a putter with a 39-inch shaft similar to the one he had used to win the 2005 BMW Championship at Wentworth. Cabrera and that putter made par-saving putts on the 72nd hole (four feet) and the first hole of sudden death (five feet), and a birdie putt from 18 feet on the par-3 16th after Kenny Perry stuffed what looked like a tournament sealing 8-iron shot to one foot. That's the putt Epps boasted about outside the Augusta clubhouse late Sunday. "He's got guts," Epps said. "Nobody intimidates him. Like at Oakmont, the only thing he was concerned about was being two shots behind Tiger. He's a fighter, a bar fighter."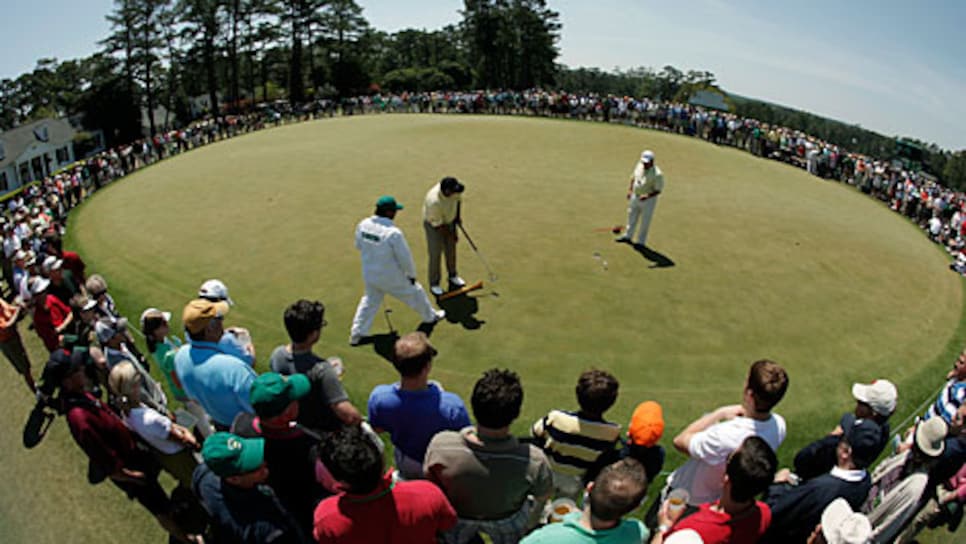 The bar was open in Butler Cabin when Cabrera arrived, and his entourage started its celebration there. Besides Romero and ­Tagle, there was Mariano Bartolome, the son of instructor Norberto Bartolome, who serves as ­Romero's teacher, and Gustavo Piovano, a golf club representative in South America. "This is so important for Argentina right now," Piovano said. "Nobody can imagine."
Nobody except perhaps Roberto De Vicenzo, the Argentine who was denied a spot in a playoff for the '68 Masters when he signed for the wrong score. "This is a tremendous satisfaction for Argentina," De ­Vicenzo told Golf World from his Buenos Aires home. "Cabrera proved he is a true champion."
De Vicenzo, who turned 86 the Tuesday after the Masters, thinks the best is yet to come for Cabrera. "It is very likely he will go on to win more majors. Look at his swing. He has great timing."
With Epps behind the wheel of a Mercedes SUV, Cabrera left ­Augusta National around 11 p.m. He and his friends returned to the home where the meals and this victory had been cooked up, except now nobody was shown the door. Cabrera spent part of the night taking photos in his green jacket, and made sure Epps—­whom he thanked at the post-Masters ceremony—got a chance to try it on.
At 6 a.m. Monday, Epps picked up a copy of the Augusta Chronicle. The headline "Three, two, won," was confusing to the new champ, but Epps explained it to him.
"It means there where three players, then there were two players, then you won," Epps said.
"I can't believe this," Cabrera said.
"It's right," Epps said. "It's you."
David Mackintosh did additional reporting for this story.